6 weeks and counting: A Singaporean in Shanghai navigates COVID-19 lockdown amid opaque rules, new-found neighbourliness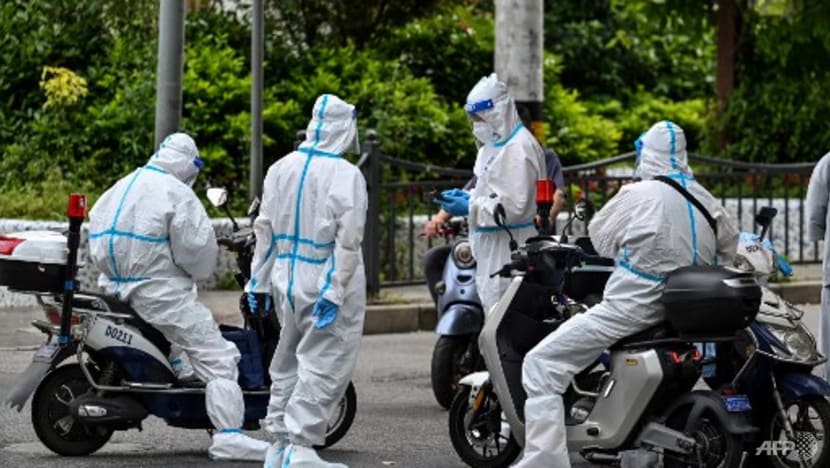 SHANGHAI: As one of China's richest and most developed cities, Shanghai has always been a magnet for migrants - both internal and international. I had been drawn to it because it was the global face of a newly confident country, finding its feet after decades of internal strife, foreign subjugation, and failed experiments with collectivisation.
Coming from a city-state of 6 million, it felt like a privilege to be a small part of the megacity of 25 million, pushing things along. Like anywhere else, problems - such as vast inequalities and unequal development - exist, but overall, living standards are high and improving, and people are optimistic about their future.
Then, the seemingly endless lockdown began, shifting sentiment.
I am currently into my sixth week of lockdown in Shanghai. A sustained spike in cases triggered an indefinite extension of the lockdown, in line with China's zero-COVID policy. Since then, daily cases rose from around 6,300 (including both symptomatic and asymptomatic cases) in early April, to nearly 28,000 around mid-April, and tapered down to around 4,000 in early May.
Over the same period, Shanghai residents have watched helplessly from their apartments as the government struggles to fully implement the strict measures, while straining to reasonably provide for other essential needs. 
Since the start of the lockdown, access to food, and public health and safety have evolved. This is my account.
FOOD SUPPLY DISRUPTIONS
Entering the first day of the hard lockdown on Apr 1, my partner and I had stocked about a week's worth of food. On that day, we also received our first package of government rations, comprising roughly 7kg of vegetables and a whole chicken. I remember the date well because my parents had driven across the Causeway to Johor Bahru that very day - marking their first overseas trip in two years. 
Over the first couple of weeks of April, people were waking up at the crack of dawn to get on grocery store apps. It was a game of fastest fingers first as the apps were overburdened by the surge in demand. Very often, one would stock up an entire cart, only to be denied the final checkout as there were no more courier slots available for the day. 
I had so far been unsuccessful with making any purchases, but I had not been too concerned until Day 5. That day, while undergoing mass PCR testing within the compound, I told the manager of the residents' committee that we would soon run out of rice if things continued as they were.
"Is it possible for us to establish a neighbourhood WeChat group to conduct bulk purchases? This is what my friends in other residential compounds are doing," I asked her. She said she would look into it.
Later that day, I tried to use Eleme, a food delivery service platform, to order 5kg of rice for a runner's fee of 19 yuan (S$4). The fee was about half of the cost of the rice, but it seemed a reasonable price to pay given the circumstances. 
To my surprise, the order got processed. Hours later, the runner called and asked for more money. I cancelled the order. My grip over my own life is diminishing, I thought at the time. Given the uncertainty of government rations, my alternatives were to either partake in a daily battle with countless others on grocery apps or be at the mercy of opportunists engaging in black market tactics.
On Day 7, I was notified of, and invited to a neighbourhood WeChat group – volunteer-led, like most of the residential compounds in Shanghai. These unpaid individuals undertook what I thought was the work of the government. They committed themselves to daily PCR testing, long hours in PPE suits, and worked 18-hour days organising mass testings, and food sourcing and delivery for the residents. 
Over the next two days, five group buys were set up. I participated in all of them, and received milk, eggs, meat, fruits, vegetables, oil and rice. The purchases took between three and six days to arrive.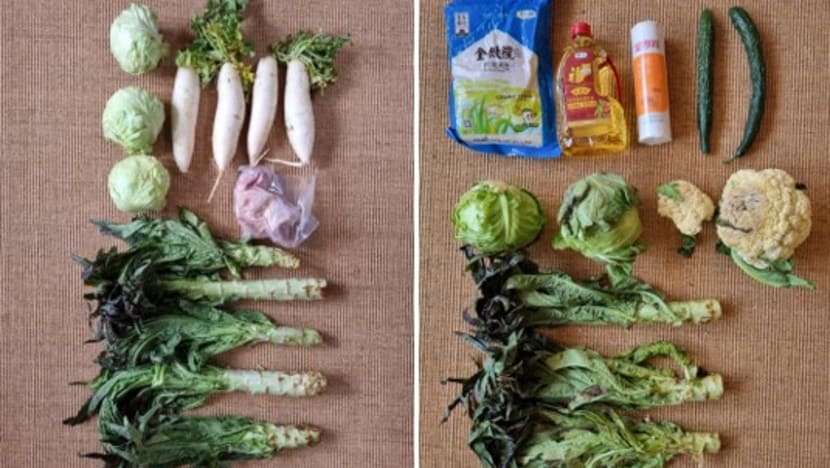 Over the last two weeks of April, the food situation gradually eased. By Day 16, the bulk purchases were consistently fulfilled and I felt we finally had food security. On Day 23, I was surprised to wake up to angry messages in the neighbourhood chat group. People had complained that some neighbourhoods within the same jurisdiction had received eight packages of government supplies, compared with two for our compound. 
Each package had so far lasted about three days for our household of two, which meant private purchases via the community group buys were a necessity. The manager of the residents' committee explained that these allocations were not set by her, but by the "higher-ups", and she was simply conveying the rations to us as they came. 
On the evening of the same day, we also heard the banging of pots and shouts of "Give us supplies" from a building opposite our compound. The actions appeared to be resident-orchestrated as we had seen flyers for such events across multiple compounds. I was in shock - after more than three years in China, this was the clearest sign of protest I had witnessed to date.
Coincidentally, soon after - on Day 24 and 26 - we received our third and fourth packages of government rations.
"The child who cries the loudest gets milk," came the wry reply when I told my Shanghainese friends about this. It was not until Day 36 - five weeks into our lockdown - that we were finally able to order takeout and take a break from our own cooking. It remains to be seen if this improvement will be sustained.
The situation can differ wildly from district to district, and even between residential compounds within the same district. So far we have heard of compounds in Baoshan and Pudong districts tightening control measures despite the absence of positive cases.
ENFORCEMENT ACTIONS UNCLEAR 
In a zero-COVID environment, a single positive case can affect an entire community. It didn't take long for that scenario to play out for me.
On Day 7, as we were walking out of our building towards the outdoor area of our compound, we found out that one of our neighbours had tested positive, which would have resulted in movements restricted strictly to our building. 
The next day, the building was sealed off with police tape. I also learnt that five more – out of a total of 14 people in our building – had tested positive but had not been taken away. At the time, this situation was becoming increasingly common due to a lack of ambulance capacity. 
However, PCR testing was to continue, and on Day 9, we were pressured to leave our unit to test at the base of the building. This was concerning because we live in a three-storey lane house building with subdivided units. Apart from us, the four households in the building have no way to safely isolate. Their sanitation and cooking facilities are communal and located outside their own units, and this meant that the three households with positive cases were frequently using the communal staircase and corridors.
Remembering my Shanghainese friends' advice ("the child who cries the loudest gets milk"), I tried to reason with the manager of the residents' committee. I told her that she was needlessly exposing us to the risk of infection, and I appealed to her to either temporarily pause testing until all the positive cases in our building were sent to quarantine facilities, or to test us at our unit's doorstep. 
"I sympathise with you, but I cannot do anything about it," she said. "I can only encourage you to call the district government and make a complaint." I took heed and called the city's 12345 public service hotline. My call went straight to voice mail.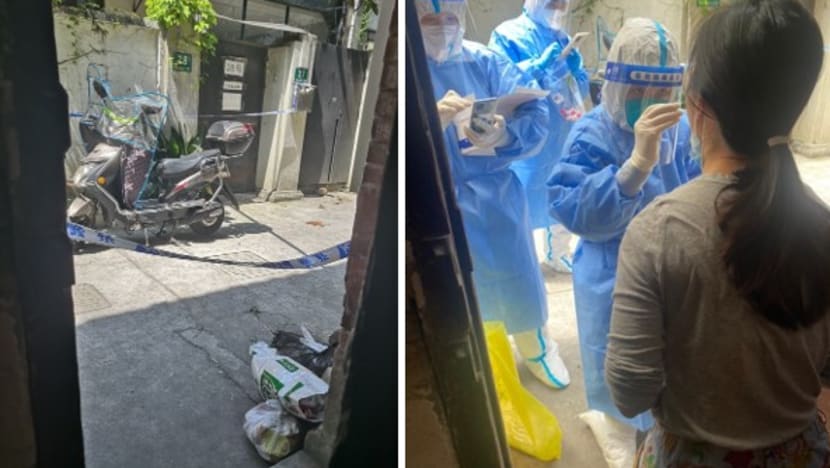 In the case of my building, it appeared that there was no way to safely do what was necessary, and frustratingly, at the same time, no flexibility and room to change course. This created much conflict between ordinary residents, and those enforcing the rules.
Relief came on Day 27 - 20 days after the detection of that first positive case within our building – when we were told that all our neighbours had recovered and tested negative. By then, most of the people I knew in Shanghai were less afraid of falling ill from COVID-19 itself than being sent to quarantine facilities where conditions were less than ideal.
All this while, there had been no timeline on when we could leave our building. Processes were opaque, communication muddy and the goalposts were shifting all the time.
First, the residents' committee said we would have had to wait for the previously infected neighbours to undergo a week of personal health monitoring. When the week was up, we were then told that those neighbours would have to test negative twice, consecutively. When those two days passed and the entire building tested negative (this was Day 36), the residents' committee still refused to let us leave our building, citing "requirements" that had yet to be met.
Finally on Day 38 (May 8), we were allowed to. This meant that we could out the trash ourselves and collect food deliveries in person. I never found out what the "requirements" were. 
So what's next? For the lockdown in our entire compound to be lifted, there must be no positive cases in the preceding 14 days. As of May 8, the last positive case was logged on May 3, so if all goes well, we could be free to exit the compound May 17. But all it takes is one new case and the 14-day clock restarts. 
Despite this, I know I am lucky. My main concerns over the past month were securing enough food and testing negative for COVID-19. I have friends who had to coordinate a stressful trip back to Singapore, because they did not want their children to continue with online lessons indefinitely. I have friends who had their building doors locked from the outside – in the name of COVID-19 prevention – and worrying about escaping in the case of fire. 
SILVER LININGS?
There are positive developments from the ongoing lockdown. For one, I am seeing growing rights awareness within my social circle, with people becoming more willing to question the legal basis of some enforcement actions.
My understanding is that people in Shanghai generally accept the state's zero-COVID policy and are willing to comply with repeated testing and lockdowns. However, with enforcement actions often chaotically and unevenly enforced with no clear set of rules, support for the policy is being eroded.
Another positive development is an improved relationship with my neighbours. Being forced to go through a testing time together in an enclosed space, previously cordial, "hi-and-bye" relationships have evolved into something a little more substantial.
For example, we chat more, we gift each other things, and we barter trade for items we need. On Day 34, as we all congregated in the communal kitchen waiting to be tested, I remember feeling particularly moved. The elderly Shanghainese retiree from the second floor was ranting, mainly to the young Anhuinese migrant living in the half-level below him. But he noticed that I was listening and started addressing me. We all chimed in, and rarely have I felt so included. 
"The anxiety from checking the test results daily will kill me, not the virus!" the retiree proclaimed. 
"Don't bother checking. The results don't hold water. If you are positive, you will get notified through a phone call," said the Anhuinese man. 
We all laughed, because it was true. And because, after weeks of living through lockdown, we were all aware that the gap between people's expectations - of transparent rules, clear procedures, documentation in writing, and orderly enforcement - and reality has been painfully obvious. 
The writer is an incoming PhD candidate at University College Dublin's School of Politics and International Relations. She was CNA's Shanghai correspondent from 2018 to 2020.