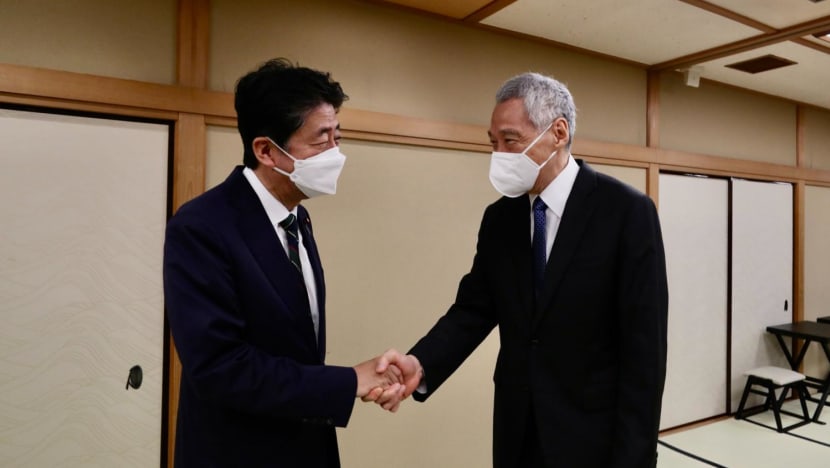 SINGAPORE: Prime Minister Lee Hsien Loong said the shooting of former Japanese prime minister Shinzo Abe is a "deeply shocking and distressing incident".
Mr Abe died on Friday afternoon (Jul 8), hours after a man shot him at an election campaign event in the western region of Nara. Japanese media reported that the suspect, who has been taken into custody, used what appeared to be a homemade firearm. 
The hospital that tried to save him said he died at 5.03pm, about five-and-a-half hours after he was shot. A doctor said Mr Abe had bled to death from two deep wounds, one on the right side of his neck. He had no vital signs when he was brought in.
"Received with a heavy heart the news that Mr Abe has succumbed to his injuries and passed on," Mr Lee said in an updated Facebook post.
"This is a deeply shocking and distressing incident. I offer my sincere condolences to Mrs Abe Akie, Mr Abe's loved ones, and the people of Japan."
Earlier before Mr Abe was pronounced dead, Mr Lee called the incident "a senseless act of violence", noting that Mr Abe was in critical condition. 
"I am deeply shocked to learn that former Japanese Prime Minister Abe Shinzo was shot in Nara Prefecture this morning," he said in the Facebook post earlier on Friday.
"Mr Abe is a good friend of Singapore. I had just hosted him to lunch in May, on my visit to Tokyo," said Mr Lee in his earlier comments. "My thoughts and prayers are with Mr Abe and his family."
President Halimah Yacob expressed her deepest condolences to the people of Japan.
"As Japan's longest-serving prime minister, he will be remembered for his dedication to improving the lives of his fellow countrymen and women. He served with distinction and honour," she said on Facebook.
"Singapore and Japan share close ties. Our hearts are with our Japanese friends."
Foreign Affairs Minister Vivian Balakrishnan paid tribute to Mr Abe, saying: "He was a leader with great vision and passion for transforming Japan in the face of many global challenges. 
"At a personal level, I will remember a leader who made time for younger foreign visitors, generously shared strategic perspectives, and had a ready smile."
He added: "Deepest condolences to his wife Mrs Abe Akie, the government and people of Japan."
Deputy Prime Minister Lawrence Wong recalled that he was the Minister-in-Attendance when Mr Abe visited Singapore in 2013.
"He had just started his second term as PM, and I still remember his resolve and strength when he shared his plans to revive the Japanese economy," he said on Facebook.
"My deepest condolences to his family, and to the government and people of Japan on this tragic loss."
Calling him a long-time friend of Singapore, Deputy Prime Minister Heng Swee Keat said he is shocked and saddened by the death of Mr Abe.
"I had a warm and constructive call with then prime minister Abe back in 2019, when I made a visit to Japan. Mr Abe was the longest-serving and one of Japan's most influential prime ministers, and I remember him as a dedicated and transformative leader," he added.
Mr Abe was 52 years old when he first became prime minister in 2006, the youngest person in Japan to occupy the job in the postwar era.
During his time in office, he pushed for the revision of Japan's pacifist constitution to recognise the country's military and sought to revive Japan's economy through a plan dubbed Abenomics.
He remained a prominent political figure even after his resignation.