From JB to Singapore: We expected congestion, but the commute was smooth on first morning of border reopening
JOHOR BAHRU/SINGAPORE: Many travellers across the Woodlands Causeway on Friday (Apr 1) morning were anticipating traffic jams after prolonged border closures for more than two years due to COVID-19. 
Pre-pandemic, the journey from Johor Bahru to Singapore on weekday mornings could be stressful, as thousands of Malaysians headed to work before returning home in the evening.
However, the roads were smooth and the journey was largely uneventful on Friday morning as people made their way across without the need for vaccinated travel lane (VTL) bus tickets, swab tests or quarantine. This is perhaps an indication that daily commuting by a large number of people has not immediately returned.
CNA correspondents Rashvinjeet S Bedi and Amir Yusof made the journey from Johor Bahru to Woodlands to get a sense of what it was like for travellers on the first morning since the land borders were fully reopened:
BY SHUTTLE BUS: RM2 TICKET A RELIEF (RASHVINJEET S BEDI) 
The day before the big border reopening, I went around the Larkin transport terminal in Johor Bahru to ask about tickets across the causeway. 
No one knew about the availability of buses to Singapore or when they would start operating normally, just like pre-COVID-19 times.
There were no tickets on sale at the counters and everything had to be purchased online. When I checked the website, I saw that there were very limited tickets and at timings which were not convenient for the morning commute.
Enquiries at the taxi stand also came to nought, as those who used to ply the Causeway route claimed that they would only be able to operate in June because of certain approvals that were needed. They did not elaborate further.
And around 9.30pm, shuttle bus operator Causeway Link announced via a social media post that it would be operating buses every 15 minutes from 6am.    
I could not sleep properly for the whole night, as I wondered if there would be a snaking queue. I contemplated the possibility of walking across the 2.4km Causeway if the queue was too long.
I set off from my hotel at 6am, walking in a deserted downtown Johor Bahru where there were only security guards and a few road sweepers around. 
When I arrived at the Customs, Immigration and Quarantine (CIQ) complex at Bangunan Sultan Iskandar (BSI), I noticed a hive of activity including a line of taxis that were waiting for prospective passengers.
There were no queues where the passports were inspected and it took me about half a minute to get past the Malaysian immigration.  
I then made my way to the transport terminal for the shuttle bus.
There was no queue for the bus and everyone had a place to sit down. Some were carrying big luggages while others just had backpacks with them.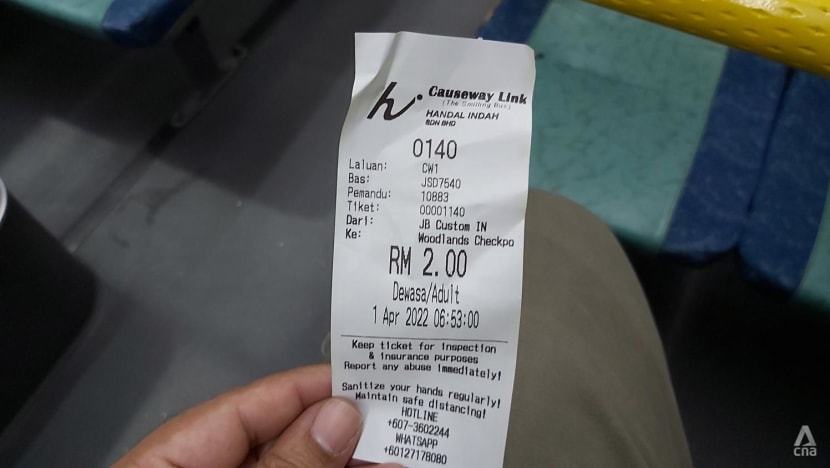 I took the 7am bus. According to a Causeway Link personnel, four buses had already left by then.
The fare to get across to Singapore was only RM2 (US$0.47). 
On the bus with me was a married couple from Johor Bahru who were working in a restaurant at Pasir Ris. 
Mohd Mirza, 28, as he wanted to be known and Nurashikin Rozman, 27, had boarded the 7am shuttle just hours after returning from Singapore past midnight. 
"We just wanted to come out of Singapore. We wanted to savour the atmosphere of going back to Malaysia," Mirza told me.
After a few hours of sleep at his parents' house, it was then back to Singapore again for work.
Except for three weeks in January when the VTL was in place, they had remained in Singapore since the beginning of the pandemic. 
However, the VTL was not exactly practical for the couple, given the costs involved such as needing to pay for swab tests.
As things slowly return to normal, they plan to ride across the Causeway everyday.  
They are currently paying S$1000 monthly to rent a flat in Singapore. "We can rent a house in Johor Bahru for that amount," Nurashikin remarked.
It took the bus less than five minutes to reach the Singapore checkpoint. Along the way, I saw a few people walking across the Causeway.
Clearing the Singapore immigration took slightly longer than the Malaysian side, but it was still seamless. 
I was last in Singapore back in January 2017 for a one-night stay with my wife. Talk about being so close yet so far.
Before today's trip, my current passport has only been used once – for an overseas journey back in February 2019.
After clearing Singapore immigration, I spoke to Zulkifli Nawawi, 46, who was in Singapore to look for work.
He quit his job as a cleaner in Singapore so that he would not have to be separated from his two small children. 
"My old supervisor called me to come back and work. After more than two years, it is a relief finally that the border is open," he said. 
His words did have an effect on me.  
My late father used to work in Singapore a long time ago, driving daily across the Causeway and battling traffic jams.
It certainly wasn't easy for him. As a child, I was glad that I never had to be separated from him for long periods of time, unlike families who have been separated due to COVID-19. 
I can only hope that with the reopening of the borders, less families would be separated because of the need to regularly travel to another country to work.  
PILLION RIDER: SMOOTH TRIP WITH MINOR HICCUPS (AMIR YUSOF)
I had forgotten how convenient it was to cross the Causeway on my own transport. Pack my documents, mount up the motorcycle and head to the immigration checkpoint. 
No need to brave long online queues for VTL bus tickets, or take pre-departure swab tests and on-arrival tests. There was also no quarantine on the other side. 
I was riding to Singapore from Johor Bahru alongside Malaysian Razali Tompang, who was heading to his office in Joo Chiat for the first time since the borders were closed in March 2020.  
Razali told me that he was blessed that his employers have allowed him to work from home over the last two years. But he said that he also missed being in the same building with his colleagues as well as the camaraderie with fellow Malaysian motorcyclists who made the round-trip daily.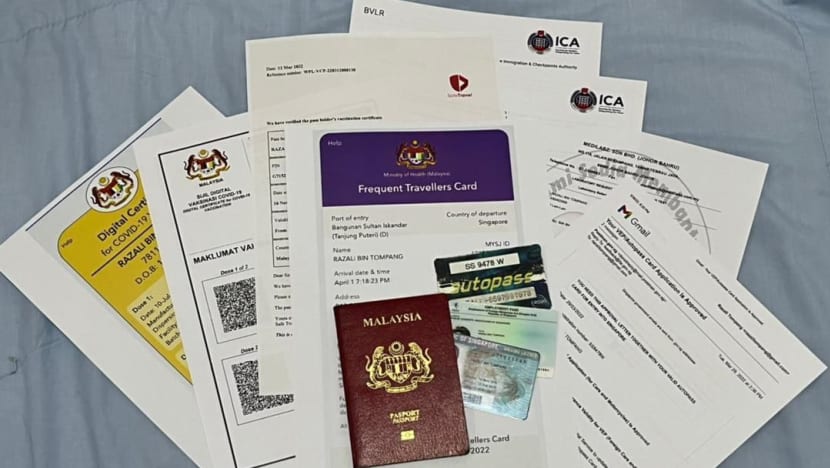 In preparation for his trip, Razali drew up a checklist to ensure that he had all the required documents for his journey - passport, vaccination certificate, Land Transport Authority (LTA) Autopass card, a confirmation email on his Vehicle Entry Permit scheme and his motorcycle license. 
At around 6.30am on Friday morning, we strapped on our helmets and set off. Within 5 minutes, we arrived at Malaysia's immigration checkpoint at BSI. 
All the counters had green light indicators, meaning that they were all in operation. However, Razali had to reverse his motorcycle after entering the wrong lane. As we were travelling as a pair, we should have rode into the manual clearance immigration lane. 
An immigration officer walked over to politely remind him of this. 
"Sorry, it has been so long, more than two years so I forgot this," Razali said. 
After clearing the immigration, we entered the Causeway as the sun rose over the horizon to our left. 
The sky was a clear orange-red as we sped through the bridge, wind blowing on our faces. 
There was no traffic jam as we had expected. I counted that there were less than a dozen vehicles moving in the same direction.
On the side of the road, we saw around 30 people who were walking from Singapore towards Johor Bahru. Some were dragging along their luggages, while others were posing for photos. It has been a while since many of us could travel like this. 
Razali honked and waved at some of our fellow travellers, and many returned the greeting. 
"It's surreal that the last time I made this journey was two years ago. I can't quite believe it," he said. 
We reached the Singapore checkpoint by 7am and cleared immigration fairly quickly. 
An Immigration and Checkpoints Authority (ICA) officer pulled us aside to verify that Razali has fully recovered from COVID-19. He contracted COVID-19 last month and has since recovered. 
He declared this on the SG Arrival Card that he submitted online. He had to produce a medical document showing that he has since tested negative.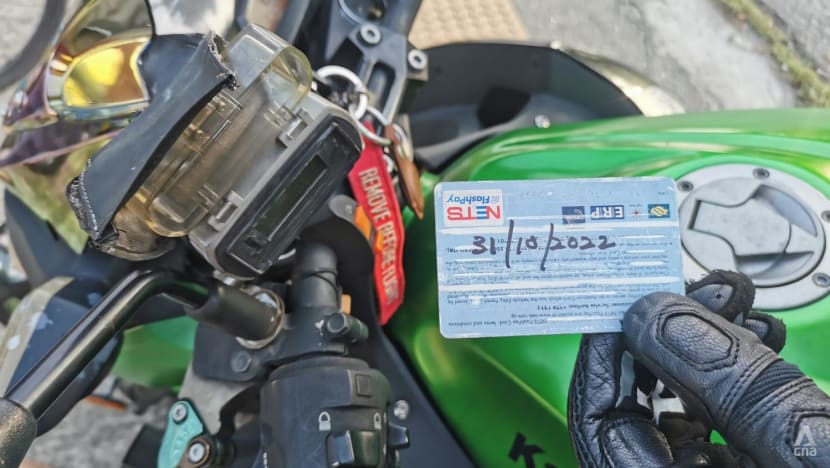 We experienced delays when the automated card reader failed to read Razali's Autopass card. 
"Card is expired" the machine read. However, Razali had an email confirmation from the Land Transport Authority that his card was indeed approved for entry.  
We had to push the motorcycle to a special lane and speak to an LTA officer in a booth, who verified all the documents. 
The whole process took around 15 minutes, and Razali was asked to produce other documents such as his motorcycle insurance and a slip to show that he was the owner of this motorcycle.
"It's a bit cumbersome because previously the machine would have recognised my card and there would be no need for this. I hope this will not happen in my subsequent journeys," he told me.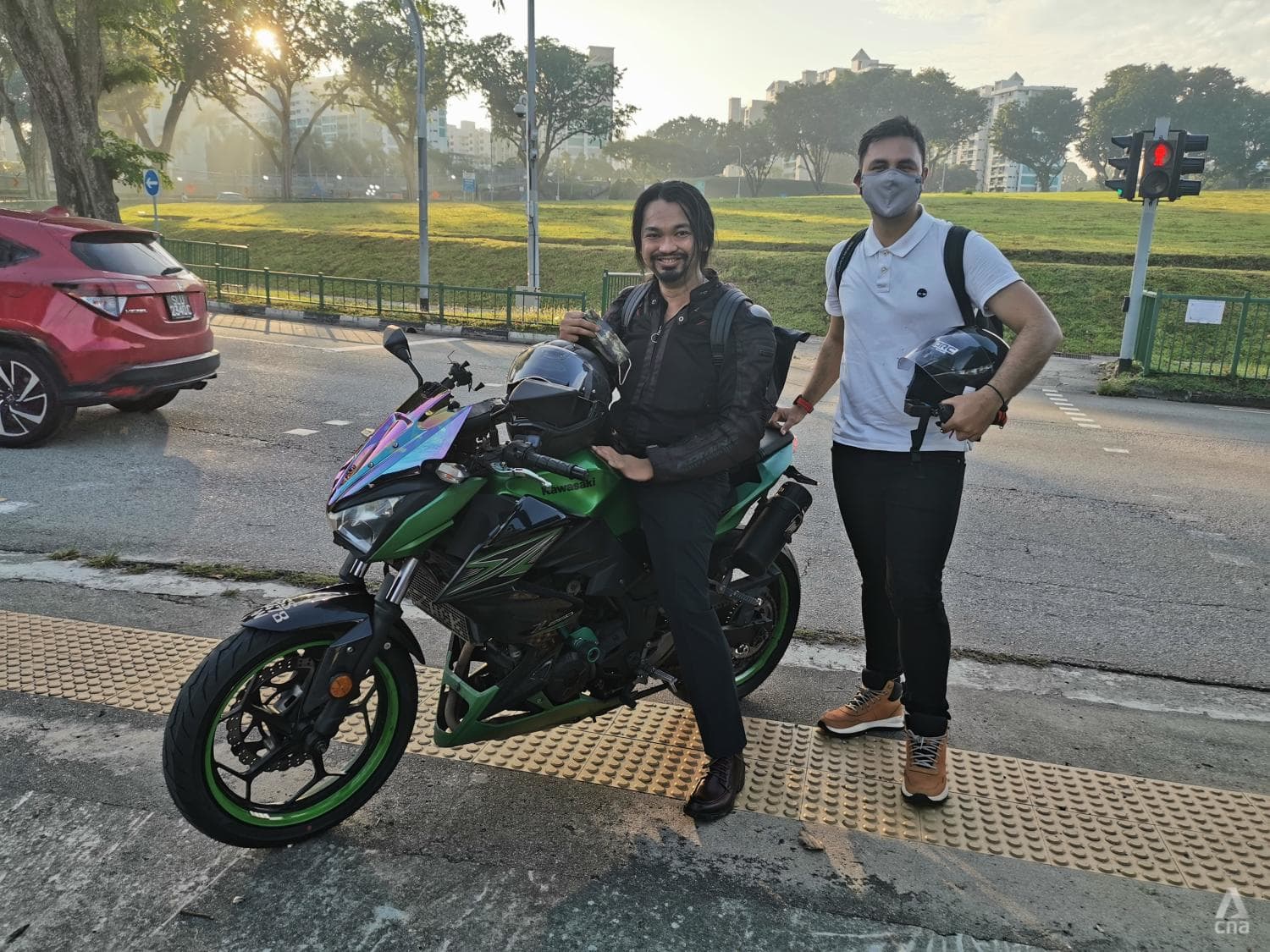 The whole trip took around one hour, and this was a pleasant surprise as previous journeys before the pandemic would typically take double the time. 
"I'm happy to resume this mode of commuting, but I hope that there would be less technical hiccups in my subsequent travels," said Razali, before he dropped me off at the Woodlands checkpoint and headed for work.