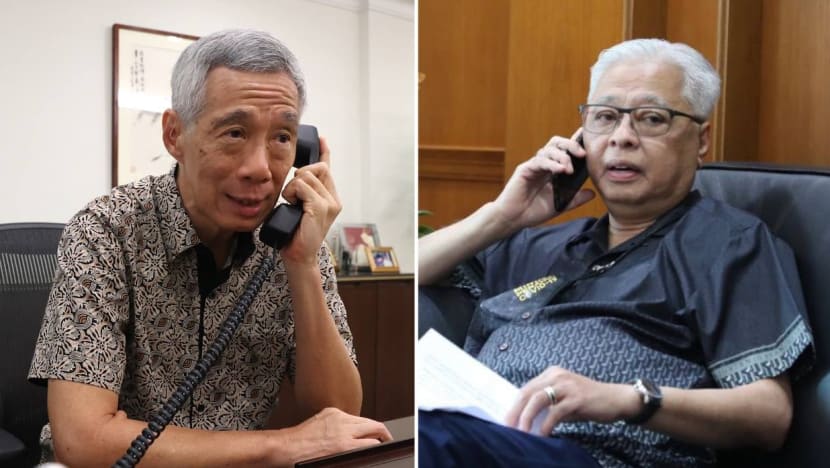 SINGAPORE: Prime Minister Lee Hsien Loong on Sunday (Aug 22) congratulated Mr Ismail Sabri Yaakob on becoming Malaysia's ninth prime minister, as he invited his newly sworn-in counterpart to make an official visit to Singapore.
In a telephone call that Mr Lee made on Sunday morning, both leaders affirmed Singapore's and Malaysia's "longstanding, deep, and broad-ranging relations," Singapore's Foreign Affairs Ministry (MFA) said in a press statement.
MFA added that during the call, the two prime ministers also looked forward to working closely together and tackling "shared challenges" like the COVID-19 pandemic.
Mr Ismail Sabri's handling of the pandemic, as co-chair of the Singapore-Malaysia Special Working Committee on COVID-19, was also highlighted by Mr Lee in a separate congratulatory letter. 
Mr Lee noted that Mr Ismail Sabri had "contributed significantly to strengthening bilateral cooperation" by overseeing the continued movement of people and goods across the borders.
"With your wealth of experience in public service and government, including having helmed multiple Ministries prior to your appointments as Deputy Prime Minister and Senior Minister, I am confident that Malaysia will continue to prosper under your leadership as Prime Minister," wrote Mr Lee.
Mr Ismail Sabri was sworn in as Malaysia's prime minister on Saturday, drawing a close to almost a week of political upheaval in Putrajaya.
He replaced Mr Muhyiddin Yassin, who resigned at the start of the week, after losing majority support in parliament.