'Can't keep up with the orders': Sales of Hari Raya goods in JB boosted by return of Singapore shoppers
With the land borders reopening and weakening of the ringgit, Singaporeans are opting to travel to Johor Bahru for their Hari Raya shopping.
JOHOR BAHRU: In the lead up to Hari Raya Aidilfitri last year, Angsana Shopping Centre in Johor Bahru was a "dead town", recalled Mdm Suhaiza Ibrahim.
The owner of Sue's homemade cookies, which is located in the mall, remembers the empty corridors and shuttered storefronts, as prolonged border closures between Singapore and Malaysia stalled the retail scene over the last two years.
However, the difference in festive atmosphere and business volume in 2022 as compared to 2021 has been like night and day, said Mdm Suhaiza. 
"The reception (for our cookies) has been unbelievable this year," she said. 
"We cannot keep up with the orders, and frankly we won't have enough stock for everyone. The demand has truly surpassed expectations."
She cited the reopening of land borders between Singapore and Johor earlier this month as the key reason for a spike in sales during this festive season. 
"For a stall like ours, 70 per cent of our business comes from Singaporean customers. Before COVID-19, Singaporeans would come to Angsana. And we are so happy now that borders are reopened, they have come back," she added. 
Other businesses in Johor Bahru which sell Hari Raya products have reported similar spike in sales this month, with many crediting this to the return of Singaporean tourists.
Additionally, visitors from Singapore interviewed by CNA said that they decided to make the trip across the Causeway for Hari Raya shopping because of the recent favourable exchange rate, with the Malaysian Ringgit weakening against the Singapore Dollar. 
EARNINGS BOOST, STOCKS ARE DWINDLING 
Angsana Shopping Centre is one of the more popular malls when it comes to shopping for Hari Raya products in Johor Bahru, partly due to its centralised location. 
When CNA visited the mall on Tuesday evening (Apr 26), it was packed with visitors. 
At Mdm Suhaiza's Sue's homemade cookies stall on the ground floor, visitors had to queue in line to enter. Many cookies, such as popiah serunding (mini spring rolls with grated coconut) and kueh makmur (cookies filled with crushed toasted peanuts), were no longer in stock. 
"We did not expect them to announce the reopening of borders so soon, so we did not prepare enough for this crowd," she said, adding that her earnings have doubled as compared to last year.
There were similar crowds waiting outside the adjacent Hari Raya cookie stores as well. 
At Impian, which sells Hari Raya decorations and lights, there was a sizeable crowd too. 
Its owner Ms Tan Shwn Ing told CNA that in the 20 years she has done business in Angsana, she has not seen such high demand for her Hari Raya products.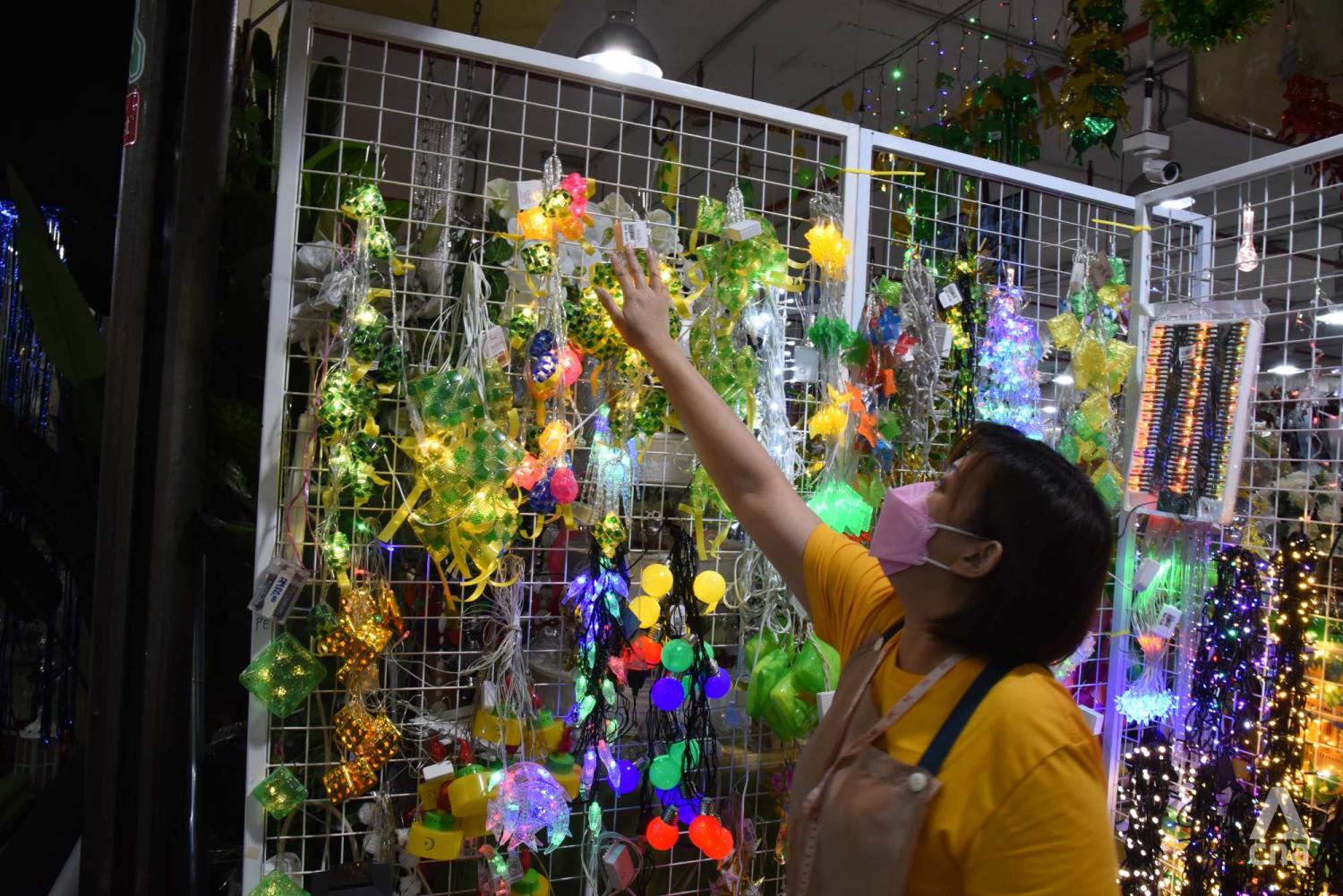 She said that the stocks for decorative LED lights have dwindled, and she had to make last minute orders to replenish them.
"It's because of the border reopening, and there's pent-up demand from Singapore. Many of my Singapore customers called to place orders this time," said Ms Tan, 41. 
"I'm thankful because they buy in bulk, for their family members and friends. It's great for our business and we hope Singaporeans will come back, even outside of raya," she added. 
Outside the mall, tents have been set up for a food bazaar so that people can buy cooked food to break their fast at dusk. Adjacent to this bazaar was a carnival, with a ferris wheel, merry-go-round and other rides.
"Crowds throng both the bazaar and carnival every day. At times there's barely space to walk," said a drinks stall owner who wanted to be known only as Fadzil. 
"It's a good mix of locals and Singaporean Muslims who are here. They do their raya shopping, then enjoy the festive atmosphere here after," he added. 
Besides Angsana Mall, businesses selling Hari Raya products in other areas of Johor Bahru have also reported a boost in earnings in recent weeks.
For instance, the owners of a stall selling frozen grilled meat and palm-based toffee in a Ramadan bazaar at Taman Dahlia told CNA that business has improved by five-fold as compared to last year.
Couple Ahmad Mustafa and his wife Zuraidah Ismail said that they have noticed more Singapore-registered cars parked in the area in recent weeks.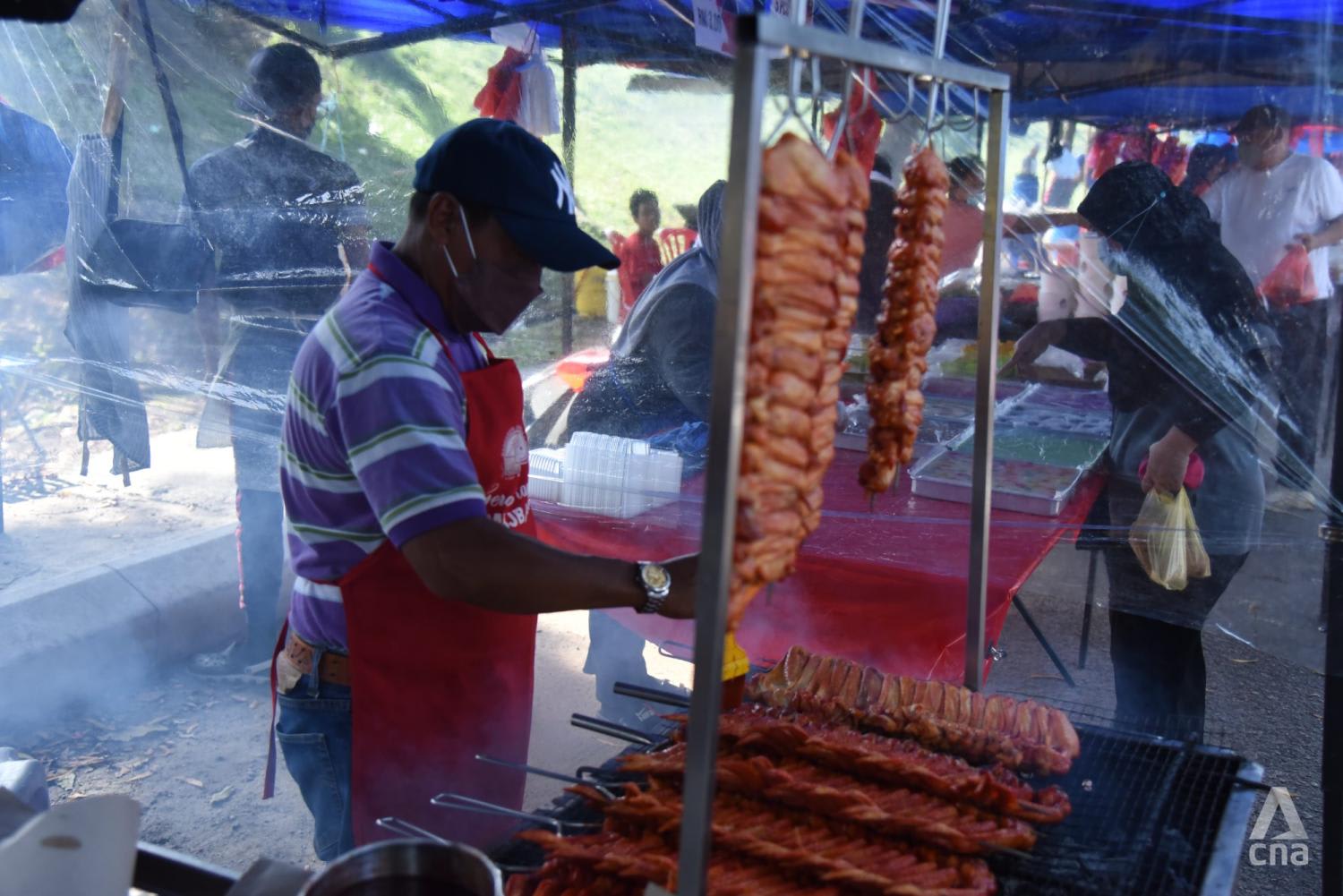 "We thank God that the borders have reopened," said Mdm Zuraidah. 
"The increase in earnings is so important after what has been a difficult couple of years. We can look forward to a blessed Hari Raya now," she added.
She said that she expects to be able to sell all existing stocks this festive season.
SINGAPOREANS JUMP ON FAVOURABLE  EXCHANGE RATE TO SHOP  
Mr Mohd Firdaus Ismail, a Singaporean business owner who was shopping at Angsana Shopping Centre on Tuesday, told CNA that he decided to do his Hari Raya shopping in Johor Bahru after learning about the favourable exchange rate. 
Over the last week, the Singapore dollar hovered at around 3.17 against the Malaysian ringgit, up from 3.10 in early April. 
This gives Singaporean visitors like Mr Mohd Firdaus more bang for their buck when shopping across the border. 
"When I heard about (the exchange rate), I decided to change some money in Singapore. Then I took leave and brought the whole family here for the day - we shop, break our fast then head back," said Mr Mohd Firdaus. 
"It's a productive trip. We bought clothing and cookies from Angsana Mall and it's much cheaper then if we were to shop in Geylang or Kampong Glam," he added.
Another Singaporean who was shopping in Johor Bahru, who wanted to be known only as Ms Nora, told CNA that the exchange rate was a key factor in encouraging her to make the trip ahead of Hari Raya on May 2. 
While in Johor, she went to style her hair at a salon. She also bought two sets of baju kurungs for herself and lemang for her family. 
Lemang is a traditional Malay food made from glutinous rice cooked in a hollowed bamboo tube. It is frequently served during Hari Raya. 
"It is very difficult to buy food like lemang in Singapore, so I am glad I made the trip," said Ms Nora. 
"It also helps that everything is much cheaper with the good exchange rate now," she added. 
Owner of the Hari Raya decorative store, Ms Tan, acknowledged that the exchange rate may be a possible reason for the sudden spike in Singapore visitors in recent days. 
"I think the exchange rate is a factor. It would explain why the crowd is even more these days as compared to the beginning of the month," said Ms Tan.