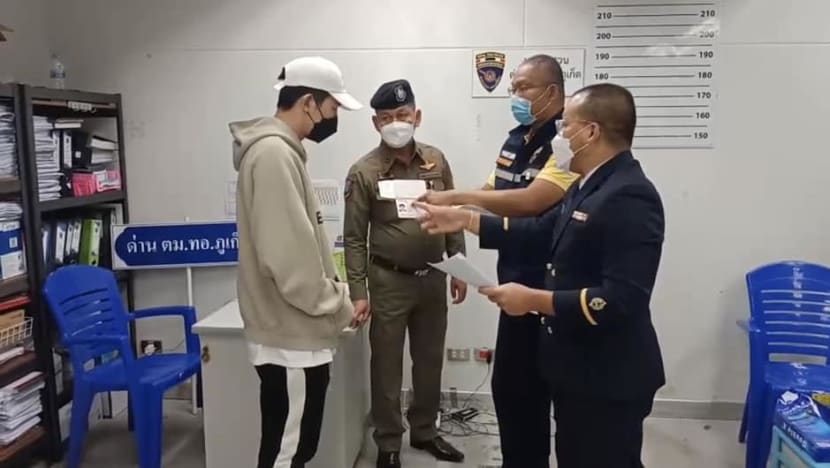 BANGKOK: A Singaporean was arrested at Thailand's Phuket International Airport on Monday (Jan 16) for his alleged involvement in a foreign exchange trading scam, according to the Public Relations Department of Phuket.
The man identified as Daryl Yonghui Cai was detained by immigration and police officers at the airport's departure hall where he was waiting to board Scoot flight TR659 to Singapore.
According to the authorities, the Thai Criminal Court has issued an arrest warrant for the man as a suspect in a fraud case known as the Forex-3D scam.
"The immigration officers at the Phuket airport's departure area examined the person's passport. It turned out Mr Daryl is a suspect in the arrest warrant," the Phuket Public Relations Department said on its Facebook page on Monday.
The man is believed to be one of the key suspects in the Forex-3D scam, which is being probed by the Justice Ministry's Department of Special Investigation (DSI).
According to DSI, the website www.forex-3D.com was used as an advertising channel to lure the general public into investing in foreign exchange by offering a return rate of 60-80 per cent.
Describing the scam as causing a "massive amount of damage", DSI said that the case comes under the 1984 Emergency Decree on Obtaining Loans Amounting to Public Cheating and Fraud.
Prior to the arrest, Thai authorities conducted a search at a luxury condominium in Bangkok in their efforts to detain the suspect after learning of his whereabouts.
"An investigation revealed that Mr Daryl Yonghui Cai had escaped and come to stay at the condominium with his girlfriend. This led to a request for a search warrant in order to arrest the suspect," said DSI in a press release on Jan 14.
The authorities did not find the couple there. However, a security guard at the condominium later informed the authorities of a person whose appearance is similar to the suspect's girlfriend had left the premises with another individual shortly before the officers' arrival.