South Korea grapples with one of its worst water scarcity crises
Among the government's solutions is the deployment of a mobile seawater desalination plant.
JEOLLA, South Korea: More than 1 million people in South Korea are currently facing a water crisis, as two main reservoirs that supply the Jeolla province – about 440km south of Seoul – run dry. 
A drought has ravaged the region, known for its pristine landscapes, for about four months now, with water levels of its reservoirs less than half of what they used to be. 
The Dongbok Dam, for instance, only recorded about 800mm of rain last year, about 60 per cent of what it received in 2021. 
If the dry weather continues, about 1.4 million residents of Gwangju – the provincial capital – could be out of water before June. In the smaller towns and islands, the situation is worse, as they depend on trucks that bring water.
These trucks are the lifeline for about 5,000 residents of Geumil-do, where taps have run dry. It is one of many islands surrounding Wando county in Jeolla province.
A total of eight trucks carry water three times a day from Jangheung dam on Tamjin River – one of three main rivers in the province – to Chukchi Reservoir in Geumil-do. 
Each truck has a capacity of about 15,000 litres of water.
Residents only have access to water through their taps twice a week due to water rationing. They have had to improvise – blue water tanks sticking out from the rooftops of houses are now a common sight on the island. 
USING WATER TANKS
Resident Jung Byung-jin said most houses have at least one water tank. The 75-year-old keeps hers in a storage room outside her house.
On the two days when she gets water supply, she fills her tank up and the quantity can last a few days.
She said she and her husband share that one water tank with two people next door. However, the water is not enough for all of them, so she saves what she can. 
"I also save water in the sink. We do the laundry when there's tap water two times a week. So we keep our laundry until then," Madam Jung said. 
She said this is her first time experiencing a water crisis of this scale in her life, and is worried about how long it will last. 
"Rain must come. We don't know how long we can go on like this … I wonder if it will rain in springtime. We are just waiting for rain to drop. There's no other solution." 
SOLUTIONS FOR WATER CRISIS
However, even as the region goes through what is said to be its worst water crisis, the authorities are not entirely unprepared. 
To deal with the situation, South Korea's Environment Ministry deployed the Dreams, an US$18 million vessel with a seawater desalination plant which converts seawater into freshwater that is safe for agriculture and consumption.
It is the world's first maritime mobile seawater desalination plant. 
Moving from one island to another, the vessel, which measures about 70m in length, can deliver 300 tonnes of potable water every day.
Because of its size, the Dreams relies on a fleet of smaller boats to transport desalinated water directly to the islands. 
Another barrier the vessel faces are the many fishing nets set up by residents in Wando who do a lot of fish farming, said desalination plant project manager Kim Kee-hong.
Many big cities have their own water framework, but in the island areas, there are not many good water infrastructures, noted Professor Lee Sang-ho of Kookmin University, who heads the research group which developed the Dreams. 
"(Dreams), it moves from one place to another place and we can supply the water required for the people and by just having one or two desalination ships, we can cover many islands at the same time," he said. 
His team began working on this project in 2018 when South Korea realised the need for such a vessel due to the impact of climate change. 
EXPORTING KNOWLEDGE
South Korea's Vice Minister for Environment Yoo Je-chul told CNA that the country is hoping to eventually export the technology behind the Dreams to countries with similar challenging geographies. 
"We think there will be a need for countries where water is scarce like in Southeast Asia, or Central and South America," he said. 
Apart from the mobile desalination plant project, South Korea is also working on other measures to ease its water issues. 
"We are continuing to expand those grids that supply water from areas with sufficient water to areas where water is scarce," Mr Yoo said, adding that the government also plans to establish long-term drought measures. 
He said the drought situation could improve once the rainy season starts around July or August. 
BUSINESSES THREATENED BY DROUGHT
Abalone farmers in Wando are depending on more rain to ensure the continued supply of the prized seafood. 
The county's abalones feed on seaweed making them "high-maintenance", said Mr Lim Moon-gap, the head of Mangnam village in Jeolla.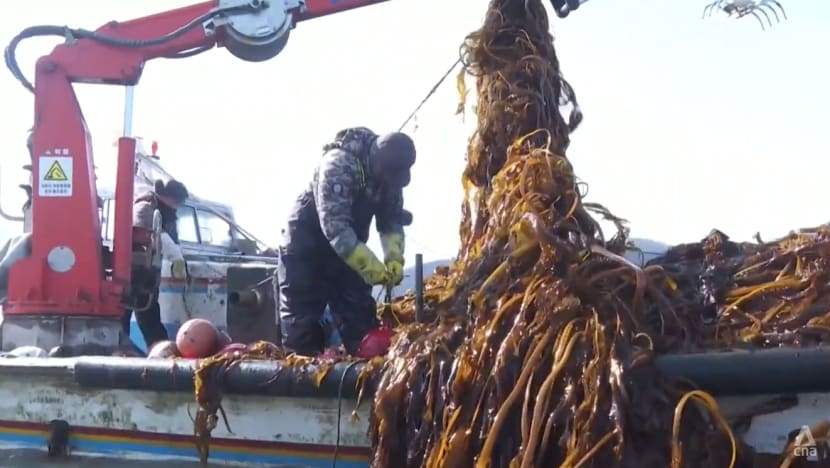 "We need a lot of rain. Due to the lack of rainfall, there is a cut in water supply especially on the islands, which is inconvenient. Seaweed also needs rain to generate more nutrients. But since it's not raining, we are seeing some damage," he said. 
While the drought that has plagued the region for about four months now, it has yet to have a huge impact on the 2,600 households in Wando who work in the fisheries industry, including Mr Lim's business.
However, he is worried it could eventually hurt the quality of his abalone. 
Freshwater is also needed to wash off saltwater on the seaweed before it can be shipped out for people to buy.
Mr Kim Yang-soo, director of the abalone association in Wando, said the consequences of the drought could be dire as fisheries are the main source of income for residents. 
It could also disrupt the national supply as about 70 per cent of the country's kelp and abalones are currently from this area. 
"Wando is naturally gifted with elvan making up the bottom layer of the sea. The anions that are generated from the elvan help produce high quality abalone," said Mr Kim.