IN FOCUS: 'I have great fear' - despair and anger as Sri Lanka plunges deeper into crisis
As the devastating economic crisis in Sri Lanka continues with no end in sight, CNA finds out how people's daily lives are being affected.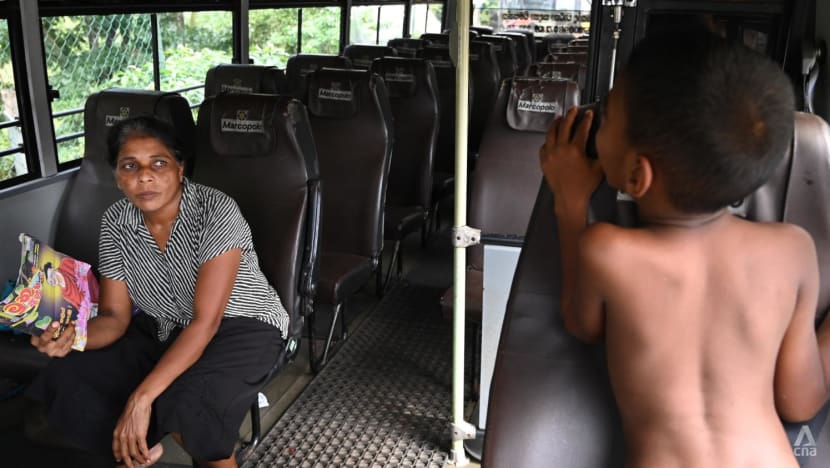 COLOMBO: A cloud of thick smoke from burning cinnamon wood filled a makeshift kitchen in Sri Jayewardenepura Kotte, the administrative capital of Sri Lanka.
On the rooftop of a local church, spiced rice and green mango curry were cooking in big pots on the firewood. 
More than 100 people would later arrive for a feast at this community kitchen. It was recently set up by local foundation Voice for Voiceless to provide free lunches for Sri Lankans who cannot afford to eat. 
"It's open for anyone. Whoever is hungry can come and eat," said Mr Moses Akash, the foundation's director. 
"It's a very challenging situation in the country. Regardless of who has put us in this bad place, the people are suffering." 
Sri Lanka is facing the worst economic crisis in its history. 
As the situation unfolds, its people have been increasingly overwhelmed with the soaring cost of living, driven by spiralling inflation and foreign exchange shortages.
The country is officially in default after failing to make debt interest payments last month. Its dwindling foreign currency has crippled the economy, disrupted imports and led to shortages of food, fuel and other essentials.
In May, consumer prices in Colombo jumped 39.1 per cent from the same period last year, according to the Department of Census and Statistics. Food inflation alone went up 57.4 per cent while prices of petrol, diesel and gas nearly tripled.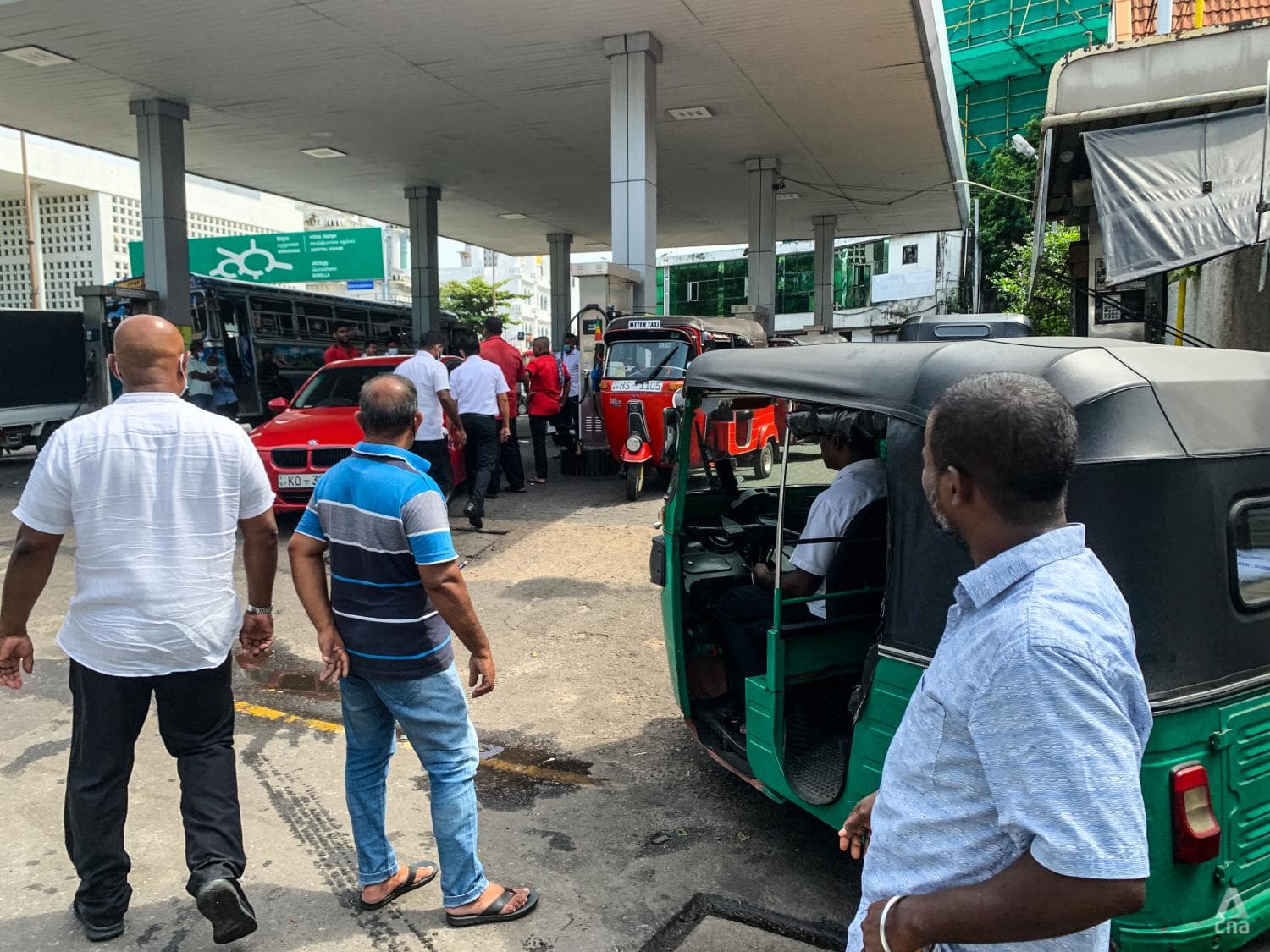 As the days go by, the crisis deepens. 
Many petrol stations in Colombo are closed because there is no fuel. When there is, queues of vehicles stretch for kilometres as drivers spend hours in line to fill their tanks.
The fuel shortage has disrupted various aspects of life in Sri Lanka. Hours of blackouts have continued to occur across the island nation of 22 million people as interrupted power generation means inadequate supply.
"The next three weeks will be a tough time for us in regards to fuel. It is time we all must use fuel and gas as carefully as possible. Non-essential travel should be limited as much as possible," Prime Minister Ranil Wickremesinghe said in parliament on Tuesday (Jun 7).
The country spends US$500 million per month on fuel but with its diminishing foreign exchange reserves, it is struggling to keep the country running. 
"Somehow, we have to find US$3,300 million worth of fuel for the next six months," said the prime minister, who also serves as finance minister.
FOOD SHORTAGE, HUNGER AND DESPERATION
Each year, Sri Lanka needs 2.5 million metric tonnes of rice for consumption. However, according to Mr Wickremesinghe, there are only 1.6 million metric tonnes in stock.
This is an issue which applies to other crops as harvests have declined over the past months.
"So, in a few months, we will have to face serious difficulties and shortages in terms of our diets. We need to import food items to meet our daily requirements. It costs about US$150 million a month," the prime minister said.
The scarcity of food, fuel and electricity has brought hunger and desperation to many Sri Lankans, particularly the urban dwellers who survive on meagre daily wages, with no land to farm.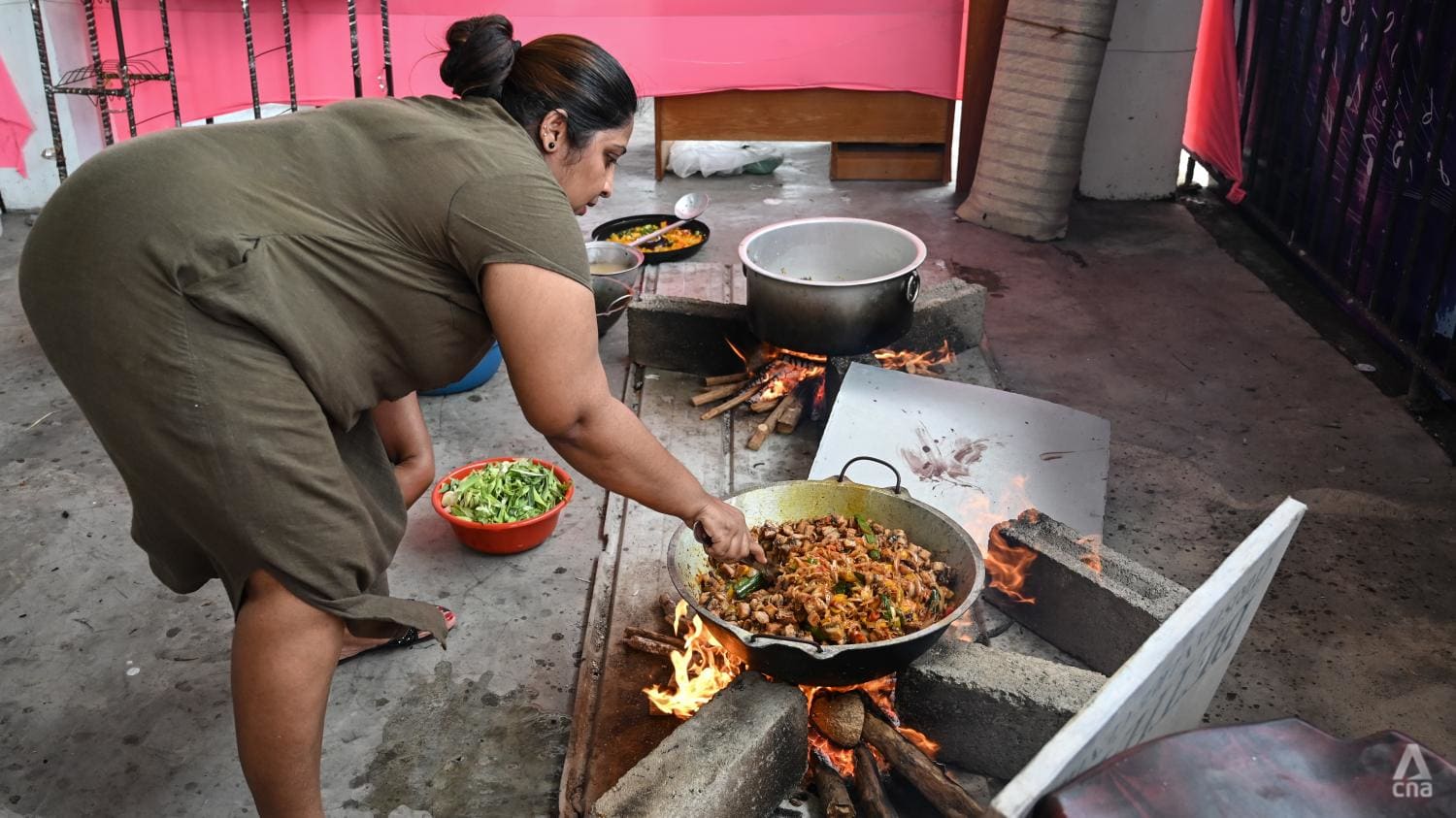 To help ease their suffering, Mr Akash opened a community kitchen with a handful of volunteers on Jun 1 to cook and serve nutritious meals for free. The service takes place from Monday to Saturday and involves volunteers from across the city. 
"We provide three kinds of vegetables and a kind of meat, dried fish, eggs or something so that it's a wholesome meal," he told CNA.
Fruits and vegetables are collected from supermarkets at night, when they would otherwise be thrown away after passing their shelf life. As for meat, rice and other ingredients, they are sponsored by donors from around the world, including Sri Lankans living abroad.
"There's this one uncle who came on the first day. He said he only then got to eat chicken in the past four months. That was also the first time in four months that he got to eat two plates of rice. That's the kind of challenge these people are facing," said Mr Akash.
Behind him, volunteers added more fuel to the fires. They have not been able to buy any cooking gas for days and instead opted for coconut shells, sticks and charcoal. 
"I've seen a lot of people who have food but cannot cook. Some people don't have food at all. So, that's where we said 'Okay, we'll help you with a good meal,'" Mr Akash added. 
ANTI-GOVERNMENT PROTESTS ONGOING 
The Sri Lankan government under President Gotabaya Rajapaksa is facing mounting pressure from the public as the country plunges deeper into the crisis.
His elder brother and former prime minister Mahinda Rajapaksa – who also served as president from 2005 to 2015 – resigned last month after weeks of protests and a series of violence.
On May 9, a bloody clash broke out between government supporters and anti-government demonstrators outside the presidential office in Colombo. The site has been occupied by the anti-government group since April to protest the alleged economic mishandling of the Rajapaksa administration.
The violent confrontation resulted in scores of injuries and deaths. The incident led to the resignation of the then prime minister, although it failed to appease anti-government protesters across Sri Lanka.
On the same night, angry mobs stormed and torched properties belonging to the Rajapaksas' affiliates in different parts of the country despite a nationwide curfew.
As the impact of the crisis intensifies, observers fear more violence could break out.
"If the government is not going to take any positive measures to address the amount of depression the people are going through - say you want to get a litre of petrol and you have to stay in the queue for nine hours - this sort of pressure on the community will keep on growing," Sri Lankan economist Shanuka Senarath told CNA.
"At the rate it's going," he added, "we can expect chaos and riots in the society, and violence, as people are getting angry and desperate with the ongoing situation."
In Colombo, anti-government protesters still held their ground outside the presidential office on the sea-front Galle Face promenade. 
They were demanding that the president should step down and end the so-called Rajapaksa political dynasty.
"Go Home Gota," read one of the posters at the protest site. It bore the faces of the president and his family members, all smeared with blood-red paint. Gota is commonly used as a reference to the president, Gotabaya Rajapaksa.
"We always call on the people to protest peacefully and with restraint. But when their kids are crying from starvation, or when they don't have food or medicines and their child, their husband or their wife dies, people are naturally upset," said protest organiser Vimukthi Dushantha.
Like many anti-government protesters, Mr Dushantha believes years of mismanagement and corruption under President Rajapaksa's leadership have led to the worst economic crisis in the country's history.
"We earnestly ask the ruling class not to let this situation worsen or leave the people with no option but to resort to violence. We never condone violence but even more so, we ask the authorities not to play a dangerous game," he said.
"WE CAN'T KEEP TRUST BECAUSE EVERYTHING IS A LIE"
On the streets, anger rises among the ordinary people of Sri Lanka. The shortage of fuel and skyrocketing inflation has made their daily life a constant struggle. 
It is clear the crisis will not end in days, weeks or months and people's patience with the government's solution is wearing thin. 
"The government is the problem in the country. They should go. If they're unable to manage this country properly with a good system, they should go," said Mr Ananda Pathmasiri, a retired bank manager in Colombo.
The 65-year-old had been queuing in the sun for nearly four hours to fill his tanks with cooking gas. However, the line had not moved as there was no gas for anyone to buy. 
Dozens of customers were fuming. Many of them were arguing with the store manager, who told them the lorry had delivered gas at a different location. 
"We have no good system in the country now. That's why people are waiting in the queue. They haven't implemented a good system to deliver gas, fuel or anything," Mr Pathmasiri said heatedly. 
Two weeks ago, the retired banker had to wait from 6am to 12pm just to fill his car with petrol. "The government should go," he added.
Near the De Soysa Circus Junction in central Colombo, more queues could be seen on the busy roads. 
Rows of cars, buses and tuk-tuks stretched 2.5km around one petrol station, paralysing the traffic. Many frustrated drivers were honking their horns as they tried to break through the standstill. 
"Nobody can say how this is going to be fine. We can't keep trust because everything is a lie," said tuk-tuk driver Sarath Padmakumara, 42.
He has driven a tuk-tuk in Colombo for 13 years and tourists have always been his main source of income. But with the severe fuel shortage and political instability, Mr Padmakumara hardly has any passengers nowadays.
"Before we had a lot of tourists. But now, no tourists are coming because when they go somewhere, the car would stop. There is no petrol. So, where can they go?" he said.
Still, the driver has to keep paying 1,000 rupees every day to rent the tuk-tuk. When there is fuel in the tank, he will drive it around Colombo, hoping someone would hail him and agree to pay extra to cover the soaring fuel price.
Just four months ago, he could get a litre of petrol for 137 rupees. Today, he has to fork out 420 rupees for the same amount of fuel.
"It's a very difficult time," he said. "No hope."
LABOUR EXODUS AMID CRISIS
Hit hard by the economic crisis, many Sri Lankans are seeking to leave their homeland for better jobs abroad and a more secure future.  
Outside the Department of Immigration and Emigration's head office in Colombo, lines of people stretched for a long way in the blistering sun. 
One of them in the queue was Mdm Nirosha Maduwanthi. The 22-year-old mother of one had travelled for 10 hours from Tissamaharama in southern Sri Lanka to Colombo to apply for a passport, which would allow her to work in Jordan.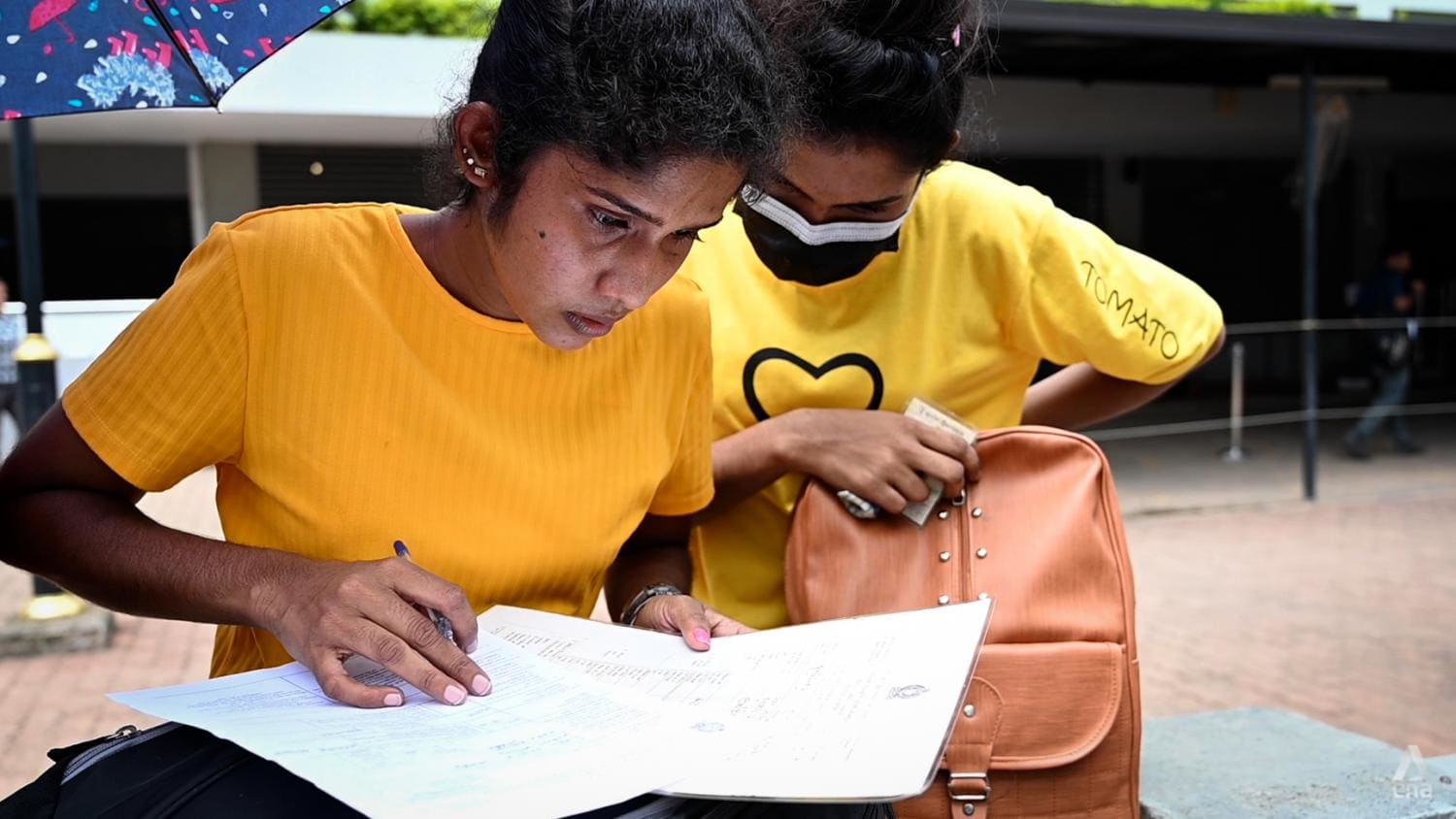 Life is tough back home in Tissamaharama. Mdm Maduwanthi said her baby has to drink cow's milk from neighbours as she cannot afford to buy milk powder. 
The price has gone up to 1,290 rupees (US$17) for 400g, she told CNA, adding that it used to cost only 540 rupees.
If all goes as planned, the young mother will soon be working at a garment factory in Jordan, where she is promised 70,000 rupees per month along with meals and accommodation.
Working hours are from 7am to 8pm and the contract lasts three years. 
Mdm Maduwanthi plans to send money home from Jordan but she will not be able to visit her family until the contract is over. 
"I have great fear as I am leaving my small one at home. But for the sake of my child's future," she said, "I have no other choice but to leave my baby, husband, mother and father and everything else to go overseas."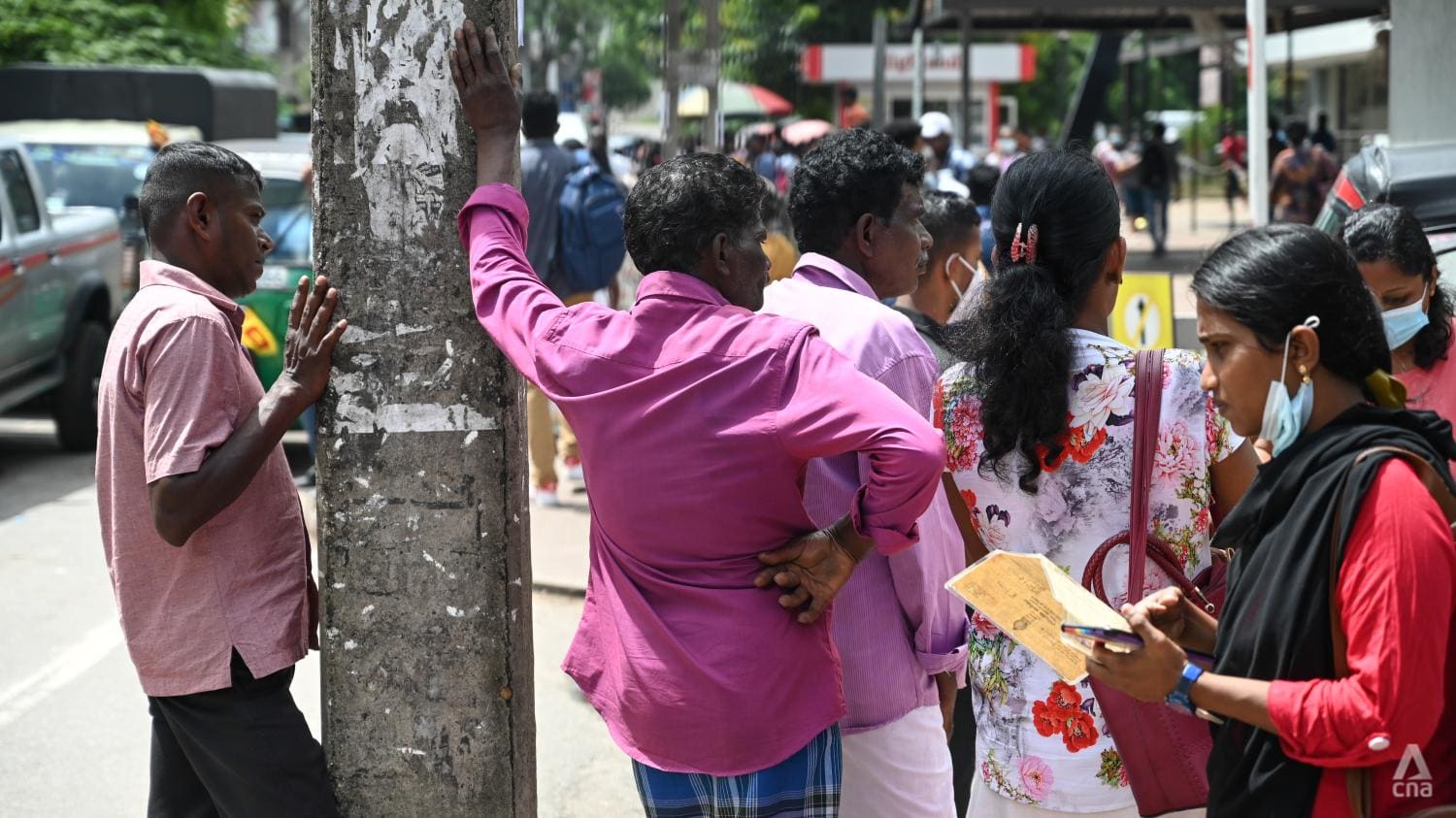 During the first five months of this year, about 120,000 Sri Lankans left the country to work abroad.
According to Mr Mangala Randeniya, Additional General Manager for International Affairs at the Sri Lanka Bureau of Foreign Employment, a total of 122,000 people left for jobs overseas in 2021.
"Each year, we receive requests for 500,000 to 600,000 workers to work abroad - mainly from the Middle East," he told CNA.
"In the past though, we could only fulfil 50 per cent of those requests. But now that we have made a policy decision to fulfil at least 75 per cent of those requests, we will definitely achieve at least 300,000 job placements in 2022."
Most of the placements would be in the Middle East and the government is encouraging skilled labour to work abroad, he added.
SRI LANKA SEEKS FOREIGN AID TO SURVIVE CRISIS
According to the prime minister, the government has been in talks with the International Monetary Fund (IMF) about the future economic plan for Sri Lanka.
During his parliamentary address, Mr Wickremesinghe said 2023 will be full of challenges and the government needs to achieve economic stability by the end of this year. 
"Our country is not working like a well-oiled machine. We are not sure what we should do first. This system needs to be overhauled. That is what we are doing now - resetting the system," he told parliament on Tuesday. 
He is working on an interim budget, which would reduce "unnecessary government spendings while controlling other costs". The budget, he said, should lay the foundation of Sri Lanka's economy and allow it to stabilise and recover.
Besides the IMF, the government also pays close attention to other foreign relations, whose assistance is crucial for the country's recovery. 
One of them is the United Nations, which is seeking support to provide US$48 million for the food, agricultural and health sectors in Sri Lanka.
Meanwhile, the public can expect some form of government-backed relief within six months, according to the United National Party chairman Vajira Abeywarden, whose political group is part of the ruling coalition. 
"We hope to obtain foreign grants and funding to provide relief aid to the public. Already, we have mustered US$5 billion worth of funding via the Indian Credit Line," he told CNA. 
"We also expect assistance from the IMF, the World Bank, the Asian Development Bank, the Japan International Cooperation Agency, the Paris Club and the London Club."
THIS IS JUST THE TIP OF THE ICEBERG: ECONOMIST
In recent months, news of the economic crisis in Sri Lanka has made headlines around the world. However, critics say it is a result of years of mismanagement that many saw coming.
According to Dr Senarath, key factors that have driven the country into default occurred during the Rajapaksa administration. They include the tax cuts in 2019, various mega projects built with foreign loans and the COVID-19 pandemic, which has badly affected the tourism industry.
"But we can't just put the blame only on COVID-19 and tourism isn't the only area where we ought to get foreign income," he said.
"COVID-19 just unwrapped the parcel, which was already there. This would happen even if not for COVID-19, in a slightly softer manner."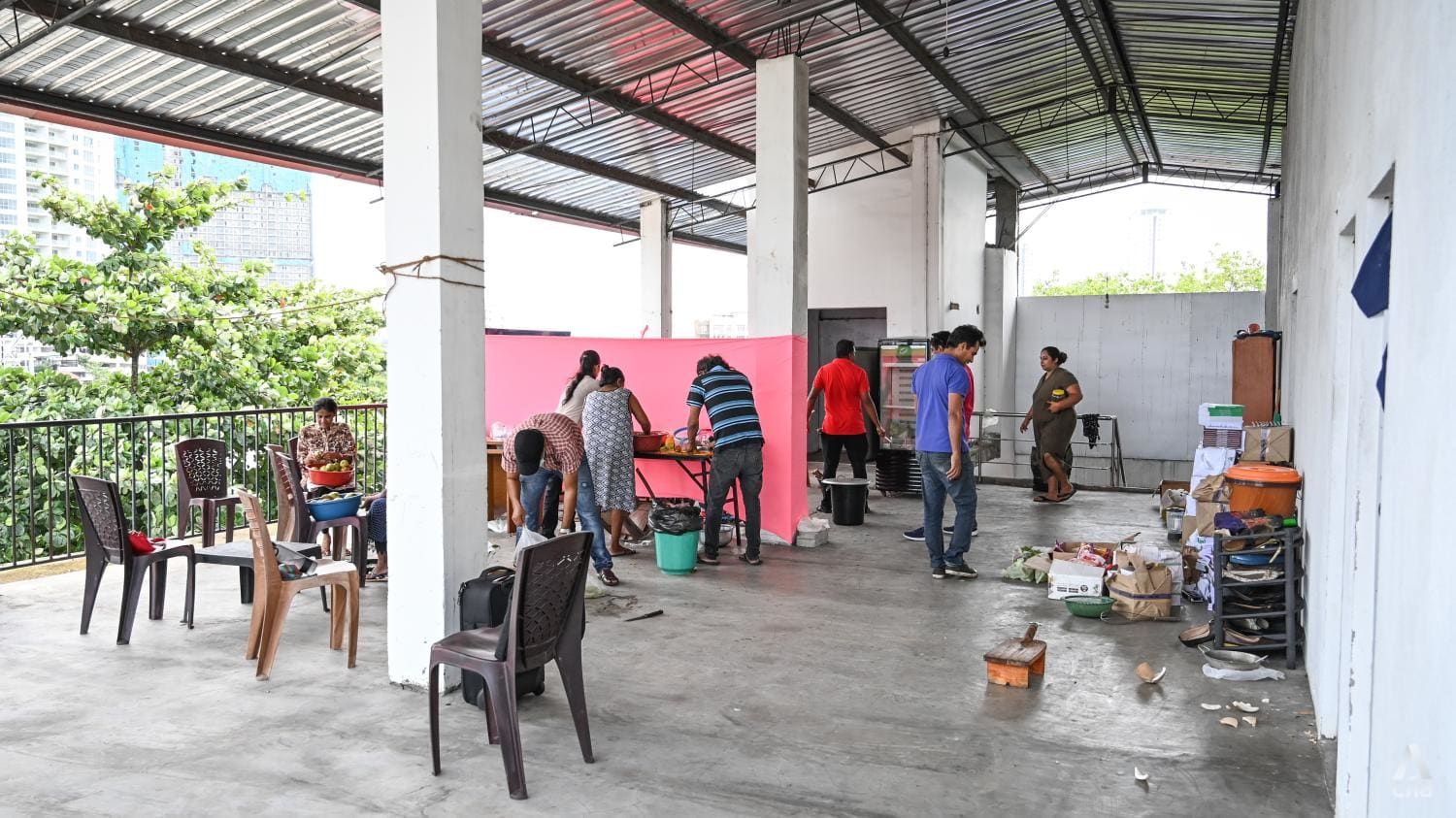 Noting the current situation in Sri Lanka, Dr Senarath said this is "just the tip of the iceberg". 
Before a business goes into bankruptcy, the economist said, it has to come up with a plan to restructure its debts in order to restore liquidity. "Now, Sri Lanka missed that opportunity," he told CNA.
"Two years ago, when the economists were talking about going to the IMF and restructuring debts, the government ignored that. As a result, now we are in default and trying to restructure."
As the economy sinks into recession, inflation keeps rising amid shortages of food, fuel and electricity as well as labour migration. If the situation does not improve, Sri Lanka could lose international investors to other countries. 
"If most of these investors are going to leave, the situation will be worse," Dr Senarath added.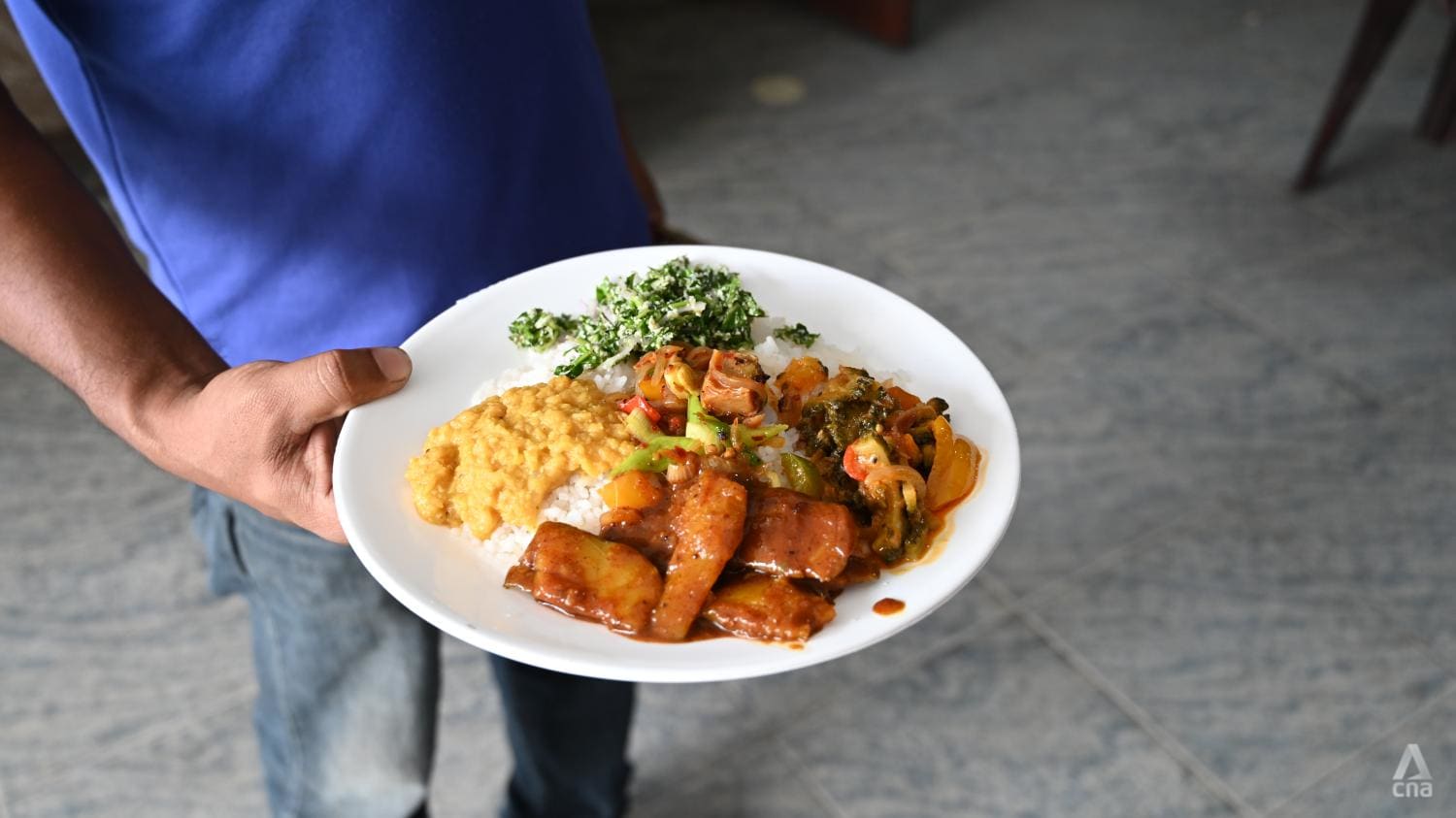 Back in Mr Akash's community kitchen, the air smelled of spices and fresh herbs. Here, there was no talk about government policies or foreign debts as the volunteers rushed to finish cooking before their guests arrived.
They were preparing enough food for 100 people, with 25 extra portions for latecomers.
Sitting on a wooden coconut grater stool, Mr Akash said they may not be able to feed everyone but they can do their best.
"If someone pops up, we don't want to turn them away and say we're finished," he said. "It's very painful when someone comes to eat but we're out of food."
The group planned to open more kitchens in Sri Lanka over the next two weeks, with an aim to serve 1,000 meals per day.
For Mr Akash, instead of blaming someone for the economic crisis or focusing on how bad the situation is, people should find ways to help their fellow Sri Lankans. 
"Let us look at the positives we have in our country. We're a country that survived a war. We're a country that stood up from the tsunami. We are a country that always gives flood relief and all that. We're a generous country." he said.
"See the little positives, take them and move forward."