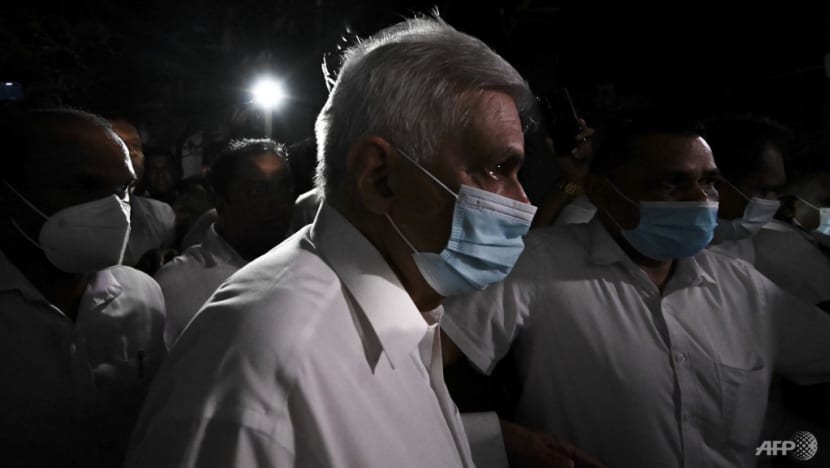 COLOMBO: Sri Lanka's acting President Ranil Wickremesinghe will be the country's next president until 2024, a parliament vote count showed on Wednesday (Jul 20).
Official results showed Wickremesinghe polled 134 votes in a three-cornered vote to replace Gotabaya Rajapaksa, who fled the crisis-wracked country and resigned last week.
Wickremesinghe's main opponent Dullas Alahapperuma got 82 votes and leftist Anura Dissanayake just three - giving him an absolute majority on first preferences.
"Our divisions are now over," Wickremesinghe said in a brief acceptance speech in parliament, inviting Alahapperuma "to join me and work together to bring the country out of the crisis we are facing".
"Our country is facing massive challenges and we have to work on a new strategy to fulfil the aspirations of the people," he added.
Wickremesinghe said he hoped to be sworn in later Wednesday at a simple ceremony within the tightly guarded parliament building.
With the elevation of the 73-year-old to the top job, the current cabinet automatically stands dissolved and he will choose a prime minister to form a new cabinet.
Speaker Mahinda Abeywardana said the attention of the world was focused on the Sri Lankan legislature as it elected a leader to serve the balance period of Rajapaksa's term ending November 2024.
"This is a historic session, not only for parliament but the entire country," Abeywardana said. "The eyes of the world are on us today as we elect a new president."
Wickremesinghe, a lawyer who served as Sri Lanka's prime minister a record six times, had run unsuccessfully for president twice before, but he secured enough votes among lawmakers despite controlling just one seat - as leader of the United National Party.
His experience in senior government positions, and a reputation as a shrewd operator that earned him the nickname "the fox", should count in his favour as he seeks a way out of Sri Lanka's devastating economic crisis.
Wickremesinghe has also recently negotiated with the International Monetary Fund (IMF), and enjoys a working relationship with key donor countries including India.
Whether he can quell mass protests that led to the ouster of the previous president, Gotabaya Rajapaksa, remains to be seen.
The win for Wickremesinghe, opposed by many ordinary Sri Lankans, could lead to more demonstrations by people furious with the ruling elite after months of severe shortages of fuel, food and medicines, several protesters have said.
The other main candidate, ruling party lawmaker Dullas Alahapperuma, was more acceptable to the protesters and the opposition but did not have any top-level governance experience in a country with barely any dollars for imports and desperately in need of an IMF bailout.
Hundreds of police, paramilitary and military troops were deployed around the parliament building, about 13km away, and an approach road had at least three barricades. Security personnel in speed boats patrolled a lake around the building, and military jeeps and armoured vehicles stood parked within the perimeter.
Protesters occupied the presidential secretariat earlier this month along with the official president's residence, forcing the then incumbent Gotabaya Rajapaksa to flee the country.
Many protesters see Wickremesinghe as an ally of the Rajapaksa family, and his private house and office were also stormed by people demanding his ouster.
Wickremesinghe became acting president last week after Rajapaksa fled on a military plane to the Maldives and then took a commercial flight to Singapore.
Two of Rajapaksa's brothers, including former prime minister and president Mahinda Rajapaksa, as well as a nephew were in attendance as the 225-member parliament gathered for the vote.