China, Japan respond to Sudan crisis with aid for refugees, UN says more help needed
The UN has appealed for US$470 million in refugee support, warning that more than 1 million may flee the bloodshed in the coming months.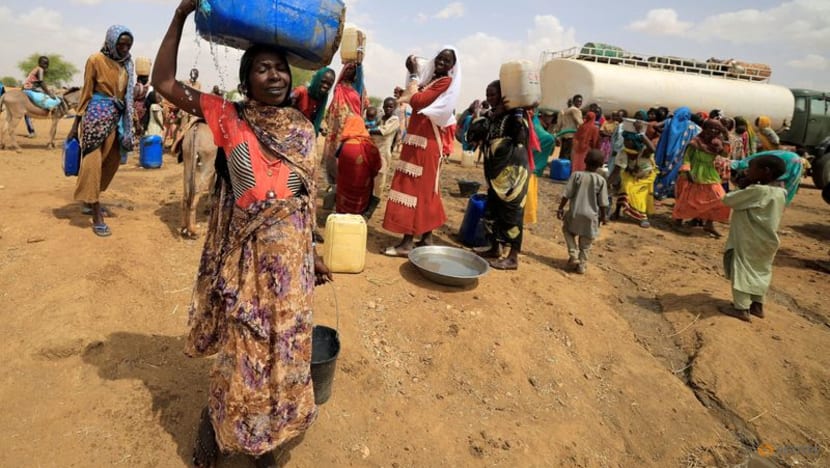 JUBA, South Sudan: More than 350,000 people have fled Sudan since violence erupted in the country over a month ago, according to the United Nations.
Many who escaped the fighting headed across the borders to neighbouring South Sudan, Egypt, Chad and Ethiopia, where they are in desperate need of humanitarian aid.
Countries have provided some donations and assistance to the refugees, including Asia's economic powerhouses China and Japan.
China responded to the crisis by contributing 2,400 tonnes of rice to feed those who have crossed into South Sudan.
Beijing said it backs efforts by South Sudan's government to mediate an end to the conflict between Sudan's army and the paramilitary Rapid Support Forces (RSF).
"China highly appreciates the mediation efforts by South Sudan," said Chinese Ambassador to South Sudan Ma Qiang. 
"It's hoped that Sudan's crisis could be addressed peacefully at an early date to enable the political transition in Sudan to be implemented smoothly."
Meanwhile, Japan donated US$3.5 million to the UN Refugee Agency (UNHCR) to aid Sudanese refugees who have fled to other East African countries.
'WE'RE SUFFERING SO MUCH'
The UN has appealed for US$470 million in refugee support, warning that more than 1 million may flee the bloodshed in the coming months.
However, those who managed to cross into neighbouring nations have also met numerous challenges.
Many who fled to South Sudan's capital Juba are stuck at the airport, where they are in need of food, shelter and medical care.
"We are suffering so much, there is no food to eat and we have children," Sudanese mother Roseline Robert told CNA at a refugee camp in South Sudan.
"I have been here 10 days now, but even getting water to take a bath is a problem. The suffering here is beyond what anyone can imagine."
Alongside locals, there are also foreign nationals living in Sudan who are fleeing the country.
Some of those crossing the border into South Sudan were South Sudanese who escaped the civil war in their own country in 2013, and were refugees in Sudan. Now, they are back in their home nation without a plan.
SOUTH SUDAN UNPREPARED
South Sudan's government said that more than 50,000 people have cross into the country, but it is unprepared to host such a large number of refugees.
"The conflict caught us by surprise, that's why we were not prepared right from day one," said South Sudan's Humanitarian Affairs Minister Albino Akol.
"Now we have put down a plan that we have to intervene by receiving them and taking them where they are going."
 
He said the nation needs more support from members of the international community, as refugee numbers are expected to climb.
Aid agencies are concerned that the situation might get even worse if funds are not raised to help the refugees.
"The number of people who are coming is increasing quicker than the services that we can provide," said Acting UN Humanitarian Coordinator in South Sudan Peter Van Der Auweraert.
SHAKY CEASEFIRE
At least 700 people have been killed and more than 1 million internally displaced as the battle for control of the country enters its seventh week.
The warring factions on Monday (May 29) agreed to a five-day extension of a fragile ceasefire agreement to allow for the delivery of aid to reach civilians in conflict zones.
The development came after pressure from mediators United States and Saudi Arabia, who said that a week-long truce was repeatedly violated by both sides, including renewed heavy clashes and air strikes in the capital.
Sudan has also called for the re-enlisting of its retired soldiers. While doing so is voluntary, this could suggest that the government is preparing for a longer conflict.
Already, many parts of capital Khartoum and huge swaths of other urban areas are seeing a breakdown of essential services and a severe lack in necessities, forcing residents to flee.
Amid the ongoing conflict, Sudan's military ruler General Abdel Fattah al-Burhan asked the UN to replace its special envoy to the country Volker Perthes last week.
It was unclear what exactly prompted the request.
Mr Perthes was appointed to the role in 2021, and had been pushing for the country's transition to civilian rule, a move that has not been welcomed by some in Sudan's army.
UN chief Antonio Guterres was reportedly shocked by the request, and has since defended the envoy's work.