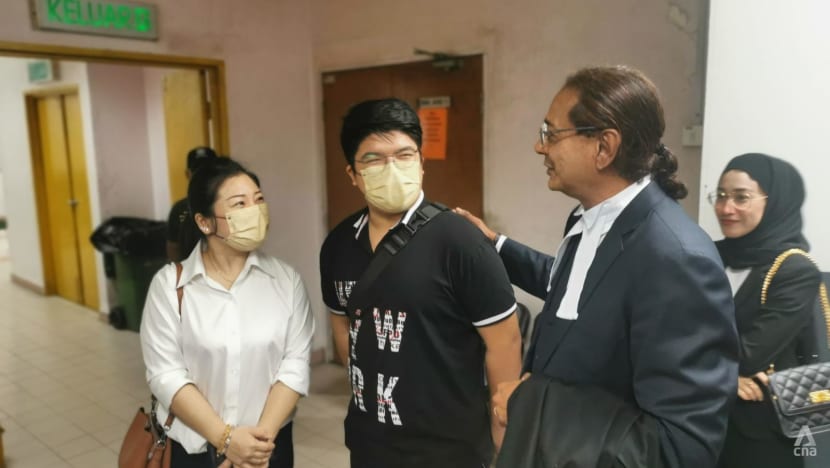 JOHOR BAHRU: The Johor Bahru High Court has overturned a caning sentence for an 18-year-old teenager who was charged for animal abuse and setting a dog on fire.
Braden Yap Hong Sheng was sentenced by the Johor Bahru Sessions Court in April to receive seven strokes of light caning and be placed on a good behaviour bond for one year with a surety of RM10,000 (US$2,200). The caning was due to be carried out on Sunday (May 21) in court. 
However, on Sunday morning, High Court Judge Abu Bakar Katar ruled that the caning sentence be overturned but upheld the 1-year good behaviour bond.
He said that the sentence was overturned based on the wording of Section 293 of Malaysia's Criminal Procedure Code (CPC). 
The judge explained that according to the CPC, a male youth offender convicted of any offence may be whipped with a light cane within the court premises instead of awarding any term of imprisonment or good behaviour bond - but not both. 
Speaking to reporters after the High Court ruling, Yap's lawyer G K Sritharan confirmed that his client would now only serve the 1-year good behaviour bond.
"We were summoned by the High Court this morning by Justice Abu Bakar and we were informed of the judgement," said Mr Sritharan. 
"So (my client) should not get involved in any offences in the future, especially so for the next 12 months," he added. 
Mr Sritharan also said that his client's hand was fractured during the incident with the dog and that caning could inflict further injury. 
"One arm was already broken and he has not recovered fully from it. And to inflict harm on him now may be too harsh, I don't know," said Mr Sritharan. 
"Of course, the (overturning of the caning sentence) will make this case viral again - they will say 'it's not fair' etc, but it will be ok. My client can go on with his life," he added. 
In March, Yap was charged with cruelly causing undue pain to a brown female dog in front of a building at Taman Impian Emas, Skudai. 
He was charged under the Animal Welfare Act 2015 and can be punished under the same Act which provides for a fine of up to RM100,000 or a maximum imprisonment of three years or both if found guilty.
Yap pleaded guilty to the charge and was subsequently sentenced on Apr 18 by Sessions Court judge Che Wan Zaidi Che Wan Ibrahim to receive 7 strokes of light caning and the 1-year good behaviour bond.
Before handing down his decision then, The Star reported that Justice Che Wan Zaidi ordered a video recording of Yap abusing and setting the dog on fire to be played in court.
He reportedly said: "Your action is cruel and inhumane towards an animal that also has the right to live in peace".
"You will be caned lightly seven times and be placed on a good behaviour bond for one year with a surety of RM10,000 as a result of your action," Justice Che Wan Zaidi was quoted as saying. 
In March, Yap published a 45-second video on his Facebook page to apologise for his actions. 
Yap also said that he would offer to pay for the medical costs of the dog.
"I know that no matter my reasons, I should not have done what I did, so I admit my wrongdoing and will accept the punishment. I feel remorseful and will properly reflect on my actions," said Yap.
"I'm really sorry. I promise that this won't happen again, and hope everyone gives me a chance to turn over a new leaf," he added.