Death of Thai boy rescued from cave: Mum appeals for help to bring body home from UK
Duangpetch Promthep, the former captain of the Wild Boar football team, was one of the 13 people rescued from a flooded cave in the northern province of Chiang Rai in 2018.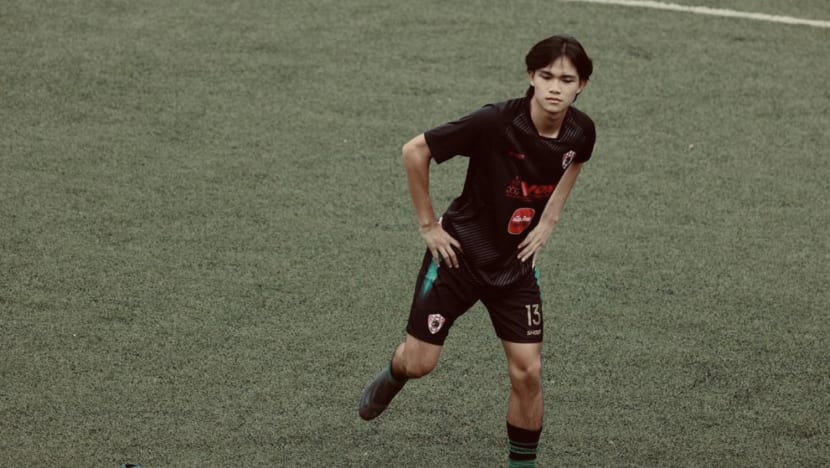 BANGKOK: The family of 17-year-old Duangpetch Promthep – the former captain of a Thai junior football team that was rescued from a flooded cave in 2018 – has appealed for help for his body to be returned to Thailand following the teenager's death in the United Kingdom.
Duangpetch's mother, Thanaporn Promthep, expressed the family's hopes for his body to be repatriated to Thailand in a press conference broadcast via Zoom on Wednesday (Feb 15).
"We want him to return – his body – because our family doesn't have much … We don't have money; none of us do. We would like to ask for your help to bring his body home, please," she said.
Thanaporn made the appeal to Kiatisuk Senamuang – a former striker and head coach of Thailand's national football team – whose non-profit organisation Zico Foundation helped Duangpetch obtain a scholarship to study at the Brooke House College Football Academy in Leicestershire last year.
"Yes, I will liaise for that," said Kiatisuk, who was present at the press conference.
Duangpetch's family hopes for his body to return to Thailand so that they can perform a religious ceremony for him.
"Our family is worried that his spirit may still be lost in the dormitory or in the hospital. We are waiting for his body to return," his mother said.
"Some people told me that sending back a body could cost hundreds of thousands of baht.
"We still have a few children in our family who have yet to finish school. Now that Dom is gone, if we really can't get his body, we'll get what we can, perhaps his ashes."
FOUND UNCONSCIOUS IN DORM ROOM 
Kiatisuk told the press conference that Duangpetch was found unconscious in his dorm room last Sunday by a teacher and was taken to Kettering General Hospital.
Two days later, the hospital reported that Duangpetch's breathing became weaker and that he was not responsive.
"I feel that he was gone very quickly. The hospital informed the Thai embassy and the embassy coordinated with Dom's father and mother all the time … I never thought anything like this would happen," Kiatisuk said, adding he is still shocked by the news.
"I am still thinking about his dream. He wanted to be in the national team. He wanted to be a professional footballer. His voice is still ringing in my ears," said Kiatisuk.
In response to CNA's query, Leicestershire Police said they were called to a boarding school shortly before 1pm last Sunday.
The call concerned the welfare of a pupil, police added without naming the student.
"The pupil - a 17-year-old boy - was taken to hospital. He has since died."
The police said that the boy's death is not being treated as suspicious.
"A file will be prepared for the coroner", who will also identify the deceased boy, they added.
The coroner's office told CNA that the death of Duangpetch "has been reported to the coroner in our jurisdiction" and that an investigation has commenced.
In a letter from Brooke House College's principal Ian Smith, he said members of staff from the college were with Duangpetch in his final hours in the hospital.
"Brooke House is a family institution and as a family we have lost one of our own. We are all united in the sympathies that we have for Dom's friends and family, as well as the wider school community, who are all deeply saddened by this tragic news," wrote Mr Smith.
"Our thoughts and prayers remain with those closest to him. In the days ahead I am sure we will all reflect on Dom's life which saw significant moments of challenge and adversity as well as moments of great personal and sporting accomplishment."
He added that the college is in "constant liaison" with the Thai embassy.
"13 OF US WILL ALWAYS HAVE EACH OTHER"
Duangpetch, also known as Dom, was one of the 12 schoolboys rescued from the Tham Luang Nang Non cave in the northern province of Chiang Rai in 2018. The boys, who were members of the Wild Boar Academy, went to explore the cave with their football coach before it was flooded, blocking their way out.
The search and rescue operation involved thousands of volunteers, officials, cave divers and experts from around the world. It ended successfully with all 13 brought to safety.
Heartfelt condolences have been pouring on social media from Duangpetch's former team-mates and the football coach who were stuck in the flooded cave with him.
Rest in peace, brother. If the next world is real, we may see each other again.
Among others, Eakapol Chanthawong, the former coach at the Wild Boar Academy, recounted Duangpetch's dream of playing for the national team.
"Since you were young, you've always said you want to make it to the national team. Why don't you do what you've said, brother?
"Rest in peace, brother. If the next world is real, we may see each other again," said Eakapol.
Former team-mate Prachak Sutham reminisced of the time the two spent together, "both good and bad".
"We've risked our lives and gone through various difficulties together … When we last met before you went to England, I still playfully told you that I'd have to ask for your signature when you return.
"Rest in peace, my friend. Thirteen of us will always have each other," said Prachak.
Rest in peace, my friend. Thirteen of us will always have each other.
Chanin Viboonrungruang, one of the 12 boys who was stuck in the cave with Duangpetch, said that his former team-mate will "forever remain in my memory".
Another former team member of the Wild Boar, Phonchai Khamluang, said that he could not believe the news of Duangpetch's death.
"Why did you leave me so soon, Dom?
"I don't know what to say. I don't know what to do, having to learn that you're gone. I will always love you, brother," wrote Phonchai.