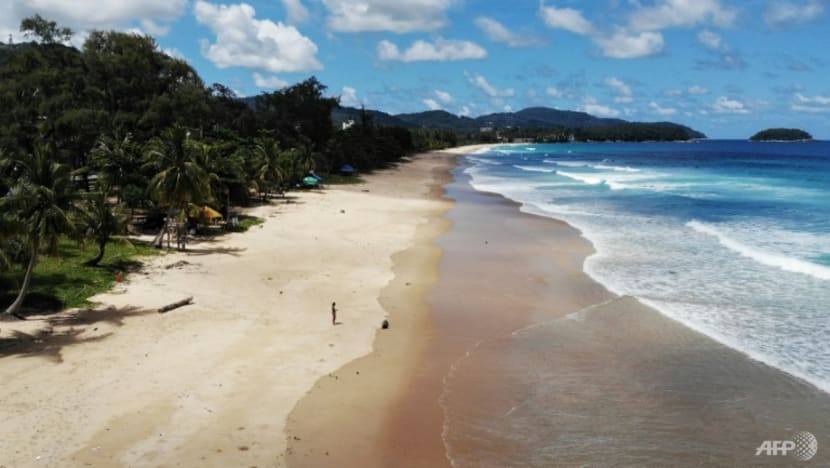 BANGKOK: A Swiss woman was found dead on Thailand's popular resort island Phuket on Thursday (Aug 5) after entering the country through its new tourism initiative Phuket Sandbox.
According to Phuket governor Narong Woonciew, she arrived in Phuket on Jul 13 as a tourist under the sandbox programme, which allows fully vaccinated travellers from abroad to visit Thailand without quarantine.
"The officials concerned and I will do absolutely everything we can to investigate what happened," Mr Narong said in a press conference on Friday, where he extended his condolences to the tourist's family and friends.
Preliminary forensic investigations were carried out on Thursday by the Vachira Phuket Hospital, according to its director Dr Chaloemphong Sukhonthaphon. However, further examinations are required before the cause of death can be identified.
"In case of unnatural death, for example, a murder, further tests are needed. The forensic team needs to collect DNA, blood or other types of discharge and transfer them to Bangkok as quickly as possible in order to identify the cause as soon as possible," said Dr Chaloemphong.
In a tweet, Ms Helene Budliger Artieda, the Swiss ambassador to Thailand said: "Thank you to all Thai authorities for the swift action taken so far".
The death of the Swiss tourist could potentially deal a blow to Thailand's tourism industry, which is struggling to get back on its feet after the COVID-19 pandemic halted international tourist arrivals for more than a year.
The Thai government plans to reopen the borders to overseas travellers in October. Phuket was the first province to do so under the Phuket Sandbox programme, which was launched on Jul 1.
"The incident wasn't supposed to happen here in Phuket, especially during the beginning of the Phuket Sandbox," said Phuket Tourist Association president Bhummikitti Ruktaengam, adding that every officer involved in the investigation "will do their best to find the wrongdoers".
"On behalf of the tourism people in Phuket, we will not tolerate that incident anymore. We would like to make sure that we willl put together efforts to make sure that the tourists who come to visit Phuket will be safe and sound," he added.
According to Mr Bhummikitti, the tourist completed her 14-day stay in Phuket as required by the Phuket Sandbox scheme on Jul 27 and travelled to Krabi. She then returned to Phuket and was found dead on Thursday.