On the gastronomic map: Thai province elevates local cuisine after UNESCO creative city recognition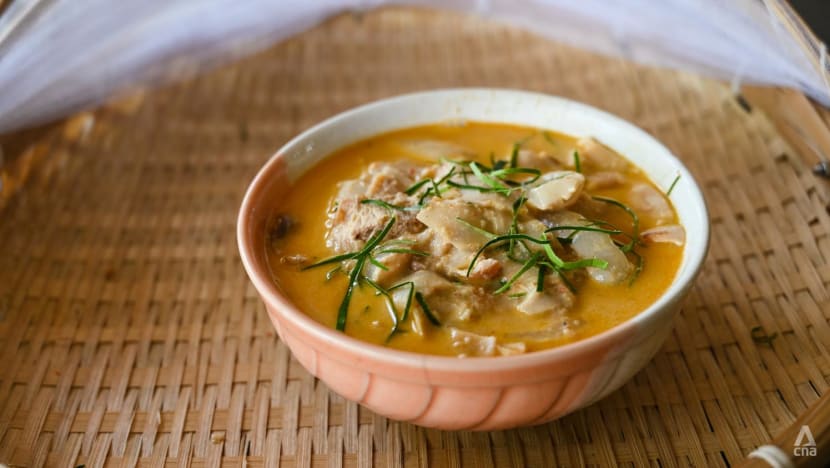 PHETCHABURI, Thailand: The savoury smell of curry paste filled the wooden hut near a small canal lined with palm trees. 
Ms Prathum Khantee, who is better known in the community of Tam Rong as "Pa Tiap" or Auntie Tiap, was stirring the orange paste in fresh coconut milk.
A white cloud of steam rose from the bubbling mixture on an old charcoal stove, filling the air with the aroma of fresh galangal, finger roots, lemongrass and red chillies.
Pa Tiap has made this local delicacy since she was young. Now 74, she is still cooking it regularly for her community's tourism programme.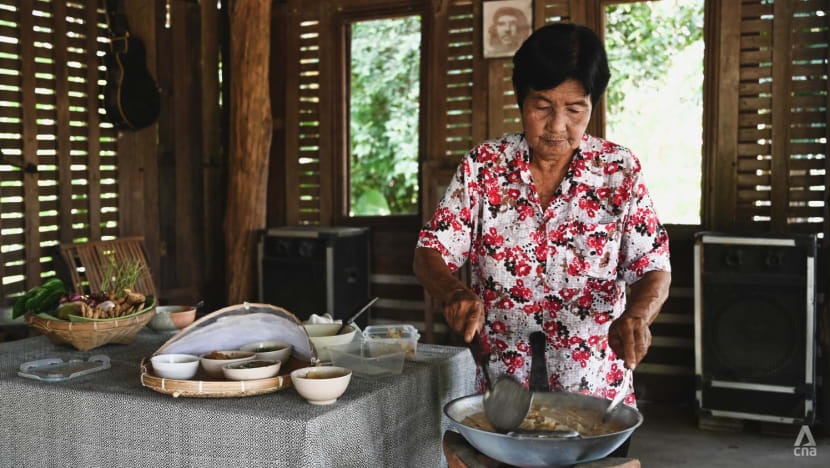 When the paste has well blended into the coconut cream, she added thin slices of soft toddy palm flesh that were kneaded with salt to reduce its bitterness.
"We call it Gaeng Hua Node," she said. 
It is a shorter name of one of Phetchaburi's most unique dishes Gaeng Kua Hua Tan or toddy palm curry. The old recipe forms parts of the province's vibrant gastronomic culture, which led the United Nations Educational, Scientific and Cultural Organization (UNESCO) to name Phetchaburi Creative City of Gastronomy in November last year.
Since then, toddy palm curry has increasingly attracted interest from gourmands around Thailand, and so have other local specialties such as Khao Chae - a Thai summer dish made with rice in cool jasmine-infused water - and Khanom Mor Gaeng, caramelised custard sweetened with palm sugar.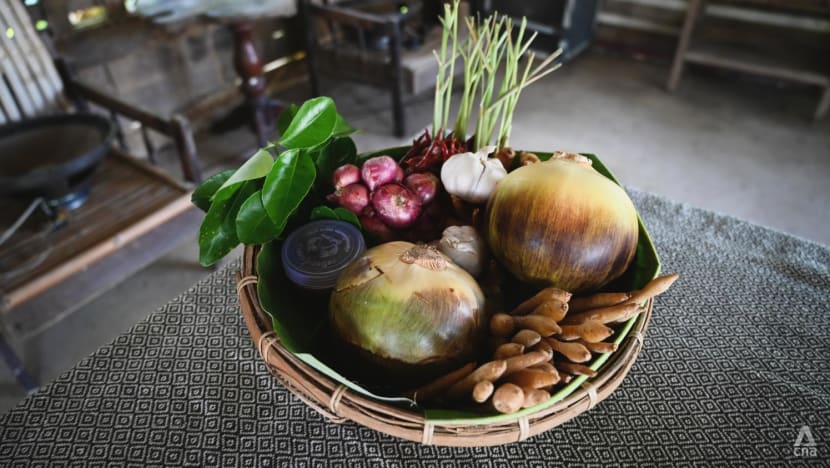 The recognition is part of the UNESCO Creative Cities Network. It was created in 2004 to promote cooperation among cities that have identified creativity as a strategic factor for sustainable urban development.
"UNESCO believes that for any city to develop, it's necessary to utilise its prominent features to drive the process," said Phetchaburi Governor Natavudh Petchpromsorn. 
"Each city has a different character that can attract visitors and as a result, contribute to the distribution of income to every group of people there."
For Phetchaburi, it is an abundance of biodiversity that provides a rich food source. As a result, its provincial administration is working on a five-year roadmap to drive the province towards a sustainable future, where gastronomy takes centre stage in generating and distributing income for local residents.
By 2027, Mr Natavudh said the average annual income of the local population is expected to increase by 50 per cent as a result of targeted tourism expansion and new gastronomic creations by local artisan producers.
"One hundred per cent of the ingredients are produced in our province," he explained. "That means all the production capital used to create food, including labour and skills, also generates income for Phetchaburi."
The UNESCO Creative Cities Network is currently made up of 246 cities around the world. They are classified into seven categories, namely gastronomy, film, design, crafts and folk arts, media arts, literature and music.
According to UNESCO, these cities all share a common objective, that is to place creativity and cultural industries at the centre of their development plans while actively cooperating at the international level. 
Phetchaburi, which is located in southern Thailand, is the fifth and latest province in the country to have joined the network. Others include Bangkok, Phuket, Chiang Mai and Sukhothai, which are recognised for their design, gastronomic excellence, and crafts and folk arts. 
"I'm proud," said Pa Tiap, whose cooking class has begun to gain popularity among visitors to Tam Rong.
"I'm very happy to know that when I die, I'll be proud that I've contributed to this recognition, which will benefit the younger generations and the community."
PHETCHABURI ON THE WORLD MAP OF GASTRONOMY
Located 160km south of the capital Bangkok, Phetchaburi is known for a variety of high-quality ingredients produced and refined by generations of local residents.
Its rivers and coastal areas are home to fisheries and salt farming. Its fertile soil nourishes rice fields, gardens and orchards, where farmers grow key limes, rose apples, pineapples and toddy palms.
Phetchaburi is also known as "the City of the Three Tastes", a nickname derived from it being the largest source of production of salt, toddy palm sugar and key limes in Thailand.
Already, its tourism sector has set the wheels in motion to promote the province's gastronomy both in Thailand and beyond.
The recent recognition by UNESCO has strengthened Phetchaburi's commitment to positioning itself as a culinary destination on the world map and to turn its abundant food sources into income.
"This is a great opportunity for Phetchaburi to add value to its tourism sector, using food," said Ms Chompu Marusachot, director of the Tourism Authority of Thailand in Phetchaburi.
Over the past few months, she has noticed growing enthusiasm among tourism operators to showcase their local delicacies. Traditional dishes such as toddy palm curry have been popping up on menus at high-end hotels and resorts.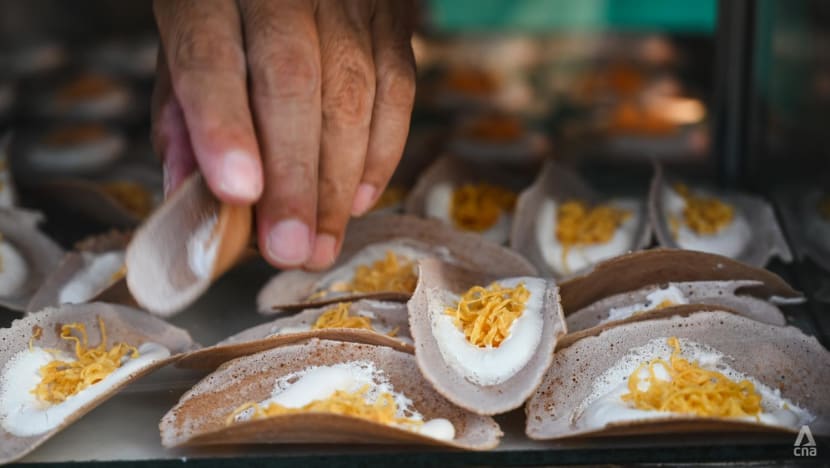 Since last year, media and travel agents from around the world have expressed interest in visiting Phetchaburi to explore its local cuisine, according to Ms Chompu. 
"It's like we're opening the city to international tourists who want to experience it and find out why Phetchaburi has been named a creative city of gastronomy," she told CNA.
Meanwhile, the local government is working closely with culinary schools to expand skilled workforce and elevate gastronomic creativity in the food sector.
This is to ensure the province will be able to maintain its status in the UNESCO Creative Cities Network, which is subject to review by the organisation every five years, according to Mr Natavudh.
"This is both an opportunity and a challenge for us because if we fail to develop the city within five years, we will be removed from the list. The membership isn't permanent. So, in the next five years, we have to follow our roadmap and conduct yearly reviews," he said.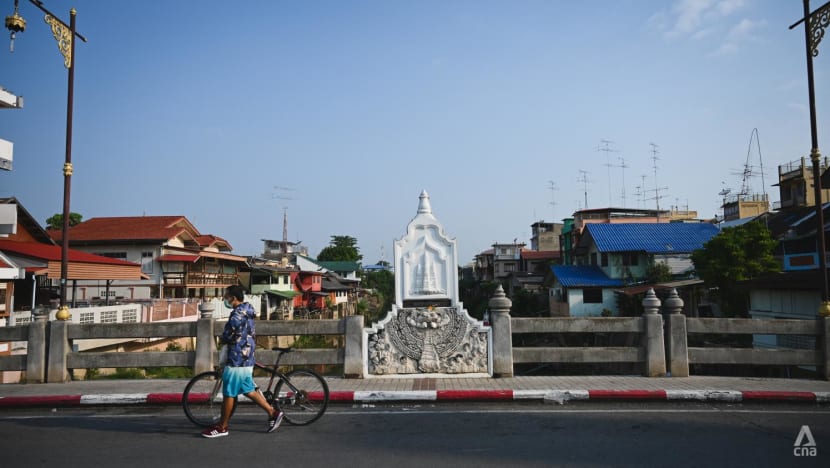 For local communities, the global attention means exciting economic opportunities.
Mr Chatchai Naksuk, a farmer and resident of Tam Rong, told CNA more orders have been placed for local produce since UNESCO added Phetchaburi to its creative cities network.
"More people are ordering our palm sugar and the price has also gone up. This has begun to encourage our children and grandchildren to come home and to realise that what we have at home and the local wisdom that has been passed on for generations can bring happiness," he said.
His community is known for its toddy palm plantation. Generations of the residents have cultivated the plant and used its various parts in their everyday life.
Besides agriculture, the residents of Tam Rong also offer cultural tourism programmes to generate extra income. Visitors can spend a few days with the villagers to experience their traditional way of life and learn about Phetchaburi's culture.
Now that their province has made its mark on the world map of gastronomy, they are hopeful that Phetchaburi will get to welcome more tourists and develop itself towards a sustainable future.