Thai nursery massacre: Ease of getting a gun permit reflects lax firearms laws, say critics
At some gun shops near Chinatown, buyers who pay a little more can possibly get a gun permit in two weeks – a fraction of the two-and-a-half months that it would normally take.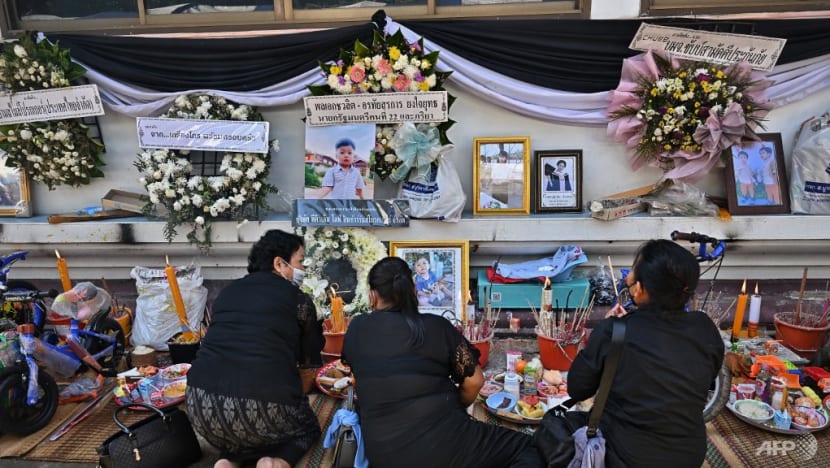 BANGKOK: Near Bangkok's Chinatown, there are at least 40 authorised gun shops – some of which offer to handle all the gun licence paperwork. 
A new handgun can be bought legally for about 85,000 baht (US$2,200). Buyers who fork out a little more can possibly get a permit in two weeks – a fraction of the two-and-a-half months or so that it usually takes. 
The ease in obtaining a gun reflects how lax Thailand's gun control laws are, said critics.
There have been calls for tighter gun control in the country after a mass shooting at a nursery in the north-eastern Nong Bua Lam Phu province on Oct 6. That day, a sacked police officer went on a gun-and-knife rampage, killing 37 people including 24 children.
Dr Boonwara Sumano, a senior research fellow at the Thailand Development Research Institute, said the process of gun permit issuing takes about 80 days. 
"So if you would like to apply for a gun permit, you can visit the district office, which has around 900 locations in Thailand," she said. 
"But if you want to submit an application for the child allowance for social security, you have to go to the social security office which has around 70 locations nationwide. 
"So, it's much easier to get guns, (as compared with making) sure that your child has good well-being."
Loopholes in the system have not been plugged for years. 
Currently, the law does not require applicants to undergo psychological evaluation. There is also no limit as to the number of guns one can own. 
If someone wants to own a gun in Thailand, he just needs to produce several documents, such as a bank account statement and proof that he does not have a criminal record. 
PLANS TO CURB GUN ACCESS
Following the nursery attack, Thailand hurriedly announced that it wants to introduce plans to tighten gun access. These include requiring mental health assessments and gun permit renewals every three or five years.
"We are seriously working on tackling gun control and anti-drug use in Thailand. But the problem still exists because it's a complicated issue related to gun use, violence, and behavior of a person, whether he's influenced by drugs or not," said Thailand's Prime Minister Prayut Chan-o-cha. 
"For the government, this is what I'm most concerned about and I will do to work my best to handle this issue."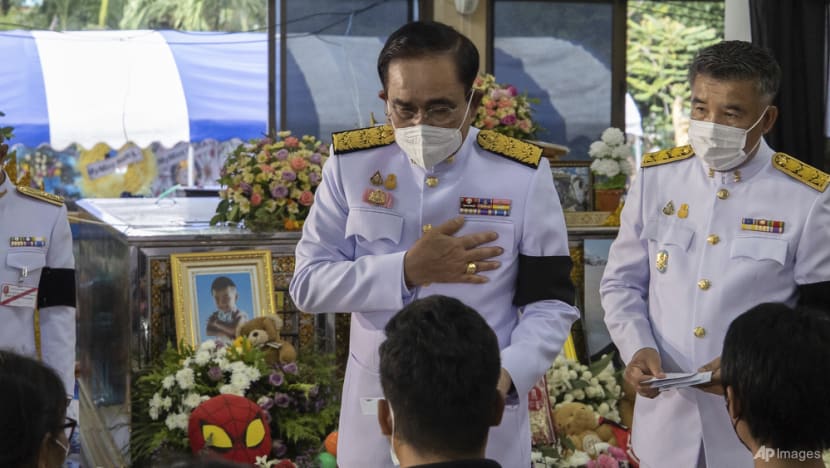 However, Dr Chavanut Janekarn of Thammasat University described the measures as unrealistic. He believes there will be little political will to execute the changes.
"I think the government might be reluctant to enforce them. The police and the military are important players in our politics and (they) have a close connection with the weapon dealers," said the former police inspector.
"I feel that with such a connection, the police and the military might prefer to support the growth of the gun market, rather than to reduce the number of gun holders or … implement the zero-gun policy."
Besides the Thai police and military, who hold more than 1 million firearms, reports show another 10 million firearms are owned by civilians – of which 4 million are illegal. That translates to about one gun for every seven people in Thailand.
LEGAL GUN OWNERS DISAPPOINTED, CONFUSED
The government's plans to curb gun access have been met with unhappiness from legal, law-abiding firearm owners, who feel they have been wrongfully penalised.
Licensed gun owner and businessman Sakol Mingjirasuk legally owns three guns and even introduced his son to firearms. He has been shooting for the past 40 years.
"(The new measures) will be a problem for (licensed gun owners). For example, what if we can't renew the permit? What will the government do with our guns? Will it be confiscated? Will they pay us back?" he asked. 
"The criminals won't care about the laws because they hold illegal guns. But how can we protect ourselves? The people with legal guns don't use them carelessly."
Some felt that the proposed measures will lead to more corruption to obtain gun permits or renewals. They may also drive more gun purchases underground.
"The new gun buyers will face additional burdensome paperwork, while illegal gun owners get away with it," said Mr Anon Mueanthup, a licensed gun owner and president of the Phrapradaeng Shooting Association.
"What the government needs to do is to tackle those with illegal guns, bring them into the system or arrest them, and not to cause more problems to those with legal gun permits or those who want it legally."