Thailand's beauty 'very dangerous trap': Sister of Koh Tao victim
"Aesthetic beauty can lure you into a very dangerous trap," said Laura Witheridge, the sister of a British tourist murdered on the Thai island Koh Tao, urging tourists to avoid visiting the country.
BANGKOK: Laura Witheridge, the elder sister of British tourist Hannah Witheridge, who was murdered during her holiday on the popular Thai island of Koh Tao, has published a warning to travellers around the world, urging them to avoid visiting the Southeast Asian kingdom.
"It was the ignorant comment someone had made about how Thailand is 'the most beautiful place in the world' that frustrated me this morning. Aesthetically, on a postcard or photograph, maybe. However, literally, I have to disagree," Ms Witheridge wrote on her personal Facebook page on Sunday (Jan 10).
"Aesthetic beauty can lure you into a very dangerous trap."
Her message came after the death of British national Luke Miller, 26, who was found dead on Friday in a hotel swimming pool on the same island in southern Surat Thani. According to Thai media, Mr Miller had reportedly climbed to the roof of a DJ booth before jumping off and hitting his head against the pool floor.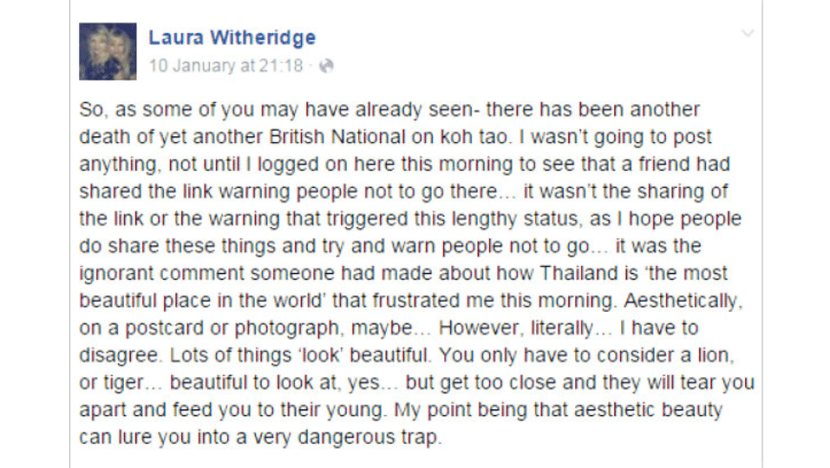 On her Facebook account, Laura Witheridge warns travellers not to visit Thailand
Since the weekend, Ms Witheridge's post has been widely circulated on social media, with more than 4,000 shares on Facebook alone at the time of writing.

Calling Thailand a "beautiful place," she claimed Thais view drug possession "as a more serious offence than rape or murder" and that many hate Westerners and have "little to no regard for human life".

"Since we lost Hannah, there have been many more suspicious deaths on Koh Tao. The deaths, where possible, are covered up as suicides and accidents," Ms Witheridge wrote.

"I highly suspect that with this latest tragedy, the thai's (sic) will say that it was an accidental death caused by drugs. Hiding the truth and offering a story that suits, is something that they do often."

On Sep 15, 2014, Hannah Witheridge, 23, and David Miller, 24, were found dead on one of Koh Tao's beaches, their bodies reportedly battered.

The case soon prompted a high-profile probe and attracted a lot of criticisms involving corruption and lack of evidence.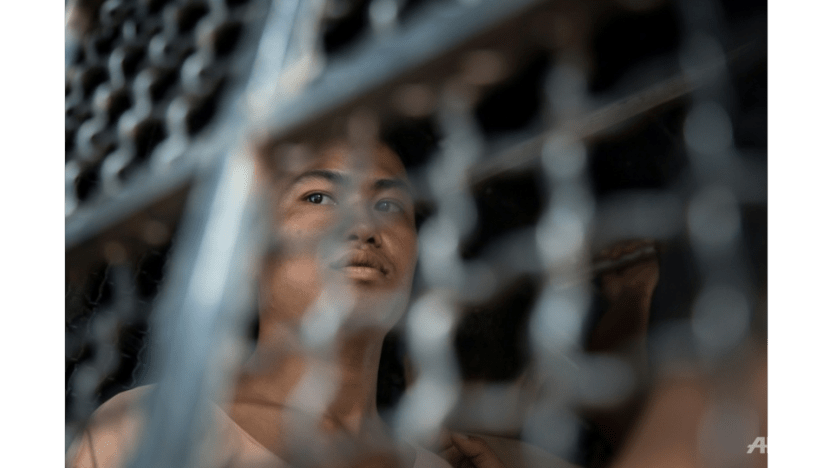 Myanmar national Win Zaw Tun arrives at court in Koh Samui for the start of his trial in July. (Photo: AFP/Jerome Taylor)
On Dec 24, 2015, a Thai court handed a death sentence to two Myanmar migrants working on the island, Zaw Lin and Win Zaw Tun, who were found guilty of killing Miller and raping and murdering Witheridge.

However, a number of right groups suggested that the pair were simply scapegoats for the crimes in Thailand, where the judicial system can easily be compromised.

Since the murder, Ms Witheridge's sister said she has received many death threats from Thai people and even got chased in her car.

"What if I told you that I have been chased in my car? What if I told you that the Thais offered us 'compensation'? Obviously we were absolutely appalled and declined," she said.

"You only have to consider a lion, or tiger. Beautiful to look at, yes. But get too close and they will tear you apart and feed you to their young."