Thailand's stray dogs given new chance at life
In Thailand, a group of people strive to give stray dogs a new chance at life. But their battle to change how Thais view the animals is a tough one.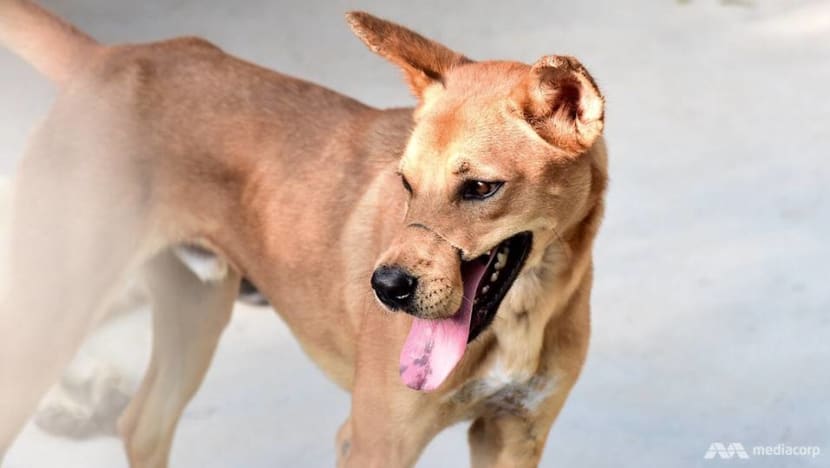 PHUKET, Thailand: New Star had probably never been in so much pain than when an elastic band was tied around his snout. It was a punishment for the young stray dog, who was so hungry he stole someone's food. 
The skin on his muzzle had swelled for days before it broke. Each day, the sharp rubber ring cut deeper into his flesh, leaving him in terrible pain. By the time help came, the wound was so deep it became a permanent, ghastly scar.
In Thailand, such tales are common. Despite the Cruelty Prevention and Welfare of Animal Act, animal abuse remains a huge problem. Reports of dogs being stabbed, beaten, poisoned and starved are endless. Many of the victims are strays.
It is estimated that more than 750,000 dogs live on the streets of Thailand, according to the Bureau of Disease Control and Veterinary Services. Having no one to care for them, these animals survive on pity and are constantly vulnerable to abuse. But help rarely comes.
For many people, the strays are worthless.

"The ignorance is probably the biggest problem we face," said John Dalley, co-founder of Phuket-based animal welfare foundation Soi Dog.
When he met New Star more than a year ago, a large part of the dog's flesh had already died due to severe infection. Nobody knows how long the rubber band was wrapped around his snout.

The problem of stray dog overpopulation in Thailand is largely driven by its thriving pet industry. As in many parts of Asia, people love buying pets. But when their initial excitement runs out, many of the animals end up on the streets.

"The ridiculous thing is people are buying what are originally imported pedigree breeds. If you look at the shelters, you'll see huskies, shih tzus and dogs like these that don't work in this climate. They'll end up having troubles, losing their fur and having glaucoma. So people throw them out," Mr Dalley said.

STERILISATION
Fifteen years ago, Mr Dalley and his late wife Gill left the UK to retire in Phuket. The resort island in southern Thailand was then swarming with tens of thousands of stray dogs and cats, many of them in appalling condition.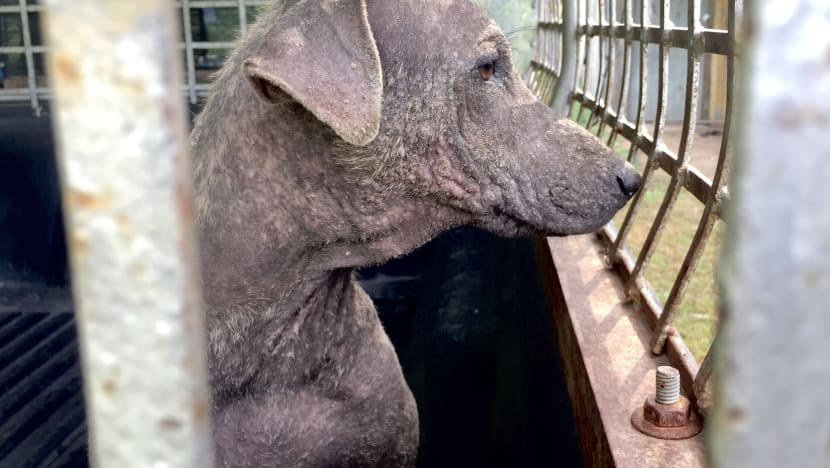 "The scale of the problem was just so overwhelming," Dalley said. "Dogs were everywhere, literally on every street and every corner, no hair, covered in sores, thin and anaemic."

As a result, the couple co-founded Soi Dog in 2003 with a Dutch expatriate, Margot Homburg. The foundation dedicates itself to protecting the welfare of street dogs and cats in Thailand. The three founders had agreed the most humane and sustainable approach was mass sterilisation.

Data from the Bureau of Disease Control and Veterinary Services shows there are more than seven million dogs in Thailand. Of the more than 750,000 strays, some 400,000 are females, each of which could give birth to 10 puppies a year. Without proper birth control, the population of stray dogs could increase by millions each year.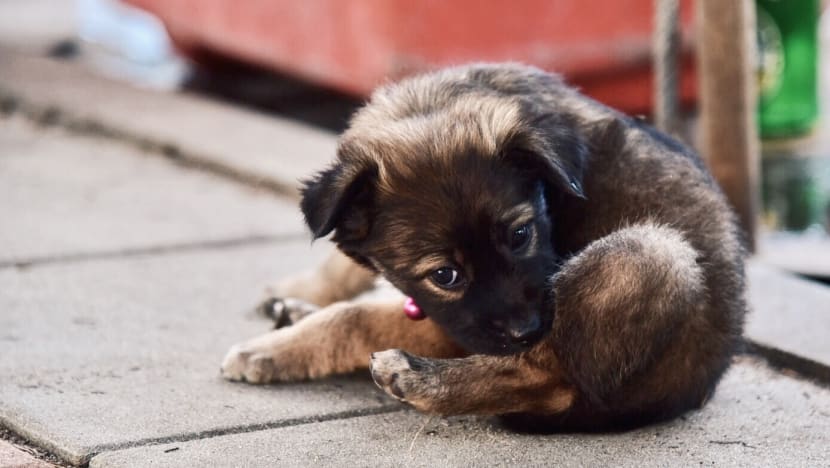 Mr Dalley said local authorities still prefer "instant actions" when they try to reduce the number of stray animals. Many of them have been put in shelters, where hundreds of dogs are simply crammed together, without adequate food or care, while those that have not been caught continue to reproduce.

"Putting them in shelters isn't the answer. The answer is to have a population of street dogs that are sterilised and vaccinated. That's the only way, really, to control the stray dog population humanely."

According to the foundation, the number of animals living on the streets will go down naturally once 80 per cent of the population has been sterilised. Over the past 15 years, its staff has sterilised nearly 200,000 stray dogs nationwide.

REGAINING TRUST

To improve stray dogs' welfare, Thailand needs more than mass sterilisation. Mr Dalley said it will take education and a change in public attitudes to make a sustainable difference.

While many Thais still view them as worthless mongrels, there are others who think differently and care more. One of them is Sujidtra Budpo - or Eve.

When Soi Dog published New Star's story on its Facebook page, it broke Eve's heart. In fact, the emotional impact was so strong she decided to quit her job at a hotel and join the foundation to look after a stray dog she had never met.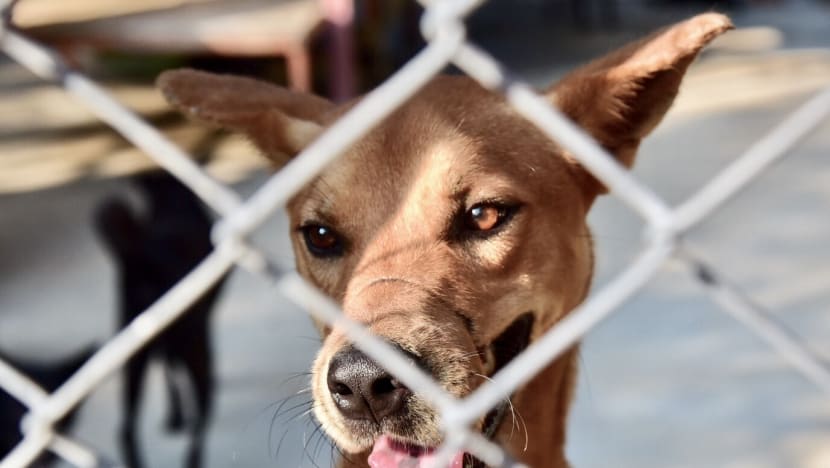 After submitting the application, Eve had to wait for three months before she could secure the job. 

"I felt so sorry for him. He was really shy and scared and kept hiding inside the shelter. I had to carry him out every day and it took so long before he got used to it," said the senior behaviour and enrichment assistant.

Eve has been taking care of New Star for more than a year now. His wound has healed and his health restored. On the surface, the former stray seems perfectly fine. But like many other dogs rescued by Soi Dog, his past trauma lingers.

The incident almost drained all of his trust in people.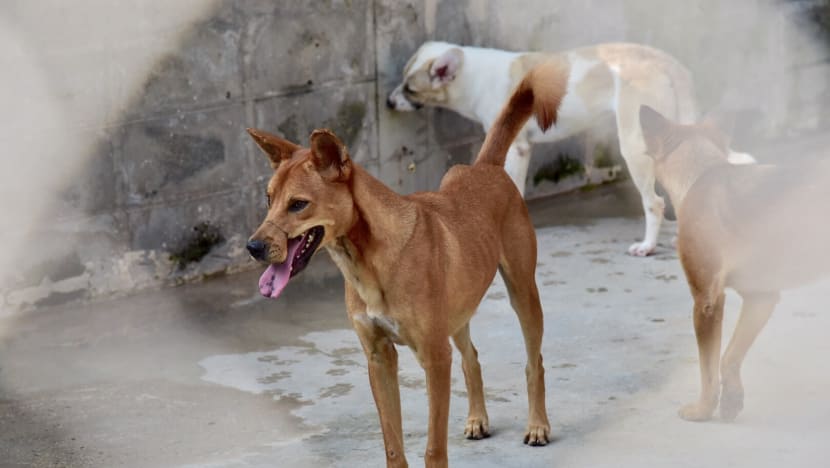 New Star is still frightened by strangers. He gets anxious when surrounded by people who are not his caretakers. Just their approach would send him running away. A flicker of fear is often there in his eyes.

Still, he is better now than before. When Eve calls his name, New Star runs to her. He lets her pat and cuddle him and they walk together. Asked how she has transformed a traumatised dog into a more confident and trusting one, Eve said it takes a lot of love and trust.

"The dog and I have to work together. Regaining trust can take weeks or months. But I love my job. I'm so happy to have a chance of transforming fearful dogs into lively ones."

ADOPT OR BUY?

In Thailand, there are many people like Eve. 

Thanks to the growth of social media, many civic groups have been formed to help stray dogs and cats. It is a phenomenon among young people, who are more environmentally aware and concerned about animal welfare.

"I've seen a lot of new organisations cropping up, a lot of young Thai groups. They have their own Facebook pages. They get donations through crowd-funding. It's happening," Mr Dalley said.

Moreover, help does not only come from within the country. At Soi Dog, volunteers pour in from all over the world. Many people spend months looking after rescued dogs. They feed, wash and walk them around the premises for nothing but a rewarding feeling of giving these animals a new chance at life.

"Most of our staff and volunteers come from overseas. They not just love animals but also want to help them and take care of them like their own children. Locals don't like this kind of job," said 71-year-old Suthep Thongngarm, a dog rescuer at Soi Dog Foundation.

Like New Star, hundreds of other rescued dogs at Soi Dog carry with them a deep scars from neglect and abuse. One had his front legs hacked off with a sword after chewing a pair of shoes. Many others were rescued from small rusty cages, where they awaited slaughter in filth and fear. 

Many of them recover quickly while others struggle to recover from a life of misery. And while efforts are being made to cut the number of stray dogs in Thailand, people continue to buy pets.

"We're seeing crazy things. Thai people are buying imported pedigree breeds. We're sending Thai dogs overseas. People are paying a lot of money for the cost of getting them there," Dalley said.

"How crazy is that?"
For more on this and other projects around Southeast Asia, tune in to Tapestry: The Heart of ASEAN on Channel NewsAsia every Tuesday from Feb 27 to Mar 27 at 11pm.