Tradenation luxury goods scam: Couple appeared calm when police approached, says JB hotel receptionist
Pi Jiapeng and Siriwipa Pansuk did not resist when they were approached by police officers outside the budget hotel in Johor Bahru, a receptionist told CNA.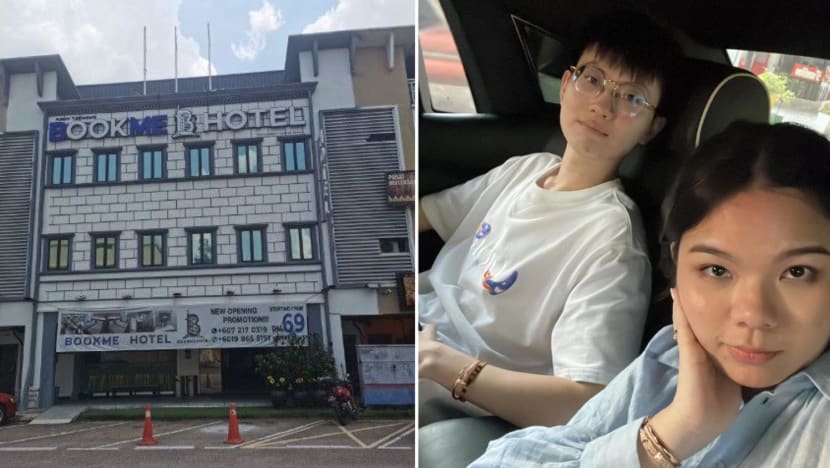 JOHOR BAHRU: The couple at the centre of an alleged multi-million-dollar luxury goods scam in Singapore appeared calm when approached by police officers outside a budget hotel in Johor Bahru, said a receptionist who witnessed the incident. 
Singaporean Pi Jiapeng, 26, and his wife, 27-year-old Thai national Siriwipa Pansuk, had been on the run for more than five weeks before they were approached by the authorities outside BookMe hotel along Jalan Bestari on Wednesday (Aug 10). 
They have since been handed over to Singapore police and were charged in court on Friday. 
Ms Sheila Rozy, one of the receptionists on duty at BookMe hotel on Wednesday, told CNA that the pair had approached the front desk after 10pm. 
"We told them our rooms were all full for the night, so they left the hotel and stood outside. They seemed calm and did not seem suspicious," said Ms Sheila. 
"While they were waiting outside, four or five men came and approached them. They were men in plain clothes who later identified themselves as police officers.
"They spoke to the couple for a few minutes. The couple looked calm and did not try to run away. They were then taken into a marked police car and left," said the receptionist. 
Ms Sheila said that she and other members of staff on duty did not collect any identification documents from the couple as they had never checked in. 
"We never called the police as we had no inkling they were suspects," she added. 
Ms Sheila also said that hotel staff were later informed by police that Pi and Pansuk were arrested due to their alleged involvement in the Tradenation luxury goods scam. 
Rooms at BookMe cost between RM60 (S$18.50) and RM100 a night and the hotel is frequented by travellers from Singapore due to its proximity to shopping malls at Taman Bukit Indah, said Ms Sheila.  
The budget hotel is also close to restaurants, massage parlours and convenience stores at Taman Nusa Bestari. 
In response to queries from CNA on the arrest, Johor police declined to comment citing that the case was based on cooperation among police from Singapore, Malaysia and Thailand. 
Last Wednesday, the Singapore Police Force (SPF) received information from the Royal Thai Police that the pair may be staying in a hotel in Johor Bahru, and sought assistance from the Royal Malaysia Police to locate them.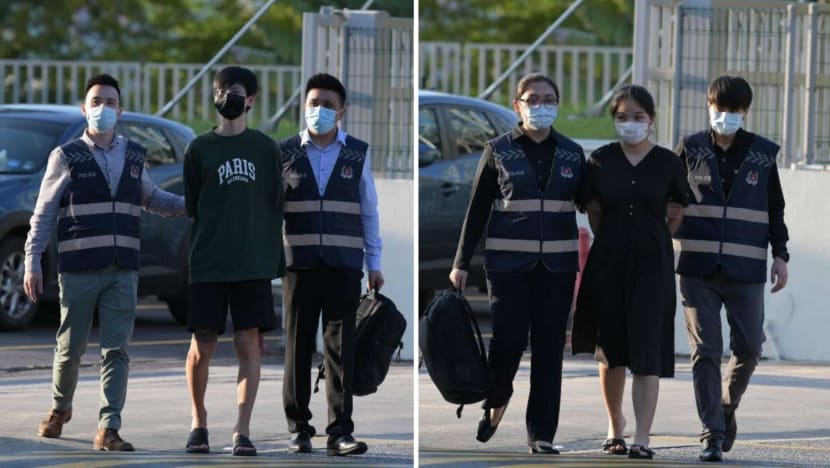 WHAT HAPPENED
Pi was first arrested in June on suspicion of cheating. His passport was impounded and he was released on bail. Pansuk also surrendered her passport to the police and was assisting with investigations.
While some media reports said the total value of the undelivered luxury goods was S$32 million, CNA understands that victims who made police reports have not received products worth at least S$20 million as of Jul 17.
The couple subsequently became uncontactable and fled Singapore via Tuas Checkpoint on Jul 4. They hid in the container compartment of a Malaysia-registered lorry.
Two men charged with helping the couple flee Singapore - Malaysians Mohamad Fazli Abdul Rahman, 38, and Mohamed Alias, 40 - have said that they intend to plead guilty.
After Pi and Pansuk fled, SPF issued a warrant of arrest for them and both were also listed on Interpol's red notice website.
They were arrested and handed over to SPF at Woodlands Checkpoint on Thursday evening.
Pi and Pansuk now face three charges, of which two are for conspiracy to cheat.
They are accused of cheating customers of Tradenation between May 28, 2021 and Jun 27 this year by deceiving them into paying for luxury watches that they did not intend to deliver.
They are also accused of cheating customers of Tradeluxury into buying luxury handbags between Jan 15 and Jun 27.
The remaining charge is for illegally leaving Singapore via Tuas Checkpoint on Jul 4.
They appeared in a district court via video link from remand. Pi was dressed in a green shirt, while Pansuk wore a black dress.
When the judge asked if they had anything to say, Pi said it was "not right" for them to have fled the country.
"It's due to the pressure that we face during that point of time. Me and my wife are facing a lot of death threats and pressure," he said.
"It is our mistake to take that decision and we are really very sorry about the trouble."
The punishment for cheating is a jail term of up to 10 years and a fine.
The penalty for leaving Singapore without presenting a passport is up to six months' jail and a fine of up to S$1,000.