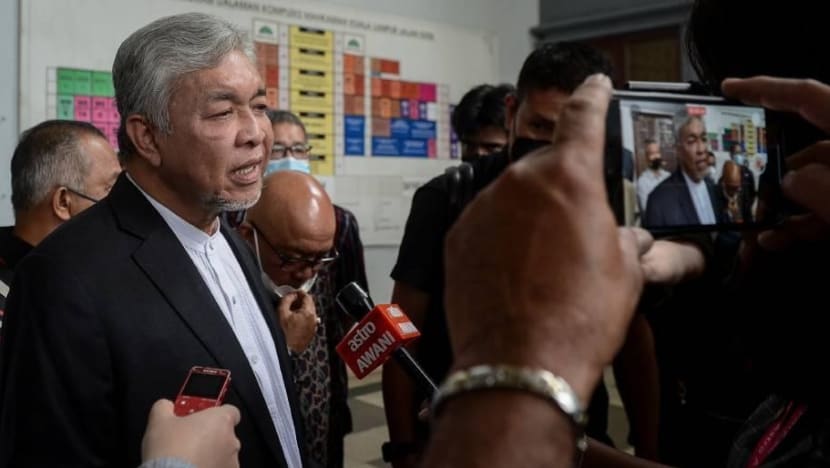 KUALA LUMPUR: Former deputy prime minister Ahmad Zahid Hamidi has failed in his application to halt the proceedings of his corruption and money laundering trial.
High Court judge Collin Lawrence Sequerah on Monday (Jul 4) dismissed Ahmad Zahid's application to stay the court proceedings, pending the outcome of his appeal to obtain witness statements recorded by the Malaysian Anti-Corruption Commission (MACC).
Malaysian media reported that Ahmad Zahid, who is United Malays National Organisaiton (UMNO) president and Barisan Nasional (BN) chairman, filed the application in the Court of Appeal on Jun 23.
The Bagan Datuk member of parliament had applied for a stay of proceedings to postpone the prosecution's cross-examination of him, pending the outcome of his appeal to obtain 11 witness statements recorded by the MACC.  
In dismissing the application on Monday, the judge said that Ahmad Zahid would not be denied a fair trial if his trial was to proceed at this stage, reported Malay Mail.
"After hearing submissions of both parties, this court is of the view that the accused will not be prejudiced during the cross-examination, because he has the liberty to interview the offered witnesses, some of whom are family members and acquaintances," the judge was quoted as saying by Malay Mail.
Ahmad Zahid's application to obtain the statements of the 11 witnesses was first rejected by Judge Sequerah on May 9, on the grounds that the statements were made in the belief that they will remain confidential.  
Any disclosure would prejudice and compromise public interest, the judge was quoted as saying by the Star. 
"They (the witnesses) can be subject to intimidation and, for example, be coerced to depart from what is in the statements," he added. 
In the Kuala Lumpur High Court trial, Ahmad Zahid, who was also former home minister faces altogether 47 charges. These include 12 counts of criminal breach of trust involving RM31.06 million (US$7.4 million) of funds belonging to charitable foundation Yayasan Akalbudi.
He also faces 27 money laundering charges, involving RM72 million as income from illegal activities and eight counts of bribery charges amounting to RM21.25 million.
Meanwhile, in the Shah Alam High Court, the UMNO leader is facing a separate corruption trial involving 40 charges linked to the overseas visa system (VLN).