Unresolved Myanmar crisis due to region becoming 'inward looking': Indonesia's ex-foreign minister
The Myanmar crisis continues, two years after the military seized power in a coup and toppled the elected civilian government of Aung San Suu Kyi, alleging fraud during the 2020 elections won by her party.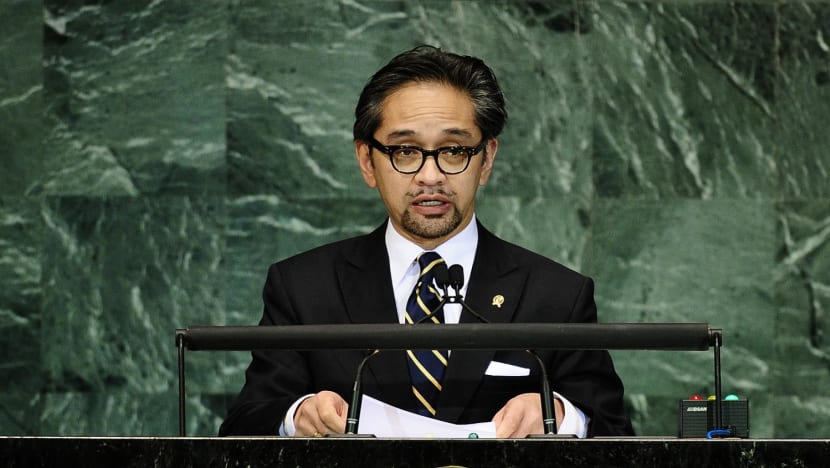 SINGAPORE: The lack of progress in resolving the conflict in Myanmar is likely a consequence of the region becoming inward looking, said Indonesia's former foreign minister Marty Natalegawa. 
This comes as the Myanmar crisis continues, two years after the military seized power in a coup and toppled the elected civilian government of Aung San Suu Kyi, alleging massive fraud in the 2020 elections won by her party.
"The situation that is now transpiring in Myanmar, in a way, perhaps, is the consequence of a foreign policy outlook in this part of the world in recent years that has become inward looking," said Dr Natalegawa.
He added that countries now tend to "look at immediate material benefits" in their foreign policy outlook.
"As a result, we have allowed progress that was still vulnerable and fragile to backtrack and to face headwinds, and we are where we are."
The Myanmar people is losing confidence in the Association of Southeast Asian Nations' (ASEAN) ability to make a positive difference, he told CNA.
"We have mattered in the past, and in delivering and making sure the democratic transformation occurs in Myanmar," said Dr Natalegawa.
"The Myanmar issue is not only a litmus test for ASEAN. It is a litmus test, clearly, but it is now an existential threat to the ASEAN community."
CRITICAL FOR ASEAN TO BE ON SAME PAGE
It is important for the regional bloc to be seen as being on the same page on the Myanmar crisis, he stressed. 
"Just look at what's happening now at the United Nations General Assembly. Whenever a resolution on Myanmar is voted on, or in the Human Rights Council in Geneva, there is not a common ASEAN position."
Member states need to have "real, frank and candid exchanges" on the issue of Myanmar, he suggested. 
Dr Natalegawa also touched on the exclusion of Myanmar's generals from regional gatherings, saying that it may be more meaningful to have democratic representatives from the country attend these meetings.
"We need to be sure that it is not an empty seat that ASEAN is having with Myanmar, but we have the NUG (National Unity Government) and the other democratic representatives be there to speak about the developments in Myanmar," he said.
This would serve as a wake-up call for the junta to make concrete progress on a cessation of hostilities, said Dr Natalegawa.
There is also a need to hold the military regime accountable for their actions. 
"We need to tell them what is expected of them, and to hold them accountable," said Dr Natalegawa. "At the moment, it's a perfect world for them because they can simply deal with the people whom they like, who they are friendly with."
The junta's plans to seek legitimacy by having a national election has often been referred to as a sham and that the outcome should not be recognised. 
"Now, that will be extremely important for ASEAN to anticipate. Surely, this is the time for ASEAN to signal clearly to the world and to the junta, an election in the current circumstance will not be recognised by ASEAN," said Dr Natalegawa.  
"It will be a sham election and we call for the release of all political prisoners including Aung San Suu Kyi. And this kind of messaging must be sent right now, not made after a sham election itself and ASEAN is seen to be procrastinating or being divided."
Two years after the coup in Myanmar, ASEAN's plan to end the violence remains unfulfilled, while the junta claims it is adhering to its own peace plan. What can ASEAN do to end the crisis in Myanmar?
ELECTION NOT POSSIBLE UNDER CURRENT CIRCUMSTANCES
A junta-imposed state of emergency had been extended by another six months on Wednesday, after which the Constitution states that authorities must set in motion plans to hold fresh elections.
While a general election has been promised, critics have questioned whether it will be free and fair.
Dr Natalegawa noted that children and other vulnerable members of Myanmar's society are being shot at, and the civil society groups are not given a voice.
"How can we have an election in the current circumstances when people are being shot at?"
He added: "That is why I think it's extremely important for ASEAN from now on, to relay the message that whatever elections that are held under the current circumstances will not be part of the solution.
"It will not obtain ASEAN recognition and that doesn't mean that whoever is elected by that election will somehow then be able to turn up at the ASEAN summit."
He said that Indonesia, the current ASEAN chair, will need to play a key role to press for continued progress. 
"I hope Indonesia can continue its traditional role of, on the one hand, pressing for continued progress on good governance, human rights, democratic principles issues, but at the same time, maintaining the unity of the ASEAN home. Because it is a twin objective," said Dr Natalegawa.
"It is not one at the expense of the other, and what I'm seeing over the past couple of years is that we have been extremely eloquent on one of them, which is pushing forward Myanmar's democratic agenda, but the ASEAN unity is fraying somewhat."