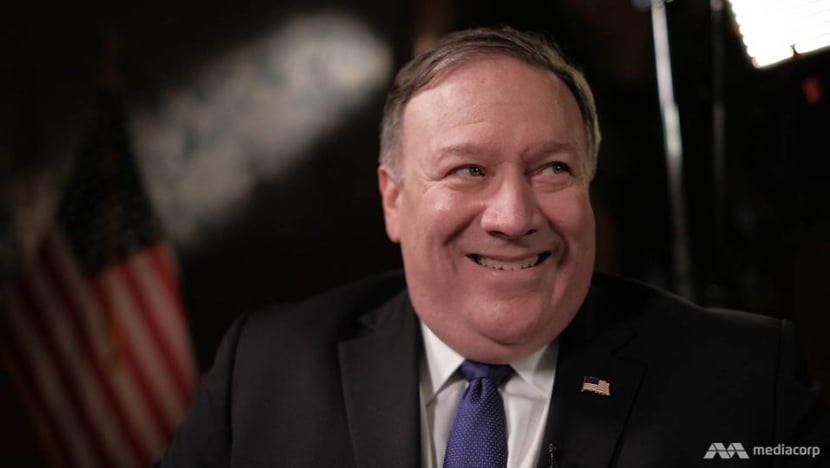 SINGAPORE: United States Secretary of State Mike Pompeo on Friday (Aug 3) struck a positive note when asked about the progress of North Korea's denuclearisation. 
"We are confident that (North Korean leader Kim Jong Un) remains committed to denuclearisation. The world is counting on it," Pompeo said. 
"We are very hopeful that in the coming weeks and months we can make substantial progress towards that and put North Korea on a trajectory towards a brighter future very quickly," he added. 

Pompeo was speaking to Channel NewsAsia in an exclusive one-on-one interview on Friday. 
His comments came on the back of a historic summit between US President Donald Trump and Kim in Singapore on Jun 12 – the first meeting between the leaders of both countries. 
During the summit, the two countries signed an agreement committing to a "complete denuclearisation of the Korean Peninsula".
Pompeo said: "The world should be less nervous than the world before the summit between the two leaders, where we were in a very difficult place with frequent missile launches and nuclear testing taking place. 
"None of that has been taking place since Jun 12. We're happy about that."
However, analysts have criticised the agreement for being short on details and devoid of a concrete timeline. 
On Tuesday, The Washington Post also reported that US intelligence officials suspect that North Korea is continuing to build new missiles in the same research facility where it used to manufacture ballistic missiles capable of reaching the US.
Pompeo cautioned that "no matter how much progress we make", economic sanctions against North Korea will remain, adding that the ball is now in Kim's court.
"The ultimate timeline for denuclearisation will be set by chairman Kim," he said.