US warship in South China Sea as part of regular deployment shows country's commitment to region
Other navies have also started sailing to the South China Sea in the last five years, including those belonging to France, the UK and Australia.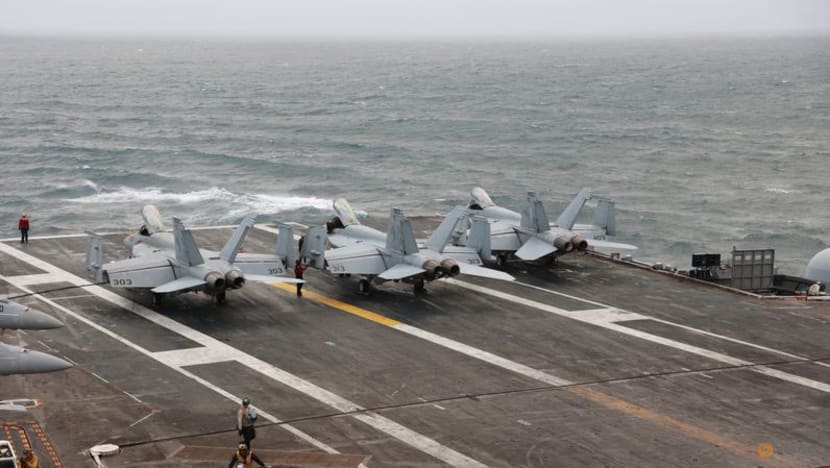 A United States warship has sailed to the South China Sea as part of its regular deployment to show the country's commitment to the Asia Pacific. 
The USS Nimitz, one of the largest warships in the world, is part of increased military presence in the disputed region, with China, the United Kingdom, France and Australia also active there. 
The US commitment comes despite President Joe Biden sending billions of dollars in military aid to Ukraine to help it beat back Russian forces, as part of a North Atlantic Treaty Organization (NATO) effort. 
His administration is not pulling back in this part of the world with good reason, according to one analyst. 
"They absolutely cannot take their eyes off the Asia-Pacific region, for a very simple reason. This part of the world is the fastest militarising region in the world, despite what's going on in Ukraine," said Mr Ridzwan Rahmat, principal defence analyst at intelligence firm Janes. 
"Countries in this part of the world are modernising their militaries, expanding their military budgets at the fastest pace ever seen." 
Commanders of the 5,000-strong crew on board the nuclear-powered USS Nimitz, which CNA got a seat on, said their job is clear - maintaining peace and stability and minimising potential conflict at sea, along with carrying out humanitarian missions during deployments that can be as long as eight months. 
Chinese leaders may, however, see it differently. 
COUNTERING CHINA
The presence of US warships plays a key role in countering China, a nation White House officials have said poses the "most comprehensive and serious challenge" to the US. 
In recent years, Beijing has also started sending warships to the South China Sea after building island bases in the disputed waters. Last month, China's Liaoning aircraft carrier was reported to have sailed close to the American territory of Guam. 
China considers much of the area its own, despite competing claims from countries like the Philippines and Vietnam. 
"The Chinese are deploying their military assets into the region now because they can. They are now able to secure whatever claims they make in the South China Sea and back it up with actual military assets instead of just rhetoric," Mr Ridzwan said. 
He noted, however, that the moment a US warship appears, these Chinese ships tend to "disappear", which shows that the US military's presence has some sort of a deterrent effect on China's behaviour in the region. 
The US defence establishment said China is "seeking to undermine US alliances and security partnerships" in the Indo Pacific and it has been moving to rally allies to the region. 
Other navies have also started sailing to the South China Sea in the last five years, including those belonging to France, the UK and Australia. 
"Each of these countries deploy their latest warships to this part of the world because they feel that they have a stake in the security of the region, given the volume of trade that passes through the South China Sea," Mr Ridzwan said. 
RISK OF MISCALCULATIONS
While the presence of warships can project stability and security, there is always a risk of miscalculations, especially when there is no unified code of conduct, he cautioned. 
"For example, when a warship is deployed into what we consider as your maritime territory, and they do not respond to your request to leave. What should you be doing?" he asked.
Countries in this part of the world deploy a variety of tactics such as deploying cannons, sending out warning shots, and then sending out messages via all the means of communication available, he noted. 
"What I'm worried is what if these warning shots are misinterpreted as a hostile shot, for example, and the other party starts to reciprocate with another volley of light fire, when an incident like that can easily spiral into a naval skirmish, which will have bigger ramifications down the road, especially in this part of the world," Mr Ridzwan said. 
Observers said moving forward, the Asia-Pacific region will see even more visiting warships from around the world, with nations trying to prove they can bring value.