'Really brutal': Bears rescued from Vietnam bile farm as operators continue to evade authorities
BANGKOK: Five Asiatic black bears were locked up in rusty metal cages in Phung Thuong, 30km west of Hanoi, when rescuers found them in a farm. 
The animals appeared terrified of humans. Some of them were pacing back and forth – an abnormal behaviour bears display when they are under stress.
"The five bears were separated in five cages. They were all in bad condition," said Thuy Hoang, a rescuer from non-profit animal welfare foundation Animals Asia, who joined the operation. 
"They didn't have a floor underneath their paws. Below their cages was a gap, and the bears would urinate and defecate in the cages." 
The bears - locked up and held in a holding area with limited sunlight - are believed to have spent 20 years or so in the cages since they were cubs.
Hoang estimated the cages the bears were found in measured 2m in height and 1.5m in width each.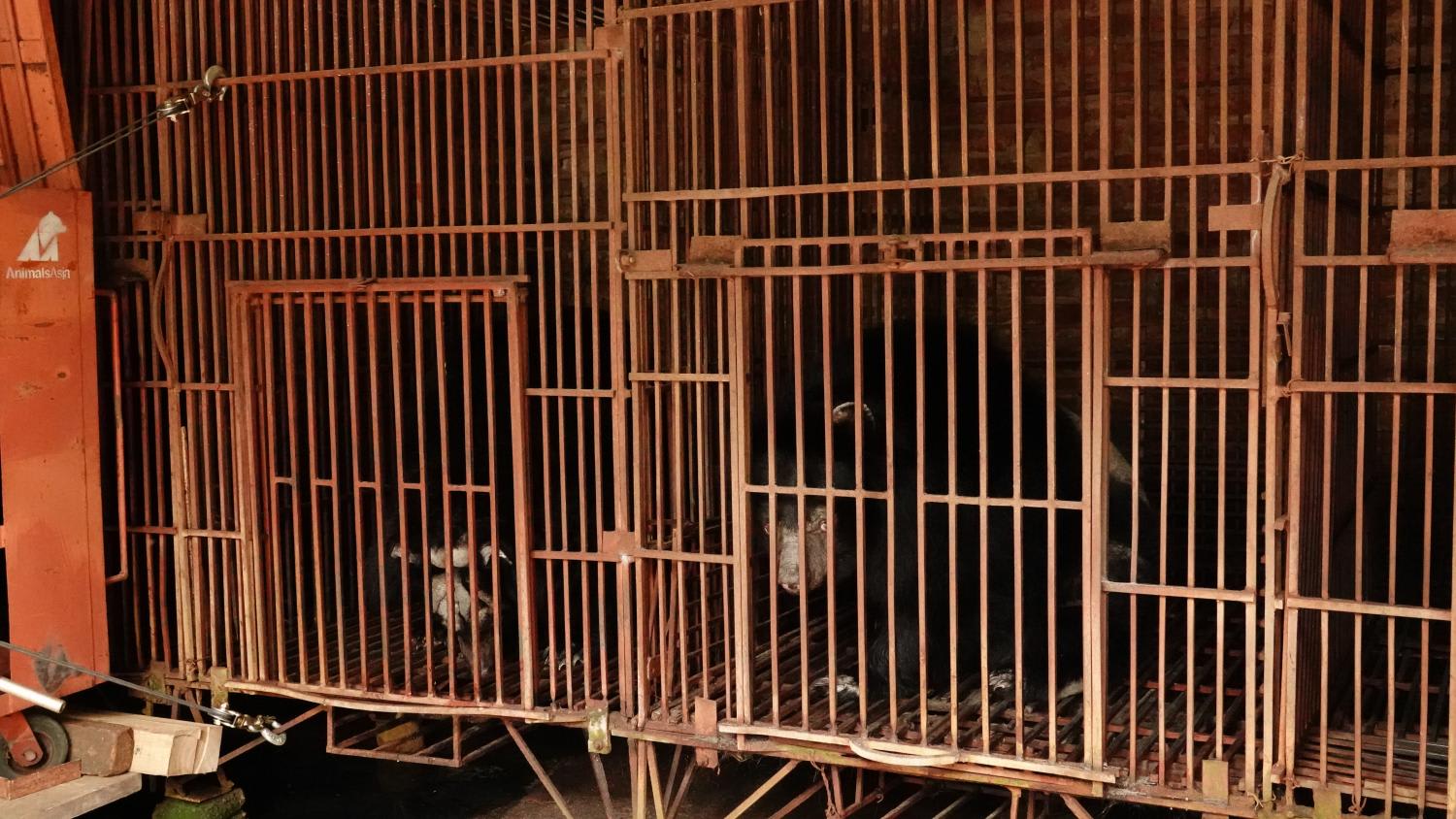 All five of the bears were kept at the farm for their bile, repeatedly drained from their gallbladder through a long needle for use in traditional Asian medicine. 
This is a fate believed to be suffered by hundreds of other captive bears across Vietnam, where the illicit bear bile trade continues in secret.
Last month, Hoang and her team from Animals Asia - which strives to end bear bile farming in Asia - joined the local Forest Protection Department in the rescue operation that successfully removed the five bears from the bile farm in Phung Thuong. 
"If we hadn't rescued them, they would have stayed there until they died," Hoang told CNA.
"I felt really sorry for them. I wish I could say sorry a million times to them because it's we – humans – who put them in that situation, where they had to suffer for 20 years or even more," she added. 
BILE FARMING CONTINUES DESPITE BEING OUTLAWED 
Phung Thuong is considered the epicentre of bile farming in Vietnam, where an estimated 300 bears are believed to be locked up for bile extraction, according to Animals Asia.
Containing high levels of ursodeoxycholic acid, bear bile has long been used in traditional Asian medicine to treat liver and gallbladder conditions in humans, the foundation said.
At present, however, bear bile can be replaced with a variety of herbal alternatives – a practice encouraged by the Vietnamese Traditional Medicine Association.
Although bear bile farming has been outlawed by the Vietnamese government since 1992, farmers are permitted to keep microchipped and registered bears in private facilities as long as they do not extract their bile or acquire new ones.
Still, some operators have continued to supply the black market with bear bile and evaded detection by authorities. 
In May last year, Vietnam saw the largest confiscation of bear bile to date. Local media reported police in Hanoi confiscated 350 bottles of bear bile while they were being transported to customers. 
The authorities also arrested the owner of a farm, who confessed the bile had been illegally extracted from seven bears he kept in captivity. 
BEARS DRUGGED DURING BILE EXTRACTION
According to Animals Asia, most of the bears in bile farms in Vietnam are Asiatic black bears. They are listed as vulnerable to extinction by the International Union for Conservation of Nature's (IUCN) Red List of Threatened Species, with their population currently in decline.
"The most severe declines, estimated at more than 60 per cent in the past 30 years, were reported in Vietnam and Bangladesh," said the IUCN Red List of Threatened Species on its website about Asiatic black bears. 
The capture of live bears and hunting for their skins, paws and especially gallbladders are among the threats to this species, it added.
In Vietnam, bears are poached from the wild and then confined in small cages. Poachers tend to trap the animals with snares when they are cubs, and sometimes their mother would be killed. 
Bile extraction starts when the bears are between two and three years old and could last for decades. Kept in cages for the rest of their lives, these bears are denied free access to food and water.
"Here in Vietnam, caged bears are drugged with ketamine before being lassoed down to have their bile extracted via a long unsterile needle and electric pump. 
"This same cruel procedure can be repeated every month or every two weeks, depending on the farm," said Heidi Quine, director of Animals Asia's Vietnam Bear and Vet team.
Unsterile bile extraction procedures can damage the internal organs of the bears. Liver cancers, tumours and extensive adhesions where scar tissue effectively sticks organs together are common in farmed bears.
"We rescue bears with teeth cut to the gum, and their claws and toes cut off to stop them from injuring farmers," Quine told CNA. 
"Beyond the physical impacts of bear farming, the bears we rescue show significant psychological trauma, from defensive aggression towards humans because of fear, to learned helplessness and being completely shut down and withdrawn," she added.
Animals Asia has collaborated with the Vietnamese government to phase out bear bile farming. In 2017, it signed a memorandum of understanding with the Vietnam Administration of Forestry to ensure all the bears rescued from private facilities are transferred to sanctuaries.
FROM CAGED CAPTIVITY TO FREEDOM 
Together with the authorities, Animals Asia has rescued more than 260 bears from bile farms in Vietnam. 
The rescued animals are now spending the rest of their days at a sanctuary in Tam Dao National Park, a protected area in northern Vietnam.
They will soon be joined by the five Asiatic black bears Hoang rescued from Phung Thuong, which are currently kept at a quarantine facility for a thorough health check.
The newcomers include two females – Dawn and Midnight – and three males named Chronos, Twilight and Noon. 
After their quarantine period, Dawn, Midnight, Chronos, Twilight and Noon will be transferred to the sanctuary in Tam Dao National Park and integrated with other rescued bears. 
The enclosure is designed to resemble their natural habitat, with trees and bushes, small tunnels, swimming pools and an indoor bear house.
"They should live their lives with freedom and no pain," said Hoang, who manages Animals Asia's new sanctuary that is being constructed in Bach Ma National Park. 
The new facility will be able to house about 300 bears, enough for the estimated population of remaining farmed bears in Vietnam.
Hoang tells CNA she is determined for the illegal trade to end. 
"It's very obvious that the way people extract bile from bears is really brutal, and so is keeping bears in small cages for decades like that. It needs to end."