Sales, prices of Vietnam harvests like lychee increase following China's reopening
Hopes were high that the reopening would have a similar impact on other sectors and revive Vietnam's COVID-hit economy, but this could take some time.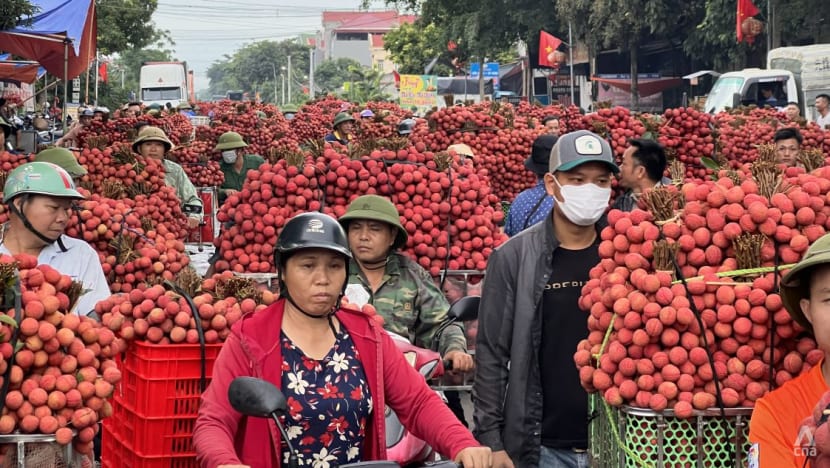 HANOI: It is lychee season in Vietnam and farmers are celebrating a jump in prices for their harvests, six months after the country's biggest trading partner China reopened its borders. 
The boost in business can be seen in the buzz at the main road in front of Ap village, the centre of a bustling cross-border lychee trade. 
Thousands of farmers make the journey there every day to sell their harvests for the highest price to traders, many of whom are Chinese. 
The haggling starts as early as 5am, and the parties settle on a price after a brief inspection of the lychees.
 Among the farmers is Mr Hoang Ho. 
"I am happy only when lychees can be exported to China. That pushes up the prices. The selling price for the domestic market is very low," he told CNA. 
Another lychee farmer, Ms Nguyen Thi Huong, said that the prices are higher this year partly because the quality of the harvest this year is better. The price is about VND$0.76 per kg, double the average price last year, she said. 
Border controls at the height of the COVID-19 pandemic disrupted exports to China, but with the reopening, Vietnam's fruit and vegetable exports totalled a record US$2.8 billion in the first half of the year. 
CHANGE IN FORTUNES
The change in their fortunes is a relief for the tens of thousands of farmers in the agricultural region like Ms Tran Thi Phuong and her husband. 
The couple have been taking care of a lychee garden for three decades, sticking with the crop despite sharp fluctuations in demand and prices. 
"Life here has changed a lot for the better. It was very tough. But thanks to the lychee, life is much better and easier," said Ms Phuong. 
With the border reopening now pushing up prices, the couple hope to save up enough money to send their son to university in the capital Hanoi this year. 
Vietnam's agricultural exports to China have seen a sharp increase since China's reopening of borders. 
In the first six months of this year, China accounted for about 63 per cent of Vietnam's total vegetable and fruits exports, which is estimated at US$1.3 billion a 80 percent increase year on year, according to Vietnam government's data. 
Vietnam's durian export has also increased 18 folds year on year to more than US$500 million in the first five months of this year. 
IMPACT ON OTHER SECTORS
Hopes were high that China's reopening would have a similar impact on other sectors and revive Vietnam's COVID-hit economy. 
But this could take some time. "China's reopening impact, we are seeing it, but I think the pace is slightly gradual or slightly slower than what we had expected at the beginning of 2023," said HSBC Global Research economist Yun Liu.
For instance, tourist arrivals from China are at about 35 per cent of pre-COVID levels and trade with the world's second largest economic power has yet to recover, based on data for the first half of the year. 
Vietnam's imports and exports with China have declined, noted Dr Tran Toan Thang, head of Industry and Enterprise Economic Forecasting Department at the Vietnam Institute for Development Strategies. 
"Vietnam mostly imports semi-finished products from China for manufacturing for export, so the data signals that opportunities for Vietnam's exports are not that many. And that's a very negative sign for Vietnam's economy for the rest of the year," he said. 
The flow of foreign investment into Vietnam is also down, compared to the same period last year. 
"Vietnam still is well positioned to receive consistent, quality FDI (Foreign Direct Investment) inflows, and especially a lot of inflows that come from mainland China," said Ms Yun Liu. 
While there is room for optimism, experts said Vietnam's economic recovery may take years to hit a sweet spot.