Weddings are big business in India, with shops cashing in on the elaborate aspirations of young couples
A third of the country's population is between 20 and 39 years old, an age range where most Indians get married.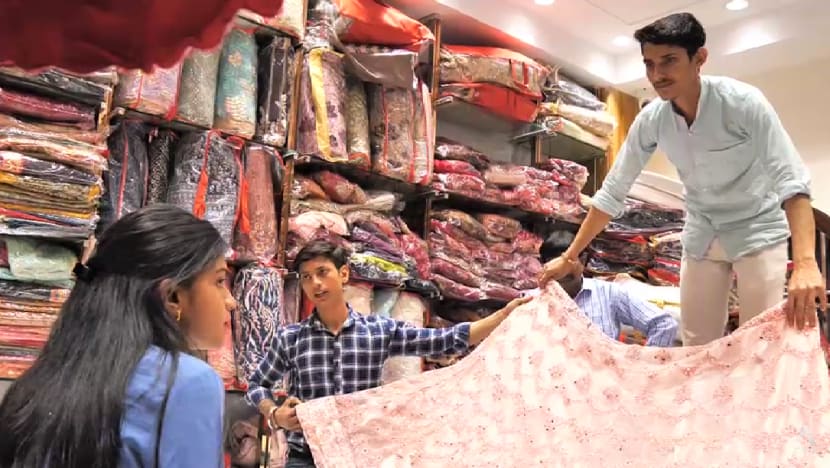 NEW DELHI: More businesses in India are cashing in on the grand and extravagant wedding aspirations of young couples. 
Matrimony is India's fourth largest industry, with about 10 million weddings taking place every year.
It is projected that during the peak month for weddings last year, 3.2 million ceremonies were conducted. That one month would have generated a stunning US$45 billion in revenue for the wedding industry.
This comes as a third of the country's population is between 20 and 39 years old, an age range where most Indians get married. 
STANDING OUT IN A COMPETITIVE MARKET
At the Chandni Chowk, New Delhi's oldest market, its winding and tightly-packed lanes are home to one of the capital's largest wedding apparel markets. 
Wedding boutique owner Shivam Arora, for instance, specialises in selling lehengas, heavily embroidered traditional Indian skirt and blouse sets that are worn by millions of brides every year, particularly in North India.
The cheapest lehengas at his shop are priced at just US$60, while the more elaborate ones cost about US$1,000. 
Mr Shivam realised early on that the business, which is only a year old, needed to stand out to succeed in a competitive market. 
He has been marketing his shop as an affordable Indian boutique, selling ready-made lehengas, designer knockoffs and bespoke outfits on a budget.
"It's a competitive market. Others only sell copies, but we are an Indian boutique. We have the concept that we are selling creative stuff,"  said Mr Shivam, whose shop is able to outfit 50 brides a month. 
"We operate on small margins. Unlike designers who have 100 per cent markups, we keep ours as low as 10 to 15 per cent."
He wants to expand his business further and is relying on social media to reach new customers. 
"We don't spend a lot on traditional marketing. We reach out to social media influencers, who promote shops like ours and our work," said Mr Shivam, adding that the cost varies depending on how many followers these social media influencers have.
"A lot of young girls follow them and buy clothes based on their suggestions."
He added that a bulk of his sales come from customers having seen his stock online through these posts.
Mr Shivam said he is always monitoring what is trending and fashionable, and tweaks his stock accordingly.
SHOPS WHERE FASHION MEETS AFFORDABILITY
While Chandni Chowk has for decades sold wedding outfits, what has changed is the customisation of outfits. This is often done at no extra cost.
For bride-to-be Priyanka Gadua, a Bollywood star's wedding outfit was what had in mind on her first visit to the 17th century market, where foreign tourists often get their first taste of India. 
She is getting engaged soon but did not want to splurge, so she found a close copy of the lehenga she had in mind.
"I wanted to buy just one outfit," she said. "But with the budget I had set for myself, I found two. So I'm very happy."
While big designer brands cater to richer clients, regular Indians turn to these small shops where fashion meets affordability. 
Most couples will shop for six to seven outfits because wedding events usually last a week.
Ms Suman Dua, who has visited Chandni Chowk for wedding outfits for both her son and daughter, said: "We prefer shopping at this market because you get so much variety here, whether you are looking for a budget outfit or something more expensive. 
"You can buy not just the traditional North Indian outfit here. You can buy sarees too."