Obstacles to warmer ties between South Korea and Japan include public opinion, say analysts
While the road to better relations between the two countries may be uphill, the need for them to work together given the changing geopolitical landscape is clear, observers said.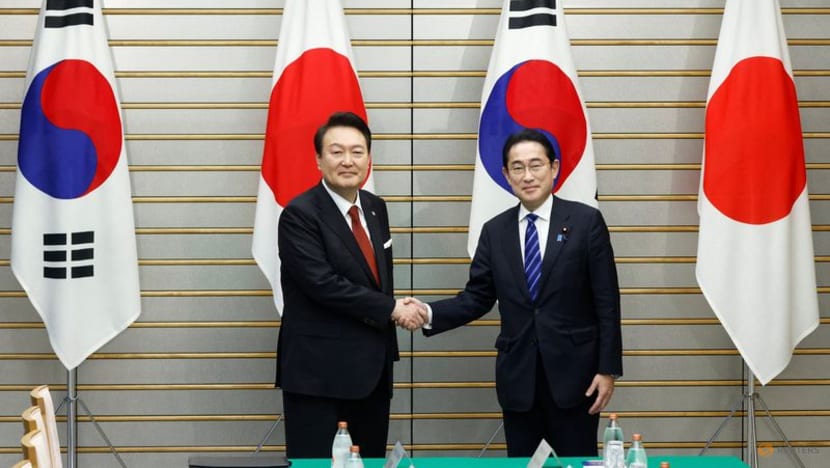 The leaders of South Korea and Japan putting aside years of animosity to meet is a "big advancement", but the repairing of ties faces obstacles along the way, analysts said on Friday (Mar 17), a day after the summit took place in Tokyo.
Among the challenges is public opinion in South Korea, said Dr Mireya Solís, director of the Center for East Asia Policy Studies at Brookings Institution, a non-profit public policy organisation based in the United States.
"The public in South Korea is not very supportive and South Korea has very polarised domestic politics," she told CNA's Asia First.
In a poll by Gallup Korea published on Friday, 64 per cent of respondents said there was no need to rush to improve ties with Japan if there was no change in its attitude, and 85 per cent said they thought the current Japanese government was not apologetic about Japan's colonial history.
Relations between the two countries have been strained over lingering wounds dating back more than 100 years.
The disputes involve South Korean accusations that Japan forced women to work in wartime brothels for its military and used forced labour during the Japanese occupation of the Korean peninsula from 1910 to 1945.
South Korean President Yoon Suk-yeol's visit to Tokyo to meet Japanese Prime Minister Fumio Kishida on Thursday was the first for a South Korean president in 12 years.
It came shortly after South Korea's announcement that it will compensate its own citizens who were subjected to Japan's forced wartime labour, was met with criticism at home.
It fell short of victims' demand for a full apology from Tokyo and direct compensation from the Japanese companies involved. Dr Solis said what could help would be Japanese companies or the business federation making a goodwill effort to provide funds to a foundation that will address the forced labour issue. 
"So I think that that's another element that needs to come into place, that the South Korean public sees real effort from some of the Japanese stakeholders and then you can begin to see, perhaps, a turn in public opinion in South Korea," she said.
POLITICS AS AN OBSTACLE
However, observers said it remains unclear if progress made will withstand a change of leadership.
"In the next election, if the opposition party then wins an election … will they continue to abide by these deals or not? It's a huge question mark," Dr Solís said.
She was referring to agreements made by the two leaders in the areas of economic cooperation, security cooperation and diplomacy, including the dropping of an almost four-year-old trade dispute on high-tech materials used for chips, an issue that has dogged their relationship.
Professor of Management and Information at University of Shizuoka Seijiro Takeshita said that more than half of South Koreans indicating that they are against Mr Yoon's "brave and bold move" is one of the biggest "thorns in the throat".
Their opinions could be influenced by the country's politicians who use a hatred of Japan to increase their votes, he noted.
"That is a very big danger because there are two very important, economic giants in this arena … and we're trying to mend this, but they're trying to use this as their political tool, which I think is very, very sad," he said.
Such methods may also be used by Japanese politicians, he said.
NEED FOR COUNTRIES TO WORK TOGETHER
While the road to better relations between the countries may be uphill, the need for them to work together given the changing geopolitical landscape is clear, both experts said.
"There was a sense that this was a race against time, and that it was important for both countries to work together because they now live in an increasingly dangerous neighbourhood," said Dr Solis, explaining the precipitating factors for the meeting.
She was describing the sense that North Korea is now increasingly assertive and gaining greater military capabilities.
North Korea's firing of another long-range ballistic missile hours before the summit reinforces the need behind this rapprochement and the two sides' desire to have a more functional and closer relationship, she added.
There is also uncertainty and unease about China's role in the region, Dr Solis said.
Joining hands when it comes to the semiconductor industry is one way of pressuring China, Prof Takeshita said.
"The Chip 4 (alliance), which is the United States, Korea, Taiwan and Japan, ganging up together basically in areas of semiconductors would have a very strong structural block against Chinese threat in areas of, for example, information in the industry," he said.
China could however still come in the way of better ties between South Korea and Japan, Prof Takeshita said.
"The fact still remains that China is a very big economic power for both (South) Korea and Japan and also to the United States as well. So we have to tread this very, very carefully because we could easily see China going for totally unreasonable retaliation, as we've seen before," he said.
FUTURE OF TIES
The meeting has created a diplomatic space that both countries can use to improve relations, Dr Solis said.
With leader-to-leader meetings and the reinstatement of shuttle diplomacy, it is "very likely" that Mr Yoon will be invited to the Group of Seven (G7) meeting that Japan will host in May, and Mr Kishida may visit South Korea in the summer, she said.
"This therefore, is a huge deliverable because there had been this freezing at the highest levels of these contacts," she said.
Besides economic security, the summit has also opened up the avenue of trilateral dialogue with the US, Dr Solis noted.
"When you have these countries thinking about what is the future of the region, what is the future of the relationship with China, how should we continue to have these very robust economic interaction with China but also prevent against the risks of technological leakage and so forth, this then opens up the possibility to coordinate between these two countries and also with the United States," she said.