WHERE THE HEART IS...
THE SYMPHONY OF PEOPLE:
A CONDUCTOR'S JOURNEY
T
HE ROOM IS STILL. Nurul and Stephanie sit in the front of an empty 200-seat auditorium cradling their instruments. Then, Stephanie draws her bow, and a classic Chinese tune – about a river in Spring – ripples through the quiet. Her erhu alternates between stirring melodies, and staccato-like chirps which mimic the sound of ducks. On the other end, Nurul air-drums with a pair of purple drumsticks, eyes closed.
Their conductor, an energetic man in his early 50s, listens patiently. "You must count the beats in your heart," says Quek Ling Kiong, urging Stephanie to pick up the pace. She pauses and reaches for her score, a sheet of stark white. Missing are the usual black musical notations – staffs, clefs and quavers; in their place, a string of tiny raised dots.
Now it is Nurul's turn. She picks up a pair of bongos and hesitantly taps. Ling Kiong moves over and guides her hands over the instrument. "Let's start by feeling the whole drum first, so you know where to place your hands," he instructs. Then as the young musicians – both in their early twenties – play, Ling Kiong begins to conduct, growing animated and impassioned with each swing of his arm.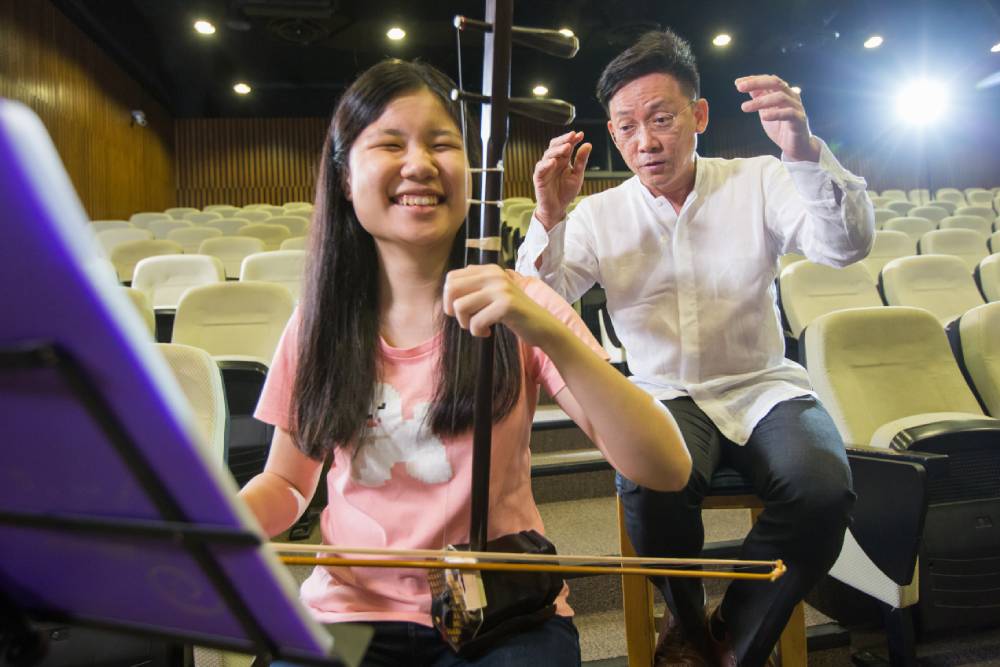 Stephanie and Nurul are part of the Purple Symphony, a 90-strong orchestra that brings together musicians from a broad swath of Singapore society – different races, ages, and also abilities. Nurul and Stephanie are two of its visually impaired members. "They can't see my hands when I conduct so I have to be creative and develop new techniques," said Ling Kiong. "Now I use my breath to cue them in."
He takes a deep breath. The girls lift their heads in anticipation. The music begins.
THE PURPLE SYMPHONY started as a publicly-funded initiative in 2015 by the Central Singapore Community Development Council (CDC) to bring people with different abilities together. As the group's conductor, Ling Kiong was given the task of bringing an unusually diverse group together. "The Purple Symphony has taught me a lot about looking out for other people besides myself," said Stephanie Ow, who plays the erhu. "I've learned from Mr Quek to have an open heart for everyone regardless of their disability or personal shortcomings."
Growing up, Ling Kiong was not exactly a "people person". His secondary school friends often teased him and called him "leng mian gu shou", or the "cold-faced drummer" in Mandarin. Ling Kiong was quiet and kept mostly to himself as a teenager. He often skipped lessons, did poorly in exams and once even forged his father's signature on his report card to avoid repeating an academic year. "I was a very defiant boy," Ling Kiong remembers. "To be frank, it came from having low self-esteem."
The turning point came when Ling Kiong discovered Chinese drums in Secondary 3. He excelled in them and began touring with his school's orchestra, playing in concerts including several in China. "Chinese orchestra saved me," Ling Kiong said. "Through learning Chinese music, I also learned its culture and values – to help others, to build harmony, to be loyal – those values shaped me."
After graduating with a business diploma from Ngee Ann Polytechnic and working in a music centre for a few years, Ling Kiong decided to take the plunge and become a full-time musician. This was the mid-90s, and many of his friends and family called him "crazy". Ignoring naysayers and with grants from the National Arts Council, Hokkien Huay Kuan and Lee Foundation, Ling Kiong enrolled in the Shanghai Conservatory of Music. When he returned, he joined the Singapore Chinese Orchestra (SCO) as its principal percussionist, rising to become its resident conductor in 2013. Along the way, he picked up a NAC Young Artist Award in 2002. "My life really changed after learning music, I always am grateful," said Ling Kiong. "That's why I want to share it with more people, this is the thing that drives me."
TO BRING DIVERSE PEOPLE TOGETHER THROUGH CHINESE MUSIC, Ling Kiong has introduced new programmes to expand the orchestra's audience base. The orchestra plays in hospitals and hospices as a form of therapy for the sick, and to underprivileged and special needs groups.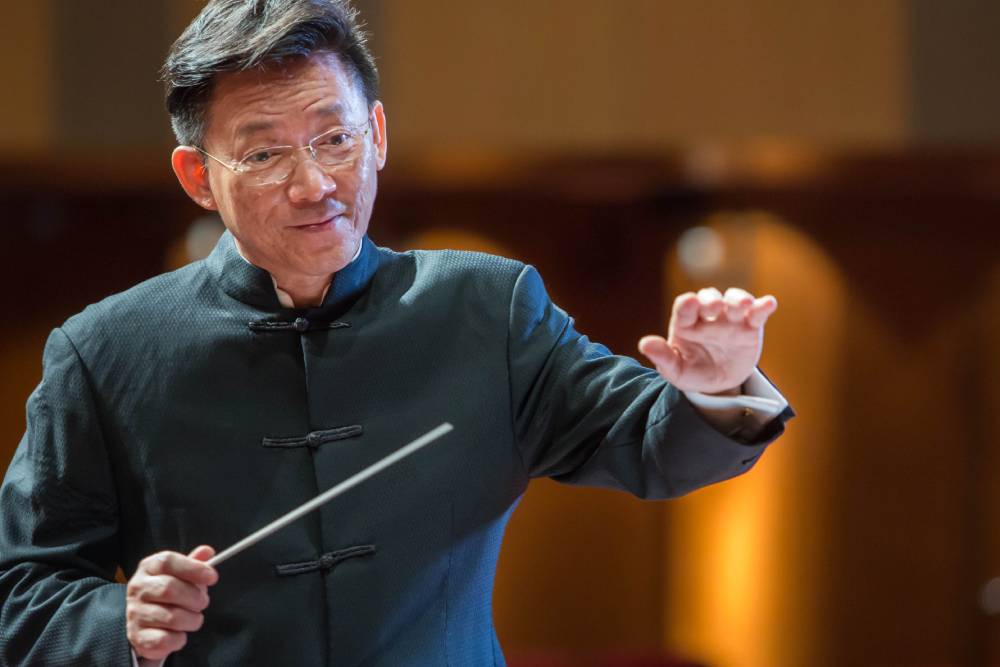 Characteristic of his energy and personal flair, Ling Kiong often dons costumes, acts and sings at SCO children's and youth concerts. He also regularly invites Indian and Malay musicians to play with the orchestra. "He brings people together through his music," said Syafiqah 'Adha Sallehin, a Malay composer whom Ling Kiong has collaborated with. "And he's always interested in letting lesser-heard voices be heard."
With high profile concerts to its name and collaborations with several brand name orchestras, the SCO has achieved a certain eminence. However, the Purple Symphony holds a special place for Ling Kiong, not least for its ability to bring together incredibly diverse people. Over the past three years, its pool of musicians and volunteers has steadily grown to include students, mothers, amateur musicians and even children. "It's a miracle that music brings all these people together" said Ling Kiong. "It's magical."
With the efforts of Ling Kiong and other artists like him, more Singaporeans are realising the value of the arts in bringing people together. Here are some facts and figures: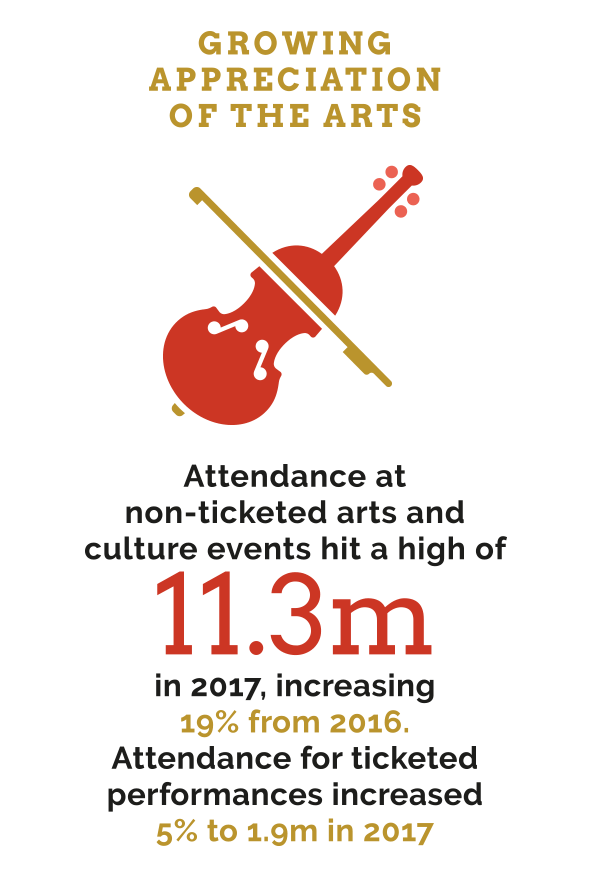 Sources: Population Survey on the Arts 2017; Singapore Cultural Statistics report
BAGUS, BAGUS!" Ling Kiong says encouragingly, as Nurul perfects her bongo beat on her fifth try. The girls have been practising for almost an hour, and their fatigue is starting to show. Ling Kiong deftly shifts gears, cracking a few jokes. Then he strings together English, Mandarin and a pidgin Malay, and teases them. Stephanie's smile breaks into a laugh and in an instant, she looks a shade more energized. "He always reminds us to help one another," said Stephanie. "We've learned not to only look out for our own needs, but also the needs of our fellow musicians."
This quality is essential in the orchestra. Once, an autistic member of the symphony had a flare-up in the middle of rehearsal. "He suddenly started shouting uncontrollably and no one could calm him down," recounted Ling Kiong. The whole symphony ground to a halt. Ling Kiong then signaled to the choir to begin singing "I'd like to teach the world to sing". To everyone's surprise, the boy calmed down, took out his tambourine and started to accompany them. Soon after, the whole orchestra came together again.
"The experience taught me that music has a certain power to bring people together," said Ling Kiong. "It just happens, I can't explain it. "