New 'buy now, pay later' guidelines: S$2,000 cap a good start but not enough, experts say
Consumers can still "borrow" S$2,000 each from different "buy now, pay later" providers without going through any credit checks, experts pointed out.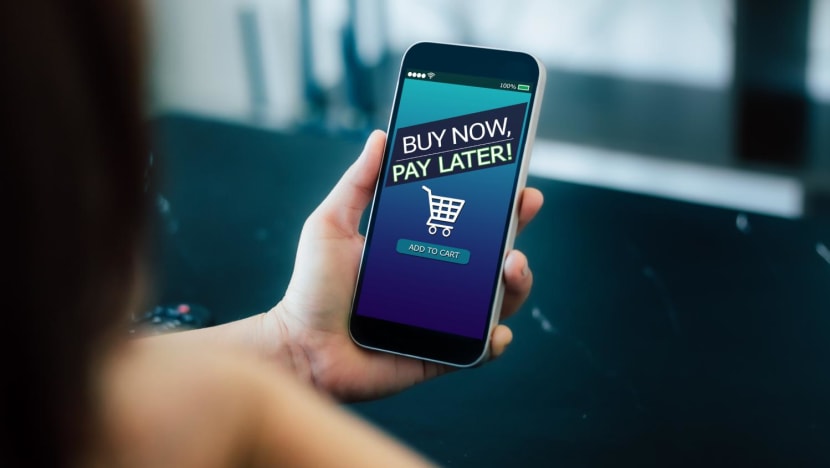 SINGAPORE: A code of conduct for the "buy now, pay later" (BNPL) industry kicked in on Tuesday (Nov 1), with experts describing it as a much-needed first step to addressing risks of overspending but saying that more protections were needed.
BNPL services allow users to pay for their purchases over time. It differs from usual instalment plans by enabling one to split the cost for small-ticket everyday items – from a new pair of jeans to a meal at a restaurant – at zero interest, and without having to own a credit card.
The new guidelines include a cap of S$2,000 on outstanding payments that customers can have with each BNPL provider unless additional credit worthiness assessments are done. 
Providers are also supposed to suspend a customer's access to its services once a payment is overdue. Fees have to be disclosed in a transparent manner, and all charges capped with no compounding interest.
Other safeguards include ethical marketing practices and allowing consumers to voluntarily exclude themselves from BNPL services.
Anyone above the age of 18 can sign up for an account and start shopping in instalments almost immediately. This easy access to borrowing, without the usual income assessments and other credit checks, has raised concerns about users chalking up unnecessary debt.
The code of conduct, developed by the Singapore FinTech Association and eight industry players under the guidance of the Monetary Authority of Singapore, hopes to address these worries.
Experts said the new code, while not legally binding and acts more as self-regulation by the industry, is a step in the right direction.
"It solves quite a lot of problems such as consumers not knowing what they are getting into (and) thinking it's free money, rather than lending," said Mr Anton Ruddenklau, partner and head of financial services at KPMG Singapore.
"This is not free money. You are being lent money for a product that you've already purchased."
In particular, the code helps to tackle the risk of entrapping those who are already vulnerable.
"BNPL services claim to benefit the unbanked and the under-served, who usually lack financial literacy … This group of consumers is particularly vulnerable to defaulting on debt and paying the consequences dearly," said Associate Professor of Information Systems Jan Ondrus from the ESSEC Business School Asia-Pacific.
"Limiting the spending amount significantly reduces the risk of not being able to pay back. Moreover, preventing the fees to compound and banning unethical practices will certainly benefit consumers," he added.
MORE PROTECTION NEEDED?
But the code of conduct can be refined to include more safety nets, some experts said.
The Consumers Association of Singapore (CASE) has said that it hopes to see more safeguards such as having a lower cap on maximum purchases for those below 21 years old.
Echoing that, Assoc Prof Ondrus said BNPL providers should, like banks and credit card companies, require proof of income. This can help to prevent younger users from spending beyond their limits.
Mr Wong Nai Seng, regulatory strategy leader at Deloitte Southeast Asia, noted that even with the cap on outstanding payments, it is still possible for consumers to "borrow" S$2,000 from each BNPL provider without going through any credit checks, and end up with "substantial" debts.
To prevent this risk, the industry can consider setting different spending limits for customers.
"The limit can be based on the credit information sharing arrangements that BNPL providers have committed to and vary depending on each customer's income," said Mr Wong.
"For example, customers with no or low income, (such as) students, should have lower spending limits."
The Singapore FinTech Association, in response to CNA's queries, said the S$2,000 cap aims to prevent BNPL customers from "overburdening their financial positions" and was determined based on industry data and feedback.
It did not reply to questions about how many BNPL users have exceeded this limit and subsequently defaulted on repayments.
On whether it would consider more safeguards, the association's president Shadab Taiyabi said the working group had engaged with various stakeholders in developing the code of conduct.
"Going forward, we will continue to engage different stakeholders to receive their feedback and to continue the discussion on how the code can further protect consumers' interest."
WILL BNPL HURT ONE'S CREDIT RATING?
As part of the code of conduct, the BNPL industry will also be setting up a credit information-sharing bureau by late 2023, with the help of credit data firm Experian.
This will allow BNPL providers to share with one another information on customers' outstanding amounts and delinquency status – a move welcomed by experts.
While the code specifies that information will be shared only for the purpose of providing BNPL services, experts do not rule out the possibility of BNPL data being shared with other entities, such as credit agencies and banks, eventually.
"Ideally, BNPL credit information should be aggregated with credit records maintained by the credit bureaus for banks and moneylenders to provide a holistic view of each individual's credit situation," said Mr Wong.
"A lender can then decide whether to extend credit based on a more complete record of each potential customer's credit history and their risk appetite. This will also create stronger incentives for individuals to manage their borrowing prudently."
Echoing that, Mr Ruddenklau said data from the BNPL credit information sharing bureau would likely eventually "be commingled with other lending products".
This "logical conclusion" means potential impact on one's credit scoring.
"If we are missing payments on a habitual basis, lenders don't like that because it sounds like bad credit risk. So we need to take care of the small things to look out for the bigger things – in this case, a mortgage or a loan for health treatments," he said.
Nonetheless, experts stressed that while safeguards are important, the onus still lies on consumers to manage their own spending.
"Could we make the cap for those between 18 to 20 years old at S$500? Possibly," said Mr Ruddenklau.
"But I don't think that's going to solve the underlying issue which is understanding the value of money, people being accountable for themselves … and learning how to live within your means."
BNPL HAS MERITS, BUT MUST BE MANAGED
BNPL is the fastest-growing online payment method in Singapore, according to a recent report by US financial technology firm FIS. 
It is projected to grow at a compound annual growth rate of 40 per cent through 2025 and double its share of e-commerce transaction value from 4 per cent in 2021 to 8 per cent in 2025.
This rapid pace of growth mirrors that in other parts of the world, as consumers continue to ditch cash and credit cards when it comes to shopping online, the same report said. BNPL accounted for 2.9 per cent of global e-commerce transactions last year and is projected to grow its market share to 5.3 per cent by 2025.
Singapore is not the only one looking at how to manage the growing industry.
Australia, for one, has had a code of conduct for BNPL providers in place since March 2021 and is now mulling formal regulations. The country's financial services minister said in June that the government will push ahead with plans to bring BNPL providers under credit laws.
Other countries such as the United States have also announced intentions to start regulating BNPL companies.
"Most countries are feeling the urge to regulate BNPL services. In the meantime, Singapore's code of conduct is a good example for others to follow," said Assoc Prof Ondrus.
BNPL services have their merits, such as being a convenient source of credit for the under-served and under-banked, said Mr Wong. They also help merchants to improve customer conversion rates and increase purchases, as well as provide a source of consumer insights.
"However, safeguards need to be in place to support the sustainable development of BNPL schemes," Mr Wong said.
You may also be interested in: