Carbon dilemma: How can electric vehicles become more eco-friendly?
Electric vehicles are often seen as a more climate-friendly option. But zero emissions doesn't mean zero carbon footprint. Money Mind takes a look at what's being done to make electric vehicles greener.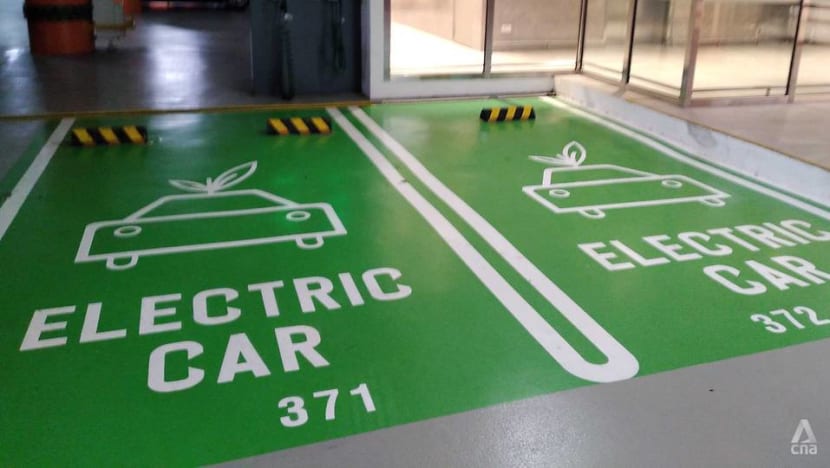 SINGAPORE: Electric vehicles might not emit harmful gases like carbon monoxide, but they still have an environmental impact throughout their life cycle – from the production process which requires the extraction of raw materials like lithium, to the kind of fuel used to power the plants that produce electricity. The recycling of batteries is also an environmental issue.
It is estimated that over its entire lifespan, an electric vehicle emits about 50 per cent less carbon dioxide emissions than internal combustion vehicles.
However, there are also questions about how they can be made in a more environmentally friendly manner.
"Studies has shown that the manufacturing of the batteries, the manufacturing of the EV actually produce more carbon during the manufacturing period," said Mr Lim Boon Choon, president for Korea, ASEAN, Pacific and India at Hexagon Manufacturing Intelligence.
"It is the usage period that they have much less carbon. But, overall, when you look at the total life cycle, it is still good," said Mr Lim.
The biggest challenge lies with the lithium-ion battery. The making of the battery requires rare earth materials like cobalt and lithium, and the mining process also creates carbon emissions.
The extraction process also uses immense amounts of water.
And, when the battery comes to the end of its life, questions arise over how to dispose of or even recycle it.
Environmentalists and industry players are warning of a flood of e-waste.
"If the intention is to make all vehicles electric, the amount of batteries to be destroyed after 10 years of use could be quite substantial," said Mr Yeap Swee Chuan, CEO, AAPICO Hitech.
"The amount of batteries in the EV is not in one or two kilograms; plenty of kilograms under the chassis of the car. So there's a lot of batteries to dispose and how are you going to dispose the batteries," said Mr Yeap.
RECYCLING AND REUSE
Such battery problems could be resolved through recycling and the reuse of the battery raw materials.
Such initiatives are still not widespread though.
Industry statistics show that only 5 per cent of all lithium-ion batteries are currently recycled.
Experts say this boils down to costs.
There are two main ways to deactivate the lithium-ion battery – smelting and leaching. As both methods are costly, this is a major barrier to recycling.
Existing methods of recycling are also not environmentally friendly.
"The majority of batteries are still recycled using pyrometallurgy – furnaces and smelting, and trying to separate the metals using heat. This has a massive energy and carbon footprint. The gas emissions are considerable - you can imagine firing a furnace the size of two HDB flats or two condos, 24 hours a day," said Mr Leon Farrant, CEO of Green Li-ion.
Green Li-ion hopes to address these challenges with its lithium-ion recycling technology.
This utilises a hydrometallurgical process, or a chemical process to rejuvenate the battery materials so that they can be recycled infinitely.
The startup says it is able to continually recycle the battery materials and maintain almost the full lifespan of the battery.
Mr Farrant said: "We are taking in spent lithium-ion batteries, we're stripping it back to the absolute natural form of the chemistry and then rebuilding it. There is a 2 per cent loss. So if you had 100 kilograms of cathode material, you would then have 98 per cent - 98 kilograms of cathode material at the end."
In this manner, Green Li-ion has been able to create a circular economy around the electric vehicle  battery - retrieving, recycling and re-circulating the raw materials such as cobalt, copper, nickel and lithium into new batteries.
It is a closed loop technology, meaning that nothing is discharged other than what can be sold, and everything else is reused.
POWER TO CHARGE
Apart from the battery, there is another question that needs to be addressed for electric vehicles to be truly emission friendly.
That relates to a country's power grid, and where the electricity to charge the electric vehicle is going to come from.
"The production of electricity is very important. How can we move away from fossil fuels into more renewable energies like wind power, solar. Scandinavian countries like Sweden and Norway are very much into renewable energy. And so for them, using electric vehicles is even better because the energy is coming from all renewable sources, but for certain other countries, it can be a problem, because they're getting the electricity from coal-fired power plants," said Mr Lim.
In Singapore today, the electric vehicle population is still relatively small compared to its petrol counterpart.
Data from the Land Transport Authority showed there were 1,549 electric cars in circulation as of the end of June. This is about 0.24 per cent of the country's total car population.
The numbers have been steadily increasing though. Since 2019, the electric car population has risen about 38 per cent.
Industry players say that in other ASEAN countries, the rate of adoption will be slower.
The price of an electric vehicle is about the same as three small cars, meaning it is out of reach for many people in developing countries.
Electric vehicle proponents argue that the costs have come down quite a bit.
"Batteries contribute to a significant part of the car cost. Thanks to the improvement in manufacturing technology as well as economies of scale, the cost of batteries in general has been steadily and significantly coming down. In some cases, almost 10 times cheaper, therefore making electric vehicles more affordable in the process," said Mr Alan Yi, product, pricing and eMobility manager at BMW Group Asia.
"Governments around the world are also incentivising electric vehicle purchases, as compared to petrol and diesel cars, which brings down the price further. So in Singapore today for example, the price of a BMW iX 3 is lower than its equivalent petrol counterpart," he added.
Still, it may be unrealistic to expect worldwide adoption of electric vehicles.
Industry players expect that hybrid and petrol/diesel vehicles will still have a place in the future of mobility, together with the electric vehicle.