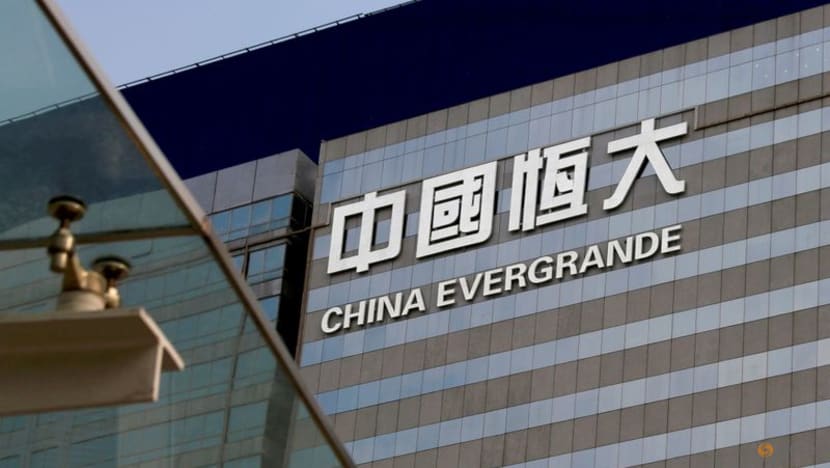 SINGAPORE: It narrowly averted a cash crunch last year but Evergrande, one of China's biggest real estate developers, is now teetering on the brink of bankruptcy again.
The cash-strapped property titan has warned that it may not be able to meet its staggering debts of more than US$300 billion – an amount that makes it the world's most indebted real estate company.
This has stirred panic among many contractors and suppliers, bond-holders as well as home buyers who have made down payments for now-stalled property projects, as seen from the protests outside Evergrande's headquarters in Shenzhen this week.
There are also fears that the demise of one of China's biggest companies could send ripples across the world's second-biggest economy.
Here's what we know so far:
WHO IS EVERGRANDE?
Founded in 1996 by Hui Ka Yan, Evergrande started off as a small local firm in Guangzhou before riding on China's real estate boom to become the country's second-biggest developer by sales.
It went public in 2009 in Hong Kong, a move that it described as "providing strong impetus" to its growth.
Evergrande currently owns more than 1,300 projects, mostly residential, in more than 280 Chinese cities, according to the company's website.
Outside of property development, an all-out diversification in recent years has seen the company extending its reach into media production, healthcare services, mineral water and food, electric car manufacturing, as well as the running of a theme park and football club.
In all, it has 200,000 staff and total assets worth 2.3 trillion yuan, its website said.
WHAT WENT WRONG?
Evergrande has fuelled its expansion primarily through aggressive leverage since the beginning, so much so that its founder Hui is also described as China's "king of debt" while being known as a property mogul and at one point China's richest.
This credit-fuelled business strategy has been on shaky grounds, especially after the Chinese authorities announced its "three red lines" policy last August. This is a trio of metrics on debt that developers have to meet if they want to borrow more.
A new "era of sustained decline" in residential property demand in China is another cause of trouble for highly leveraged developers like Evergrande, said research firm Capital Economics in a note dated Sep 15.
The company had a liquidity scare in September last year when it reportedly sent a letter to the provincial government of Guangdong, warning officials that payments due in January 2021 could cause a liquidity crisis and potentially lead to cross defaults in the broader financial sector.
It managed to avert the crisis after persuading a group of investors to waive their right to force a US$13 billion repayment, said a Bloomberg report.
That same month, Evergrande also kicked off a nationwide sales promotion, offering a 30 per cent discount on all real estate properties, in a bid to boost sales and meet its target of cutting debt by half.
Among other moves to shore up its finances, it listed its property management unit in a US$1.8 billion initial public offering (IPO) in Hong Kong last December.
It also sold a US$3.4 billion stake in its electric vehicle unit, while unveiling plans to spin off several units such as its online real estate and automobile marketplace Fangchebao.
These proved to be futile as Evergrande said on Tuesday that its asset and equity disposal plans to ease liquidity issues "have not reached expected outcomes".
In the same statement to the Hong Kong Stock Exchange, it also said property sales will likely continue to decline significantly in September, on the back of "ongoing negative media reports" that have dampened the confidence of potential buyers. This will add "tremendous" pressure to its cash flow situation, it warned.
The company added that it has engaged advisers to examine its financial options and warned of a default risk.
Evergrande's stock has since fallen off a cliff amid the continuous flow of bad news, down more than 30 per cent this week. It was last seen trading at HK$2.37 on Friday morning, the lowest in more than a decade.
Meanwhile, ratings agencies have repeatedly downgraded the firm, citing its liquidity problems.
Scenes of protests have also emerged, according to media reports, as angry investors, vendors who are owed money, as well as home buyers, gathered this week at the company's headquarters in Shenzhen to demand repayment.
IS THERE A BROADER RISK?
Analysts have been monitoring the possibility of a wider impact on China's property sector.
Ms Zhou Chuanyi, a credit analyst at Lucror Analytics, said the contagion risk on Chinese property issuers "has been significant" so far.
"The bonds of many weak names have been hit. At current price levels, it is unlikely that a number of those developers will be able to issue new offshore bonds. This brings some refinancing uncertainties," she told CNA in an emailed response.
Beyond property, a collapse of Evergrande could trigger a broader hit on the country's financial system and the overall economy, analysts said.
"We believe a default would reinforce credit polarisation among homebuilders and could result in headwinds for some smaller banks," said rating agency Fitch.
Capital Economics noted that the banking sector would be among the first to be hit, adding that the collapse of Evergrande would be "the biggest test that China's financial system has faced in years".
"A banking failure triggered by the collapse of major property developers was the single most likely scenario that could lead to a hard landing in China. And the fact that financial markets aren't currently signalling alarm doesn't mean they won't," wrote its chief Asia economist Mark Williams in a note last week.
Mr Howe Chung Wan, managing director and head of Asia fixed income for Principal Global Investors, said: "Transmission of a property downcycle will mostly come through lower property investments, impact on consumption due to weaker household sentiment and employment market, as well as more negative market sentiments."
WHAT COULD HAPPEN NEXT?
The company is most likely headed towards a debt restructuring, analysts said, with the key now being how orderly the debt woes will be managed.
Mr Vishnu Varathan, head of economics and strategy at Mizuho Bank, said policy responses so far suggest that authorities may want to "make an example out of Evergrande so that there's no such thing as too big to fail".
"This is not going to be a case of a white knight riding to the rescue in the very short term but clearly, the social aspect is going to be something very sensitive. I think the government will eventually step in but for very targeted reasons," he told CNA.
These include ensuring Evergrande delivers the yet-to-be-completed properties to millions of home owners.
"Policymakers' main priority would be the households that have handed over deposits for properties that haven't yet been finished," said Mr Williams.
Capital Economics said pre-completion deposits from households account for the bulk of Evergrande's liabilities. It estimates that the company has about 1.3 trillion yuan in pre-sale liabilities as at end-June, equivalent to roughly 1.4 million individual properties that it has committed to complete. 
Mr Howe noted that the "priority now would be to go for an orderly restructuring and manage claims in an organised fashion".
This is so that the company can restart operations and complete the building of unfinished homes to alleviate home buyers' demands, while generating cash to pay out onshore retail claims over institutional claims, he added.
"Given the priority from (a) policy point of view would be to keep Evergrande delivering on its properties from a social stability perspective, a disorderly liquidation is not our base case scenario," said Mr Howe.
Ms Zhou also reckoned that liquidation is less likely to happen, given the size of Evergrande and the sheer amount of stakeholders involved.
"Beijing has never underestimated the systematic importance of Evergrande. It seems the government has been urging the company to put the interest of home buyers, suppliers and employees as its priorities," she said.
The possibility of introducing state-owned enterprise investors to Evergrande cannot be ruled out, said Ms Zhou, although regulators are unlikely to opt for a direct bailout.
A restructuring that prioritises home buyers might not leave much for other creditors, with offshore investors likely to be the biggest victims, analysts said.
WILL THERE BE REPERCUSSIONS BEYOND CHINA?
Even so, a managed default or messy collapse of Evergrande would have "little global impact beyond some market turbulence", said Capital Economics' senior global economist Simon MacAdam.
"Even if it were the first of many property developers to go bust in China, we suspect it would take a policy misstep for this to cause a sharp slowdown in its economy," he added in a Sep 16 note.
"In a hard-landing scenario, several emerging markets are vulnerable. But in general, the global impact of swings in Chinese demand is often overstated."
Mr MacAdam added that references to Evergrande being China's "Lehman Brothers" – the collapse of the 150-year-old US investment bank in 2008 which precipitated the global financial crisis – "is wide off the mark".
Professor Lawrence Loh from the National University of Singapore Business School agreed, noting that the Lehman Brothers' downfall struck right "at the heart of the financial industry".
In this case, while some pain must be expected from the woes of a huge conglomerate like Evergrande, the impact "may be less and will be indirect".
On the same note, spillover effects into the rest of the Asian economies are similarly not too much of a concern yet, analysts told CNA.
That said, businesses with exposure to China's property market may be in for some challenges if this crisis eventually takes a toll on consumer confidence. This also comes as China's economy took a hard knock lately due to the Delta virus outbreak, said Prof Loh.
Mr Varathan said foreign property businesses in China "must assume some risk".
"As they don't know how pressure on some of these contractors would translate for them, and whether they will be at the receiving end for some of this grief felt along the supply chain."