HDB launches 4,501 BTO flats for sale, including prime area Rochor units with 6% subsidy clawback
SINGAPORE: A total of 4,501 Build-to-Order (BTO) flats were launched for sale on Wednesday (Nov 17), including 960 units in Rochor, the first project under the new Prime Location Public Housing (PLH) model.
The Rochor BTO flats come with a 6 per cent subsidy clawback upon resale of the homes, announced the Housing and Development Board (HDB).
The units launched in the November BTO exercise are spread across nine housing projects in six estates - the Central Area, Choa Chu Kang, Hougang, Jurong West, Kallang Whampoa and Tengah.
"The range of waiting time is generally between three and five years, similar to the BTO projects launched in the past year, with a median waiting time of about 4.4 years," said HDB.
Three projects - Hougang Olive, Parc Clover @ Tengah and Parc Glen @ Tengah - have a shorter waiting time of about 2.4 to 2.8 years.
The Rochor projects - River Peaks I and II - have a waiting time of 71 months or just under six years, said HDB.
It added that this is due to the additional preparation works required for the site, given its proximity to Jalan Besar MRT station and the need to comply with more stringent requirements. 
The two-room Flexi flats at the new Integrated Development in Choa Chu Kang will be offered only to people aged 55 and above, and on short leases of between 15 and 45 years in five-year increments.
Another 1,798 flats are on offer in the Sale of Balance Flats (SBF) exercise, taking the total number of new units launched on Wednesday to 6,299.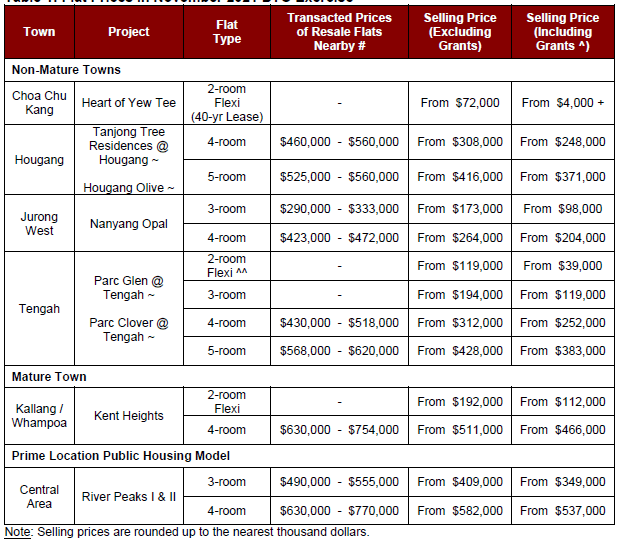 6% CLAWBACK FOR PRIME LOCATION PROJECT IN ROCHOR
The Prime Location Public Housing model, which was announced last month, aims to "ensure that new public housing built in prime and central locations will remain affordable and accessible for Singaporeans", said HDB.
"As PLH flats are priced with additional subsidies, on top of the substantial subsidies already provided for all BTO flats today, PLH flat owners will have to return to HDB a percentage of the resale price of the flat upon the sale of their homes," said the agency.
"The additional subsidies will keep PLH flats affordable for a wide range of Singaporeans, while the subsidy recovery will ensure parity with other BTO flat owners who are not accorded these additional subsidies."
For River Peaks I and II in Rochor, owners will pay HDB 6 per cent of the resale price or valuation, whichever is higher, when they sell their flat on the open market for the first time.
"This amount to be recovered is commensurate with the extent of the additional subsidy that has been provided," said HDB.
Owners of these flats also face a 10-year minimum occupation period.
Located along Kelantan Road and Weld Road, next to Jalan Besar MRT station and Sim Lim Tower, the two developments comprise six 47-storey blocks. One of these blocks will house some rental flats. 
Of the 960 units up for sale, 280 are three-room flats and 680 are four-room units.
The priority quota under the Married Child Priority Scheme for River Peaks I and II will be reduced to two-thirds of the usual quotas - 20 per cent for first-timer families and up to 2 per cent for second-timer families. 
"This allows public housing in prime central locations to be more inclusive, as it provides more opportunities to Singaporeans who do not have family members living near the area to also live in these neighbourhoods," said HDB. 
Applications for the flats launched in the November exercise can be made online on HDB InfoWEB from Wednesday to Nov 23. 
In February 2022, HDB said it will offer about 3,900 BTO flats in areas such as Geylang, Kallang Whampoa, Tengah and Yishun. 
Later in May, it plans to launch up to 5,700 BTO flats in Bukit Merah, Jurong West, Queenstown, Tampines, Toa Payoh and Yishun.