'Long way to go' for full recovery in Asia-Pacific aviation sector: IATA chief
Despite global uncertainties, the outlook for the aviation industry in 2023 remains positive, says IATA chief Willie Walsh.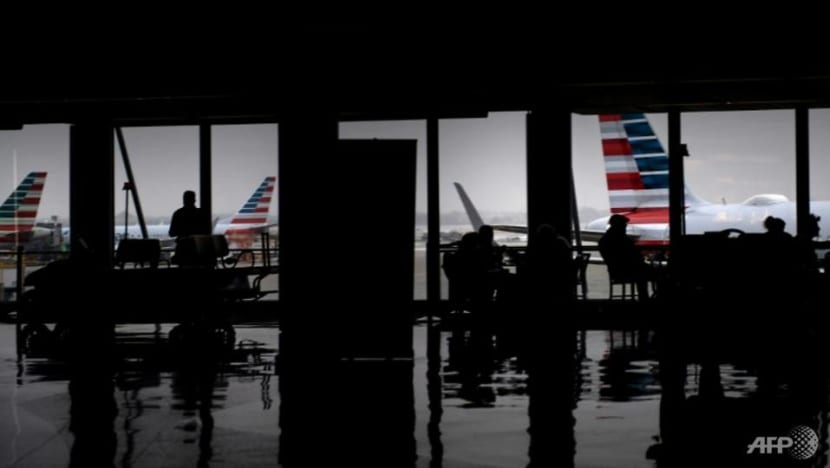 GENEVA: Asia Pacific was one of the world's busiest aviation markets but its recovery is still suffering from the fallout of the COVID-19 pandemic, despite some positive signs out of China, said the head of the International Air Transport Association (IATA) on Tuesday (Dec 6).
"There's a long way to go if we look at it from the data that we have at IATA," the organisation's director-general Willie Walsh told CNA at its Global Media Days event.
International travel within Asia in October was 34 per cent of that in the same month in 2019, while traffic between Europe and Asia was at about 40 per cent, he noted.
While IATA, the world's biggest airline trade body, is seeing "a little bit of an increase" and it is easier to travel today than it was during the early days of the pandemic, some restrictions remain, he said.
"Until those restrictions are removed, we don't see any prospect of getting back to 2019 levels," he added.
Among the countries that still have travel restrictions is China, a major influencer of recovery in the region that some markets are crucially dependent on.
China last month relaxed rules surrounding travel, including shortening the quarantine period for inbound travellers and requiring one negative test within 48 hours before boarding instead of two.
On Wednesday, the country announced a further loosening of restrictions, scaling down mandatory PCR testing requirements and allowing some positive cases to quarantine at home.
SOME POSITIVE SIGNALS FROM CHINA
While there are "some positive signals" coming out of China, IATA does not expect any significant change within the first half of next year, Mr Walsh said.
"We're hopeful In the second half of next year, we will see traffic starting to return to more normal levels," he said.
China is a very important market for Singapore, with Singapore Airlines offering several flights to different parts of China pre-pandemic, Mr Walsh noted.
"There's great interest in seeing China reopen from a Singapore point of view," he said.
Even without China, however, Singapore has "clearly benefited" most in the region from the recovery in the global aviation industry, Mr Walsh said. 
LONGER-TERM PROSPECTS IN CHINA
Nevertheless, Mr Walsh noted that the Chinese domestic market represented almost 10 per cent of all commercial travel in 2019.
"I think there's still reason to be optimistic about growth out of China," he said.
Most airlines saw China as a strategic market for long-term investment, accounting for profitability in the future rather than immediately, he said.
"It is clearly an exciting market from a growth point of view," he said.
China is a very important market of the global industry and IATA expects that to continue going forward, he said.
POSITIVE OUTLOOK IN 2023
Despite global uncertainties in the business and consumer climate, the outlook for the aviation industry in 2023 remains positive, Mr Walsh said.
While some countries might experience recession next year, "we don't see a recession in 2023 at a global level", he added.
"There are challenges there without question - high inflation, high oil prices, slowing economic growth - (but) I think there's still scope for the industry to recover during 2023 and into 2024 as well," he said.
He acknowledged, however, that the sector has a long way to go to get back to pre-pandemic levels of passenger traffic.
IMPACT OF SUSTAINABILITY ON TICKET PRICES
As the industry works on its sustainability efforts, including using sustainable aviation fuel which can be four times more expensive than jet kerosene, consumers will have to pay more for flight tickets, Mr Walsh said.
There will be a cost to transition to net-zero for many industries, but for the airline industry, that cost will represent a "major challenge" for the airlines given their financial position at the moment, he added.
"There's no way they (airlines) would be able to absorb that, so I expect that consumers will have to recognise that ticket prices will need to increase to reflect the very significant increase in cost that the airlines will face," he said.
The higher ticket prices are likely to affect demand, he added.
"We know that many people are very price sensitive when it comes to flying. Price is a very important element in the decision to fly but I think we have to be honest with consumers," he said.
He added that people who believe that the transition to sustainability is going to be painless are "misleading" the cost to the industry.
"At a gross level between now and 2050 we're talking about trillions of dollars," he said.