Southeast Asia's first helicopter running on sustainable aviation fuel takes flight in Singapore
Demo flights such as these show that sustainable aviation fuel is available and safe to use, said the producer of the cleaner alternative.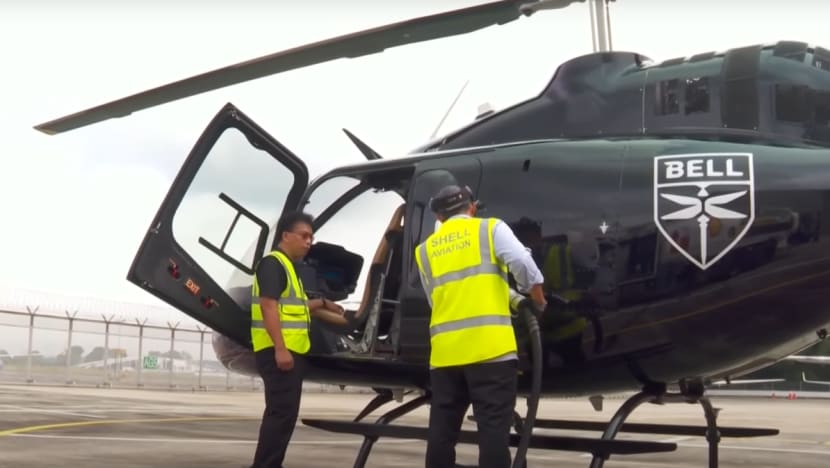 SINGAPORE: A helicopter running on sustainable aviation fuel – used cooking oil and animal fats mixed with jet fuel – took flight in Singapore on Monday (Sep 26), becoming the first chopper in Southeast Asia to do so.
The trip marked the start of greener test flights for buyers in Asia by helicopter manufacturer Bell, as it looks to achieve a 20 per cent reduction in greenhouse gas emissions by 2025.
A single trip on the greener fuel supplied by renewable fuels maker Neste is expected to cut the helicopter's emissions by about 30 per cent.
"So far, the feedback has been really good. We're seeing the same performance and I think customers are satisfied that we're taking steps right to reduce greenhouse emissions," Bell's managing director for Asia Pacific Jacinto Monge told CNA.
Such demonstrations play the important role of bringing the aviation industry on board the sustainability drive, said Neste's Sami Jauhiainen. They also show that sustainable aviation fuel is available and safe to use, despite the adoption of greener fuel being in very early phases in the Asia Pacific.
"General aviation and helicopter use - these represent the kind of segments of the aviation market that are well positioned to be the front runners and show examples of the broader industry," said the firm's vice-president for Renewable Aviation in Asia Pacific.
TOWARDS GREENER SKIES
The move to incorporate more sustainable aviation fuel comes as the industry makes its journey towards greener skies.
Since July, Singapore Airlines and Scoot have been offering flights running on sustainable aviation fuel with a premium in a year-long trial.
The helicopter flight on Monday came days after an international panel of experts recommended ways for Singapore to achieve its aspirations as a sustainable aviation hub.
Among the 15 recommendations to the Government are stimulating demand and supply for sustainable aviation fuel and allowing planes to take the most optimal route between destinations to increase fuel efficiency.
The recommendations encourage - in the short term - corporate buyers coming together to fund sustainable aviation fuel use, as well as longer term structural and more policy-driven measures that are needed to create a long term growing market for green fuel, said Mr Jauhiainen.
COST REMAINS A CHALLENGE
However, cost remains a key challenge, Mr Jauhiainen said, even as his firm prepares to expand its Singapore refinery next year to increase its production capacity to a million tonnes of sustainable aviation fuel.
Sustainable aviation fuel is about three to five times more expensive than conventional jet fuel.
While there are "significant" efficiencies of scale in ramping up production, Mr Jauhiainen does not expect the cleaner alternative to be cost-competitive.
"We do expect that the premium will be there and hence we will need policy frameworks that enable ultimately that cost premium to be transferred ultimately to the ticket prices and be paid by aviation's end customers in the end," he said.
He added that another challenge is the need for global alignment on standards and requirements that verify the sustainability of green fuel while providing enough visibility for investors in sustainable aviation fuel.
Sustainable aviation fuel, which makes up less than 1 per cent of the global jet fuel demand, is an easy and quick adoption solution to greening the sector in the short to medium term, noted Ms Mabel Kwan, managing director of Alton Aviation Consultancy.
However, as technology evolves, more alternatives to decarbonise the aviation industry are expected, she said.
"The new novel technologies in terms of other new energy sources such as hydrogen, and eventually electrical aircraft, that's something that the industry will be able to develop in the longer run on a commercial scale," she said.