Singapore could reduce Changi Airport's air-con carbon footprint, in bid to become sustainable air hub
This is part of 15 recommended measures - which include embracing more expensive sustainable aviation fuel - to transform the aviation sector.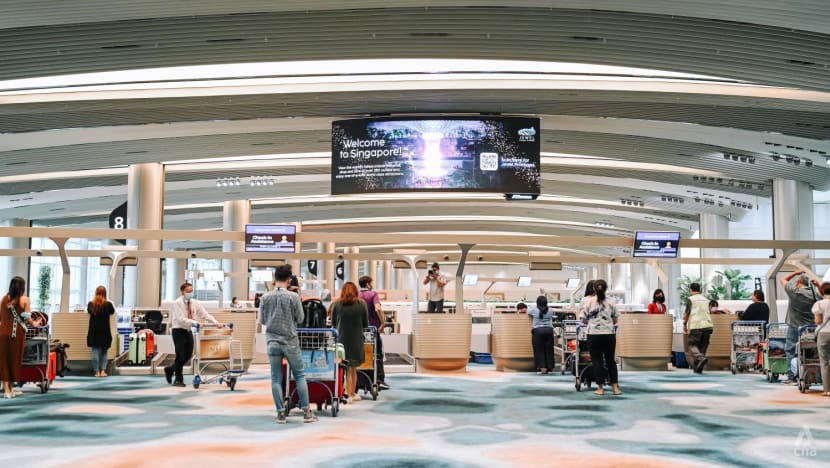 SINGAPORE: Singapore will consider further reducing the air-conditioning carbon footprint at Changi Airport, and potentially install solar panels near the airport's runway in a concerted push to become a sustainable aviation hub.
These were two of 15 wide-ranging measures across the airport, airline and air traffic management domains recommended by a panel to the Government on Friday (Sep 23), as Singapore looks to "urgently" tackle climate change in the local and global aviation sector.
"Any change in the weather can affect, for example, airport infrastructure and in fact how we plan air traffic management as well," Professor Chong Tow Chong, chair of the International Advisory Panel on Sustainable Air Hub, told reporters on Friday.
"So I think it's timely that Singapore, being a regional or even a global aviation hub, I think we need to really tackle this issue very urgently."
The panel was formed in February to discuss how international aviation could be made more sustainable and accessible - and how Singapore could contribute to this effort, the Civil Aviation Authority of Singapore (CAAS) said in a media release on Friday.
The panel comprises 20 industry, technology and knowledge partners from Singapore and around the world, including representatives from plane manufacturers like Boeing and Airbus as well as engine maker Rolls-Royce and jet fuel supplier Shell.
Over the past six months, the partners had four meetings and moderated six deep dive sessions with more than 120 local and international representatives from the aviation sector before coming up with the recommendations.
The panel has submitted its report to Transport Minister S Iswaran, detailing "tangible pathways" for Singapore to decarbonise the aviation sector, CAAS said. The Government will study the recommendations and include them in a blueprint to be published in 2023.
This blueprint will provide a decarbonisation roadmap for Singapore's air hub, stating medium-term 2030 and longer-term 2050 targets as well as concrete ways of achieving them.
"This will be a significant initiative which will help provide thought leadership and further catalyse investments, actions and collaborations with private sector companies and other countries," CAAS said.
CHALLENGES AHEAD
Beyond the airport domain, recommendations in the airline and air traffic management domains include stimulating demand and supply for sustainable aviation fuel, and allowing planes to take the most optimal route between destinations to increase fuel efficiency.
But there are bumpy skies ahead. Sustainable aviation fuel remains three to five times more expensive than conventional jet fuel, while air traffic management has long relied on set routes due to technological constraints.
The panel said that decarbonising the aviation sector cannot be achieved by any single country or organisation on its own.
"The push for sustainable aviation will require coordinated state actions, cross-sectoral collaboration, public-private partnership and greater climate consciousness amongst corporates and the travelling public," it said.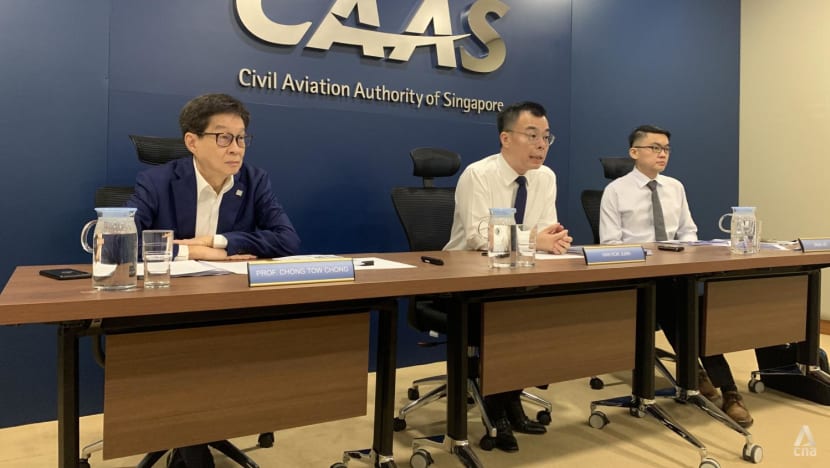 There is no projection yet on the costs of these recommendations, nor a fuller timeline for possible implementation beyond the blueprint.
It is also not clear if some of the airline-based measures - especially the push towards more costly sustainable aviation fuel - could translate to more expensive flights. This needs to be studied as part of the recommendations.
But it is understood that the airport-based measures, including potentially installing more solar panels and setting up a waste-to-energy facility, are not expected to lead to an increase in airport fees and levies for passengers departing Changi Airport, beyond what has already been announced.
CAAS and Changi Airport Group announced on Sep 15 that travellers on flights departing Changi Airport will pay a fee of S$59.20 from Nov 1 to Mar 31, up from the current S$52.30, as the aviation industry continues to recover from the pandemic. 
Authorities said the planned increases were announced in 2018, but suspended due to COVID-19.
The total fee includes a passenger service and security fee; and aviation and airport development levies. The passenger service and security fee will subsequently be increased again in phases from Apr 1, 2023, and Apr 1, 2024.
Prof Chong, the panel chair who is also president of the Singapore University of Technology and Design, acknowledged that many factors will be considered before any talk of implementing the recommendations.
"I think definitely you have cost issues, technology issues and even, for example, data issues and so on," he said.
"We need to study carefully. In fact, our recommendation is for MOT (Ministry of Transport) and CAAS to be able to study in more detail because it's not easy for them to come up with solutions."
Nevertheless the panel believes that its recommendations, taken together, will be "transformative" and allow Singapore to distinguish itself as a sustainable air hub.
Mr Iswaran told reporters on Friday evening that the cost of the recommendations should be thought about in the context of "not even so" long-term environmental impact, and how this affects people.
"Also, we need to look at the relative competitive landscape, because we need to move in order to ensure the sustainability of our air hub so that we are able to hold our own within the global context," he said on the sidelines of a shipping industry event.
Mr Iswaran said climate action is a "high priority" around the world and air travellers will scrutinise what different air hubs and airlines are doing to move forward sustainably.
"In that regard, I think, even if it means a little bit of higher costs, it will also have, I think, an important competitive dividend payout," he said.
When asked if the Government will offer support for these measures - given that the cost of implementing them could lead to an uneven playing field - Mr Iswaran reiterated that the Government will study the measures first.
"To the extent that there's a cost impact, we need to look at this in terms of how it compares with other aviation hubs around the world," he added.
"We will work with the industry to see where we need to get further help from the Government, whether it's in terms of levelling up skills, investing in new kinds of capabilities and innovation.
"(This is) something that we've always done, but it will gather renewed impetus in the context of sustainability."
Here are all 15 recommendations by the panel: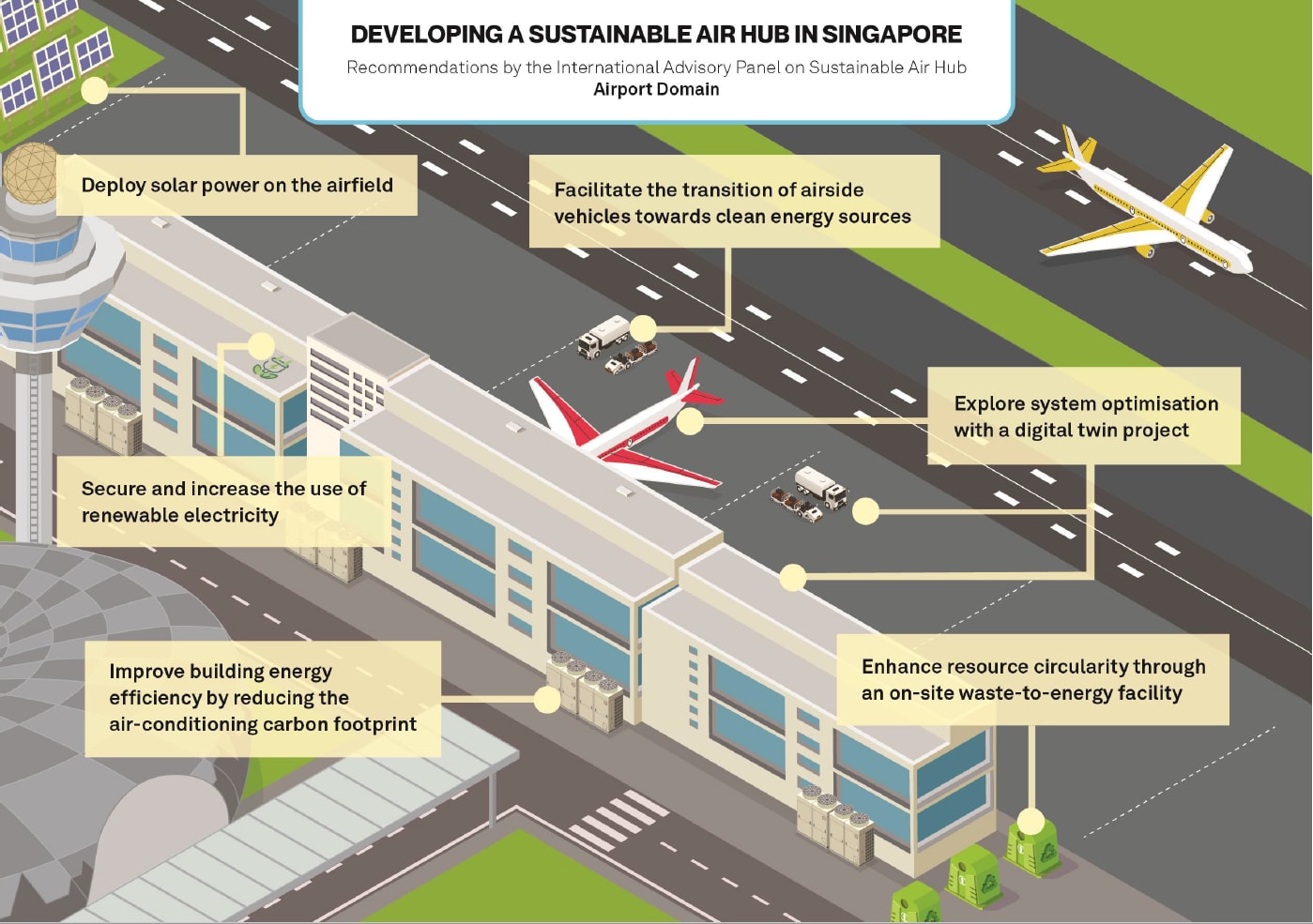 AIRPORT DOMAIN
1. Reduce air-conditioning carbon footprint
Changi Airport's air-conditioning system is its largest consumer of energy, making up 60 per cent of the total energy used by its terminals.
While the airport has ongoing initiatives to lower its air-con usage and the energy required to run the system, the panel recommended that CAAS work with stakeholders to further improve the system's energy efficiency through innovative energy-efficient technologies and design concepts.
This includes assessing potential alternative cooling methods or technologies to guide the design for Terminal 5, and retrofitting existing terminals to achieve maximum energy savings.
That said, the airport recognises that its air-con system is an important part of its service to bring comfort to passengers. The airport will not remove air-conditioning entirely, but explore different cooling methods using the space in its terminals.
2. Deploy solar power on airfield
While Changi Airport has already installed solar panels on the rooftops of its terminals, the panel said there is scope to "significantly increase" the use of solar energy if solar panels can also be installed on the airfield, including on the grassy verges along taxiways and near the runway.
The solar panels currently supply only 4 per cent of the airport's total energy use.
The panel recommended that CAAS conduct a technical study on the feasibility of deploying solar panels on the airfield, include assessing their impact on radar signals, flight operations, energy yields, transmission losses and economic viability.
For instance, the reflective nature of solar panels could disrupt a pilot's landing view, while debris kicked up from a landing plane could damage nearby panels.
If shown to be viable, CAAS will engage the International Civil Aviation Organization and other industry bodies on standards and implementation.
3. Increase use of renewable electricity
Building on the previous measure involving solar power, the panel recommended that CAAS work with stakeholders to secure imported low-carbon electricity for Changi Airport and set medium-term 2030 and longer-term 2050 targets for the use of renewable electricity.
The Energy Market Authority has issued requests for proposals to bring low-carbon electricity into Singapore, amid its target of importing 4 gigawatts (GW) of electricity by 2035 to decarbonise the country's power sector.
In the long term, there is potential for the aviation sector to tap on new domestic renewable energy production initiatives such as carbon capture, utilisation and storage, or the use of hydrogen.
4. Make all airside vehicles run on clean energy
Changi Airport currently has a fleet of up to 3,000 airside vehicles, including tow trucks, catering trucks and luggage carts. The airport has electrified about 10 per cent of them, mostly the smaller vehicles.
The panel recommended that CAAS work with stakeholders to facilitate the transition of all airside vehicles towards cleaner energy options.
This can be achieved through three pathways: Electrification of the airside fleet, conversion to hydrogen-powered vehicles and the use of biofuels.
Authorities should conduct a simulation and modelling study, along with technology trials, to better understand the deployment scale, operational challenges, policies and regulations needs for each pathway, the panel said.
5. Set up waste-to-energy facility at Changi Airport
Changi Airport has been adopting circular waste practices to reduce the volume of waste generated and consume less external resources.
Beyond this, the panel recommended a more direct decarbonisation pathway to reduce energy consumption, through an on-site waste-to-energy facility at Changi Airport.
The facility could work by channelling waste - including from arriving planes - as feedstock to generate biofuels or electricity.
CAAS should work with stakeholders to study the potential and feasibility of establishing such a facility, particularly whether there are sufficient economies of scale for such a facility, the panel said.
Authorities should also look into who would operate the facility, the kind of waste streams involved and potential disamenities that could arise.
6. Optimise airport operations
System optimisation at the airport level can improve operational efficiency and reduce carbon emissions systemically, the panel said.
Changi Airport could benefit from developing a digital model that integrates data from various sources to mirror its actual airport operations. This can then be presented in a human-centric interface for advanced predictions, simulation and process optimisation.
The panel recommended that CAAS work with stakeholders to study the feasibility of a digital twin modelling process at Changi Airport.
The study should include planning, design and end-to-end optimisation of airport processes to reduce energy consumption and minimise emissions from aircraft and airside vehicle movements.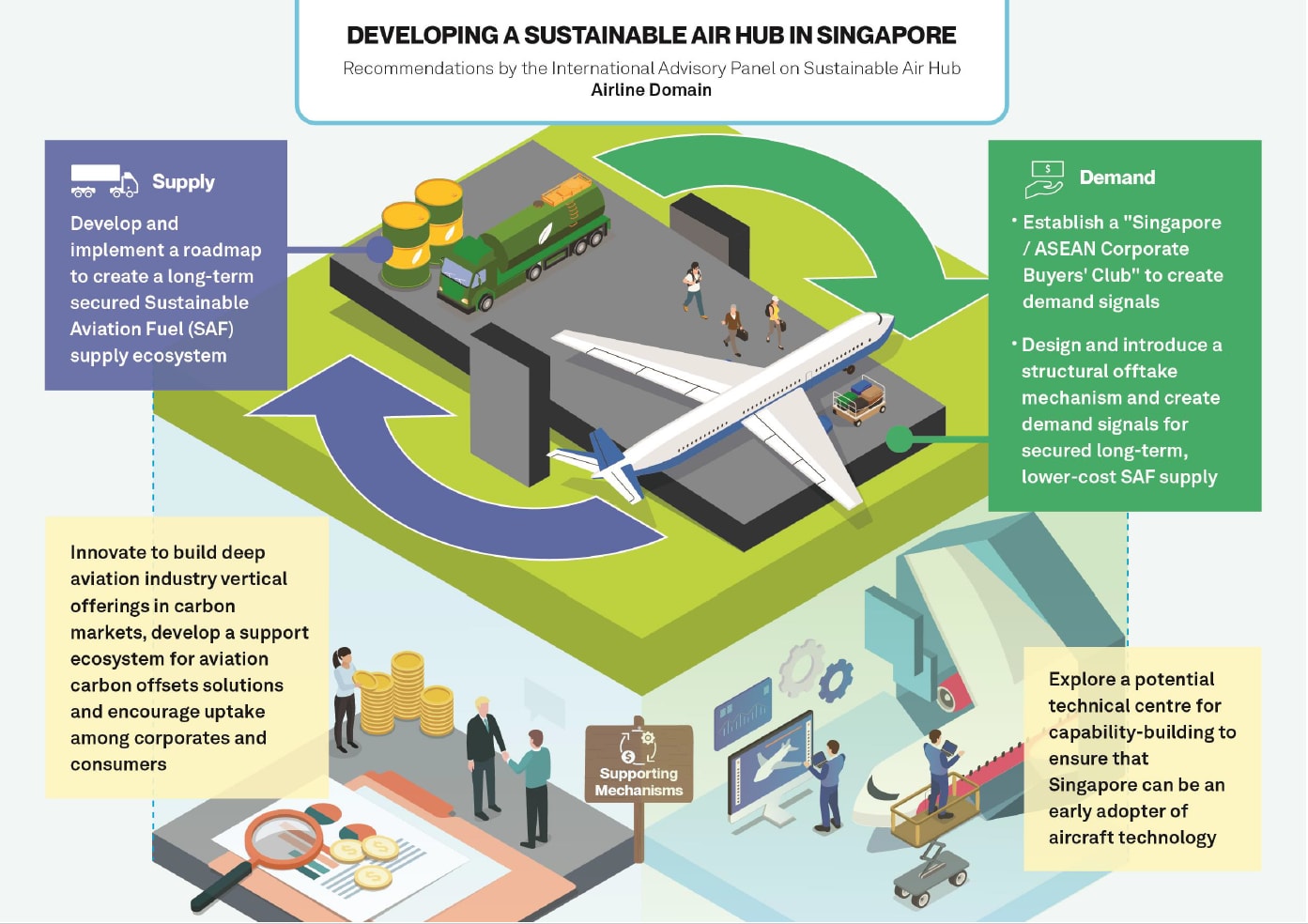 AIRLINE DOMAIN
7. Implement roadmap to secure long-term supply of sustainable aviation fuel
The global sustainable aviation fuel market and its production remain nascent, the panel said, stressing the need to boost availability and affordability of the fuel.
Therefore, Changi Airport needs to develop a long-term secured supply in Singapore and the region so more airlines can adopt these fuels, it said.
This entails building up and strengthening the sustainable aviation fuel supply chain and upstream capabilities to establish an ecosystem in Singapore and the region.
Authorities should also invest in new sustainable aviation fuel pathways; explore potential sources of feedstock and align these with global standards, said the panel.
In July, Changi Airport's fuel hydrant system delivered for the first time a blend of sustainable aviation fuel to departing Singapore Airlines and Scoot flights, in a pilot involving CAAS, Singapore Airlines and a Temasek-owned investment platform.
Under this pilot, 1,000 tonnes of neat sustainable aviation fuel would be supplied by oil refining company Neste and blended with refined jet fuel at ExxonMobil's facilities in Singapore. This is expected to cut carbon dioxide emissions by 2,500 tonnes, CAAS said in a statement then.
8. Establish "buyers' club" of sustainable aviation fuel to create demand
Long-term demand certainty is required to incentivise sustainable aviation fuel suppliers to expand production capacity, the panel said, adding that there is scope to increase demand signals in Singapore.
The panel recommended that CAAS work with stakeholders to establish a Singapore or regional buyers' club to encourage early adopters of sustainable air travel to take collective action, thereby aggregating sustainable aviation fuel demand and providing stronger demand signals.
"As a global business and logistics hub, Singapore has opportunities to tap on business travellers and air cargo users and encourage them to become first movers by joining the corporate buyers' club," the panel said.
Following this, there is also the potential of collaborating with regional partners to expand the buyers' club to the broader ASEAN region.
9. Introduce offtake mechanism for sustainable aviation fuel
To create long-term, predictable demand for sustainable aviation fuel, Changi Airport needs to introduce and implement a structural mechanism to encourage sustained adoption among airlines.
The panel recommended that CAAS work with stakeholders to design and introduce a structural offtake mechanism that encourages a self-sustaining ecosystem and flow of funds for sustainable aviation fuel in Singapore.
Major airlines generally have offtake agreements with a range of sustainable aviation fuel suppliers to ensure enough feedstock is available for their needs.
For instance, Delta Air Lines in September signed an offtake agreement with DG Fuels to be supplied with 385 million gallons of sustainable aviation fuel from 2026, one of several such agreements it has.
Changi Airport's offtake mechanism needs to consider the unique context and characteristics of the air hub, its airlines and passengers, the funding sources and the metrics used to determine the mechanism, the panel said.
10. Build carbon offset market in aviation sector
To support the decarbonisation of the aviation sector, the panel said there is scope to build a market for aviation carbon offsets, in order to achieve net-zero emissions.
The panel recommended that CAAS work with key players in Singapore's emerging global carbon services hub to build up the market for aviation carbon offsets.
This includes innovating products and platforms for aviation carbon offsets; developing an ecosystem of carbon support services to improve the reliability, traceability and accountability of aviation industry offsets; and exploring the possibility of raising voluntary demand for carbon offsets among corporates, passengers and cargo users.
11. Ensure Singapore is early adopter of aircraft technology
Singapore would need to remain at the forefront of advancements in aviation technology to reap their full benefits, the panel said.
It recommended that CAAS work with stakeholders to explore setting up a technical centre in Singapore to tap on the country's strong research and development ecosystem.
The centre could collaborate with aircraft original equipment manufacturers, like-minded aviation partners and stakeholders to strengthen its technical capabilities and position itself for the future.
This initiative complements existing efforts to explore the potential use of hydrogen at Changi Airport, the panel said.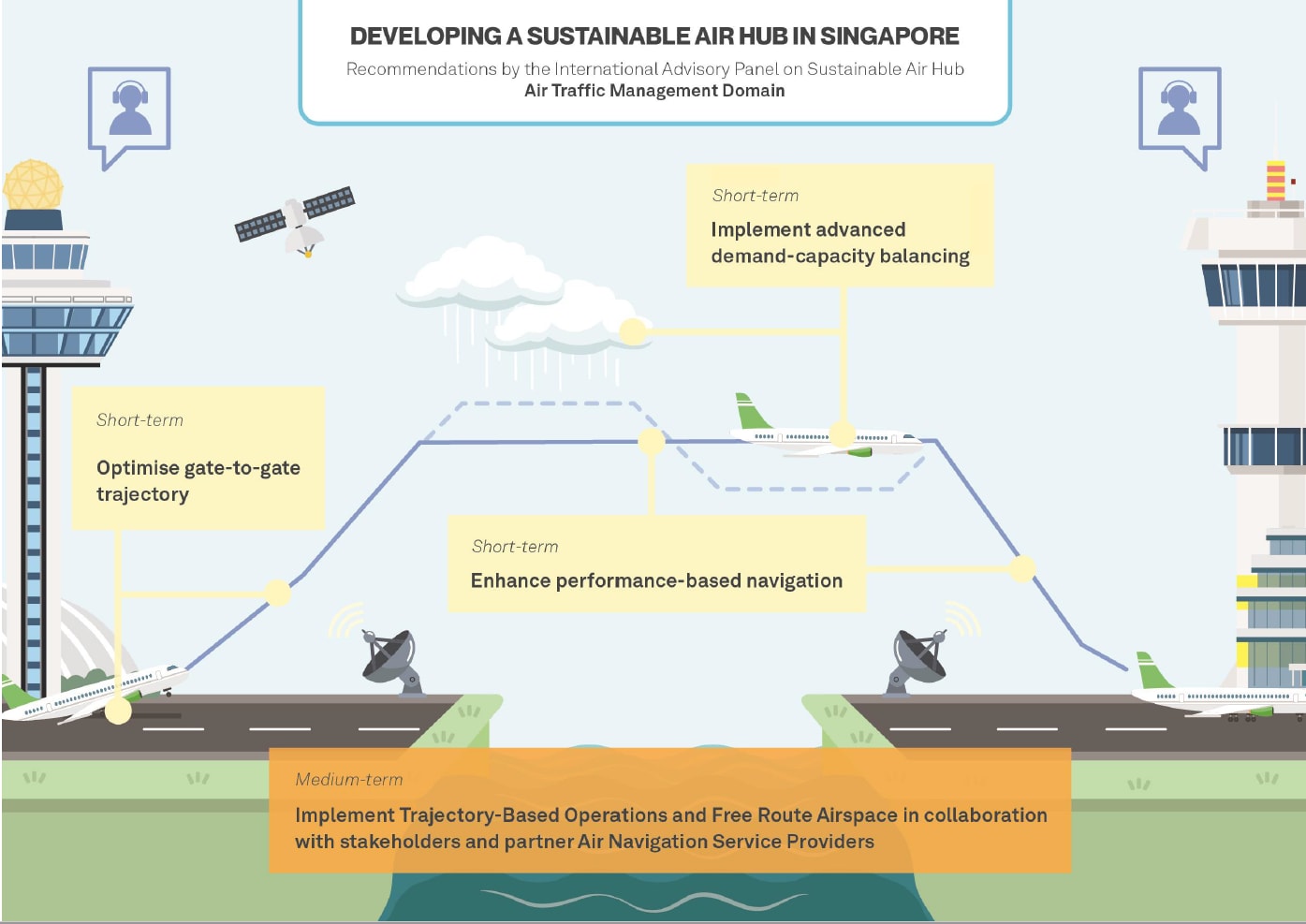 AIR TRAFFIC MANAGEMENT DOMAIN
12. Implement advanced demand-capacity balancing
CAAS has been working with stakeholders to improve the management of air traffic alongside the capacity of Air Navigation Service Providers (ANSP).
The panel recommended that CAAS work with stakeholders and partner ANSPs to build on these efforts and introduce advanced demand-capacity balancing initiatives.
These include implementing long-range air traffic flow management to improve coordination and management of longer-haul flights.
However, this is challenging as long-range flights cross multiple flight information regions and are managed by multiple ANSPs, making international collaboration crucial.
Additionally, authorities could strengthen integration between meteorology and air traffic management by conducting translational studies of the impact of weather on air traffic management operations, the panel said.
13. Make airplanes descend continuously
Planes typically descend intermittently before landing at an airport to avoid traffic and weather, but this results in more fuel burn and carbon emissions.
Performance-based navigation initiatives can enable more direct routings and optimise descent profiles for aircraft, making flights greener.
CAAS has conducted operational trials for direct route operations for flights arriving at Changi Airport and is facilitating continuous descent operation when traffic permits.
The panel recommended that CAAS expand on these initiatives by formalising the implementation of direct route operations for Changi arrivals on specific route segments, to provide airlines with the flexibility to plan for the most optimal route in terms of flight and fuel efficiency.
"Smart tools" should also be developed to facilitate continuous descent operations into Changi Airport, it added.
14. Optimise efficiency during all phases of flight
CAAS has been closely following global advancements that can optimise efficiency during all phases of flight.
This includes trajectory-based operations, where authorities plan flight trajectories ahead of time and execute them more precisely to improve the management of traffic flows, instead of relying heavily on tactical air traffic control.
To optimise runway efficiency, aircraft wake turbulence categories can also be reclassified to reduce separation between aircraft. 
The panel recommended that CAAS collaborate with stakeholders and partner ANSPs to advance these initiatives, optimising the journey from one airport gate to another and increase fuel savings.
This includes implementing various systems that define the standards, infrastructure and governance concerning the management and sharing of air navigation information.
15. Implement free route airspace
A more medium-term measure, expected to be realised between 2027 and 2032, is the implementation of trajectory-based operations and a free route airspace, in collaboration with stakeholders and partner ANSPs.
A free route airspace allows pilots to choose their most optimal route between destinations, as opposed to the standard practice of following set waypoints designed to organise air traffic and ensure safety.
This advanced concept of operation, made possible with advancements in technology, could revolutionise air traffic management, optimise efficiency and reduce carbon emissions from flights, the panel said.
However, it would require substantial investment in various technology.
The panel recommended that CAAS collaborate with partner ANSPs to conduct demonstrations for such concepts, further developing their "key building blocks".