Passengers departing from Changi Airport to pay higher fees and levies from Nov 1
Among the charges, the aviation levy will be increased for the first time in 13 years.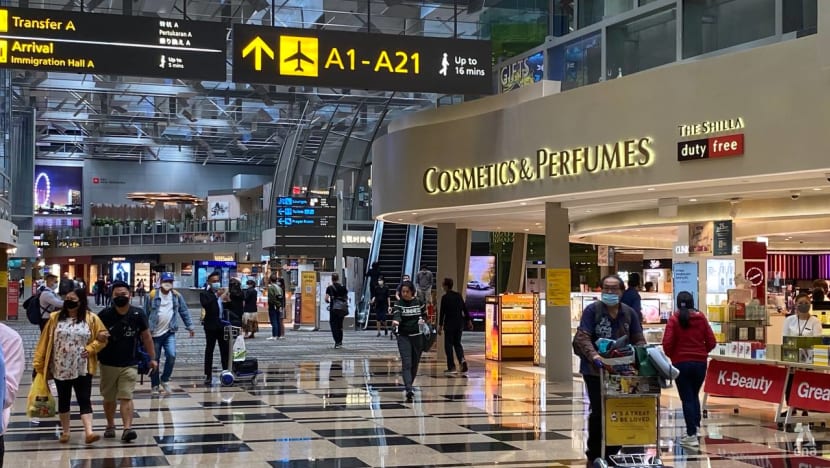 SINGAPORE: Passengers flying out of Changi Airport will have to pay more in airport fees and levies from Nov 1 as the aviation industry continues to recover after the COVID-19 pandemic.  
Travellers on flights departing from Changi Airport currently pay a fee of S$52.30 - comprising S$35.40 in passenger service and security fee (PSSF), S$6.10 in aviation levy and S$10.80 in airport development levy. 
From Nov 1 to Mar 31 next year, the amount will go up to a total of S$59.20. That's after the passenger service and security fee increases to S$40.40 and the aviation levy rises to S$8.
The passenger service and security fee will subsequently go up again in phases from Apr 1, 2023, and Apr 1, 2024.
Announcing the charges on Thursday (Sep 15), the Civil Aviation Authority of Singapore (CAAS) and Changi Airport Group (CAG) noted that planned increases were announced in 2018, but they were suspended due to the COVID-19 pandemic. 
This would be the first adjustment to the aviation levy, which was introduced 13 years ago in 2009.
The aviation levy funds air hub development and regulatory functions of CAAS, authorities noted in a media release, adding that the aviation regulator's functions are expected to grow as it works to rebuild Singapore's position as a global air hub post-pandemic.
Passengers whose air tickets were issued before Nov 1, 2022, will not pay the higher fees and levies.
"The Landing, Parking and Aerobridge (LPA) charges for all flights operating at Changi Airport will increase by 2 per cent on Nov 1, 2022, and increase by another 1 per cent each year on Apr 1, 2023, and Apr 1, 2024, as earlier announced," said the authorities.
"In addition to supporting CAG's operations, the PSSF and LPA charges also go towards development plans and infrastructure upgrading of existing terminals which had continued throughout the pandemic."
Amid the travel recovery, Changi Airport has reopened two terminals which had been closed since May 2020.
Terminal 4 resumed operations on Sep 13, while Terminal 2, which was closed for renovation works, started reopening in phases from May 29.
Work will also resume on Changi Airport Terminal 5 after a two-year hiatus due to the pandemic.