NDR 2022: Changi Airport's Terminal 5 project redesigned to be pandemic-ready, more energy-efficient
"T5 will be a place that all Singaporeans can take pride in and enjoy," said Prime Minister Lee Hsien Loong.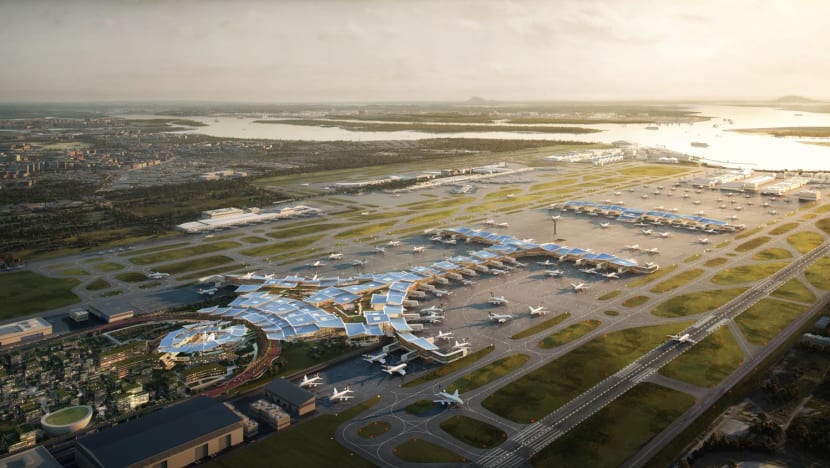 SINGAPORE: Changi Airport's Terminal 5 (T5) project has been redesigned to be pandemic-ready and more energy-efficient, said Prime Minister Lee Hsien Loong on Sunday (Aug 21).
Speaking during the National Day Rally, Mr Lee said the terminal will be able to operate more safely and flexibly during a pandemic. This includes being able to scale operations up and down easily, and isolate passengers from different flights to limit cross infection. 
"If you look at the way the airport is built, all the new parts of the airport, T5 and all this new half, in fact, we are building one more new Changi Airport. It's huge," he added.
The Changi East Urban District, which will be developed next to T5, will be a new business and lifestyle destination and create more jobs for Singaporeans, Mr Lee pointed out.
The district is expected to have offices, smart work centres, flexible conference rooms as well as halls, hotels, serviced apartments and public spaces, the Urban Redevelopment Authority (URA) said previously.
In a factsheet, the Ministry of Transport (MOT) said T5 will be designed with the flexibility to operate smaller sub-terminals when needed. It will have space that can be converted for use during contingencies, such as for testing or segregation of high-risk passengers.
"Specialised provisions to reduce the transmission of diseases will also be deployed in T5. This includes contactless systems at passenger touchpoints, as well as enhanced ventilation systems that can be activated during a pandemic to increase the use of fresh air and minimise the mixing of air," said the ministry.
T5 will be a Green Mark Platinum Super Low Energy Building as certified by the Building and Construction Authority, added MOT. To reduce its carbon footprint, solar panels, smart building management systems, as well as district cooling combined with thermal energy storage, will be deployed in the terminal.
Earlier in May, Transport Minister S Iswaran announced that the T5 project would resume after being a two-year hiatus.
On Sunday, Mr Lee said although the project was put on pause, planners "made good use of the downtime" by improving the terminal's design.
"When it's completed in the mid-2030s, T5 will show the world what sort of place Singapore is," he said. "T5 will be a place that all Singaporeans can take pride in and enjoy."
Singapore's decision to press on with T5 and Tuas Port sends a clear signal to the world that the country is emerging stronger from the pandemic and "charging full steam ahead", he added. 
PLANS FOR PAYA LEBAR
Mr Lee also touched on several redevelopment concepts for Paya Lebar, which will undergo changes following the relocation of Paya Lebar Airbase in the 2030s. He noted that URA is already engaging the public and industry partners to explore redevelopment concepts.
Given that the airbase's 3.8km long runway is aligned along the direction of prevailing winds to help aircraft avoid crosswinds when they take off and land, the future town can be oriented this way too, noted Mr Lee.
"And then the town will be naturally breezy, and hopefully, residents won't need to turn on your air-con quite as much," he quipped.
"We can repurpose the runway into the town's central spine, turn it into a green connector or community space extending from one end of town to the other. It will be a distinctive and attractive heritage feature, unique to Paya Lebar."
Mr Lee noted that public and private housing will be built on both sides of the spine, and the Ministry of National Development has estimated that around 150,000 new homes can be built, roughly the number in Punggol and Sengkang today.
"There will be amenities and recreational areas close by. As well as commercial and industrial developments, to bring jobs closer to our homes," he said.
"And it is not just about using the land physically occupied by the airbase. Because once the airbase moves out, we can lift some of the building height restrictions around it - for example in Hougang, in Marine Parade or Punggol - and this means we can redevelop these towns, include more amenities, and make much better use of the space there. It won't happen overnight, but over decades we can completely reimagine the eastern part of Singapore."
Sandwiched between Hougang and Serangoon to its west and Pasir Ris and Tampines to its east, the area will see 800ha - equivalent to the size of five Toa Payoh towns - freed up for development once the airbase is relocated. 
"Singaporeans sometimes worry that we will run out of space in future. That housing will not be available and affordable. I say: No need to worry," said Mr Lee.
"We have done our studies and planning. We will have enough space for future generations. Our problem is not finding the space to build enough flats, nor keeping homes affordable for Singaporeans. We know how to do that. Our problem is not having enough babies to grow up and live in them!"
He also noted that Paya Lebar is just one example of how the Government is reimagining and transforming Singapore. 
"We are doing this all across the island – Jurong Lake District, Greater Southern Waterfront and many other areas too," he said.
"Each new estate will be more liveable, greener, and more sustainable than the previous one. This is not easy to do. But just as past generations planned for and created the Singapore that we live in today, we too must never stop imagining and building the future Singapore for the next generation and beyond."