Inflation outlook remains stable despite pressures from global energy crisis, wage demands: DBS chief
In an exclusive interview with CNA's Asia First, DBS CEO Piyush Gupta says there will be an impact on demand if the Fed raises rates to 5 per cent.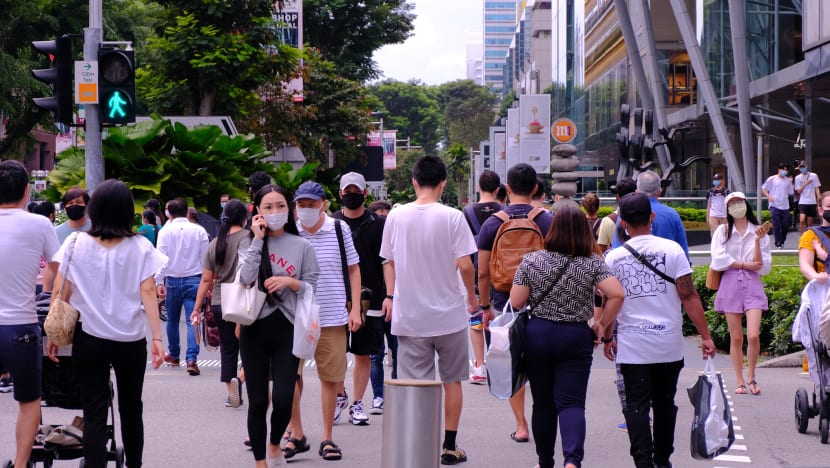 SINGAPORE: The inflation outlook remains stable despite mounting pressures from the global energy crisis and higher wage demands in the services sector, said DBS Bank CEO Piyush Gupta on Friday (Oct 28). 
"Inflation expectations are still quite anchored," he said in an interview with CNA's Asia First.
"So even though inflation is high, if you look at the (5-Year, 5-Year Forward Inflation Expectation Rate) as a measure... they've not gone out of whack. And so that gives us some confidence as well, that inflation might be tempering."
Central banks around the world have been tightening their monetary policy to combat red-hot inflation and rein in price pressures. Investors expect the US Federal Reserve to raise interest rates to 5 per cent next year to cool demand, by nudging consumers and businesses to curb spending.
Mr Gupta believes that if the Fed raises rates to 5 per cent, and with an accompanying set of rate increases around the world, there will be an impact on demand.  
"So that should be helpful," said the chief executive of Singapore's largest lender. "The question is how quickly, and that's something that we need to wait and watch."
"But even if inflation does come down, at what stage can the central banks feel confident that they can dial back on a tight monetary policy?" he said. "Again, my own bet is you won't see that in 2023."
KEY FORCES BEHIND SEVERE INFLATION
The surging inflation comes amid uncertainties from the global energy market, supply chain disruptions, as well as higher wage demands, particularly in the services sector. 
Mr Gupta, who was speaking on the sidelines of the SGTech Global Future Series: Digital Trust Forum, said supply chain woes have, by and large, eased.
"However, I would also hasten to add that with geopolitics and a shift in the nature of the supply chains, we might continue to get some friction for some time. But I don't think it's going to be a key driver over the next couple of years," he added. 
Mr Gupta also highlighted the uncertainty in the energy market ahead of the Northern Hemisphere winter – a time of traditionally higher consumption – as an inflationary driver. 
Russia's invasion of Ukraine has caused a spike in prices, and some European countries have since introduced energy-saving measures to encourage people to limit the use of lighting and heating during the period.
But perhaps more worrying is wage inflation, particularly in the services sector. 
"The truth is that wage inflation, once it gets into the system, starts getting a little sticky. It's not easy to dial down," said Mr Gupta. 
"Everyone I speak to expects wages to be much higher in 2023 … and so it just worries me that this is going to get entrenched in the system."
US-CHINA RELATIONS
In the 15-minute interview, Mr Gupta also touched on the tensions between superpowers US and China, noting the reality, in economic terms, is that "China and the West are very fused".
"China is the largest trading partner to almost 70 countries around the world, and no matter what the external rhetoric is, the underlying trade is continuing," he added. 
"So my one hope is that eventually economics trumps politics, but I have to admit that that's an area of concern."
China's heated rivalry with the US over tech supremacy has also been a concern, even with future technology trends such as artificial intelligence, blockchain and virtual reality coming up. 
"Investments in these areas are going to be crucial, frankly, which is why all countries, not just the US and China, are continuing to double down on the nature of the investments," said Mr Gupta. 
PROFITABILITY OF TECH INVESTMENTS
Amid an uncertain environment and doubts over their profitability, shares of high-flying technology firms have been falling this year.
For Mr Gupta, the tech sell-off was overdue.
"As far as the markets are concerned, I think it is quite clear that many of the companies … were overvalued," he said, adding that some tech businesses, however, have underlying potential and are likely to bounce back. 
But Mr Gupta believes that the short term is still likely to be choppy with many idiosyncratic risks, including on the regulatory and technology fronts. 
"The technology itself is changing very fast, so do you bet on the right technology in the right place?" he said. "So you need to be a thoughtful investor if you want to be in the sector."