Pay with your face: Alibaba plans to showcase innovative retail tech in new Singapore demo centre
The Chinese Internet giant, which built up its cloud computing capabilities through its e-commerce business, is hoping to entice customers in Singapore and the Asia Pacific region on to its platform in the same way.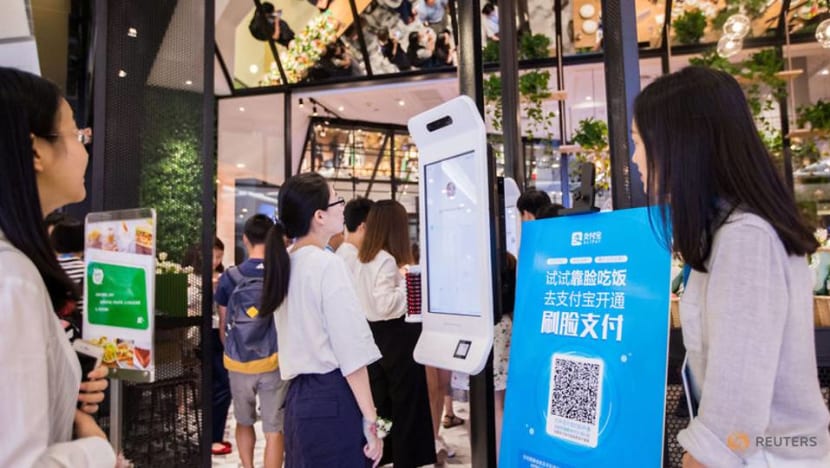 SINGAPORE: China's Alibaba is planning to set up a demonstration centre in Singapore to showcase its "new retail" technologies like paying for things using facial recognition and shopping using mirrors fitted out with augmented reality capabilities. 

This comes even as it brings the fight to established cloud computing providers like Google and Amazon with an expanded repertoire of tech products for its international customers.

Mr Leon Chen, country manager for Singapore and Indonesia at Alibaba Cloud, told Channel NewsAsia on the sidelines of the Alibaba Cloud Summit 2018 held here on Wednesday (Aug 15) that the demo centre is "planned for September", and more details will be disclosed nearer the date.

Another Alibaba Cloud executive, Dr Derek Wang, said in a separate interview on Wednesday that the demo centre will be used to showcase its cloud computing capabilities currently being used in its Hema supermarkets in China, as well as other partners like Australian online fashion store The Iconic. 

The Iconic uses Alibaba's image search functionality to power its Snap to Search feature, allowing consumers to take a picture of an item of clothing and then search and purchase that product via its app. 

"Talk is cheap," said Dr Wang, who is the chief solution architect at Alibaba Cloud International. The demo centre makes it easier for prospective customers to get a first-hand experience of how the different technologies would work, he explained.

There are currently more than 1 million paying customers on Alibaba's cloud platform globally, but the company is not able to provide the breakdown of customers in Singapore. 

He gave a slightly longer runway for the centre's opening than Mr Chen though, saying it should be ready by "end of the year". 

COMPETING WITH THE INCUMBENTS

Opening the event on Wednesday was Singapore Foreign Minister Vivian Balakrishnan, who is also the Minister-in-charge of Smart Nation Initiative. 

In his opening keynote, Dr Balakrishnan noted that Alibaba Cloud is actually "a bit late to the game". The cloud unit was formed in 2009 but only made its first foray out of China when it set up its international headquarters in Singapore in 2015. 

This point has not been lost on the Chinese cloud player. 

President of Alibaba Cloud Simon Hu had in a 2015 Reuters article said the unit's goal is to "overtake Amazon in four years, whether that's in customers, technology or worldwide scale". 

Asked if there's an update on the timeframe of that goal, Dr Wang said the gap between them and the other market players like Amazon Web Services (AWS), Google Cloud and Microsoft's cloud services "is being narrowed".

He pointed to four differentiators the company have compared with what is out in the market today, with the first being it has the most data centres in Asia Pacific. It has data centres in China, Hong Kong, Singapore, Australia, Japan, Indonesia, Malaysia and India, according to the company's website.

By comparison, Google has data centre presence in markets like India, Singapore, Taiwan, Japan and Australia while AWS has such facilities in India, South Korea, Singapore, Australia, Japan and China. 

Dr Wang also pointed out that Alibaba Cloud is "deeply localised", and one example of this is its commitment to building up research teams in individual markets with academia. 

On Wednesday, it signed a memorandum of understanding with the National University of Singapore (NUS) to allow the latter's business analytics students to participate in internships at the company and gain knowledge in areas like big data, cloud computing, business analytics and artificial intelligence (AI). It will also offer an education certification programme to students from the NUS Master of Science in Business Analytics programme.

It had earlier signed up the Nanyang Technological University and the Singapore University of Social Sciences as partners. 
The third point of differentiation is in the products they are offering. 

At the summit, Alibaba Cloud launched nine products globally, including in areas like Internet of Things, data analytics and the Anti-Bot Service. The latter helps companies like AirAsia or online travel booking firms tackle the issue of online scalpers and digital "squatters" who reserve airline tickets or hotel rooms and preventing actual customers from transacting. This is a tool to address a specific industry pain point, and not provided by other cloud vendors, Dr Wang said.

Lastly, the executive pointed to its "Go China" strategy, which essentially dangles to prospective customers looking to enter the China market the capabilities and tools that Alibaba has, such as logistics and payment services like Alipay.