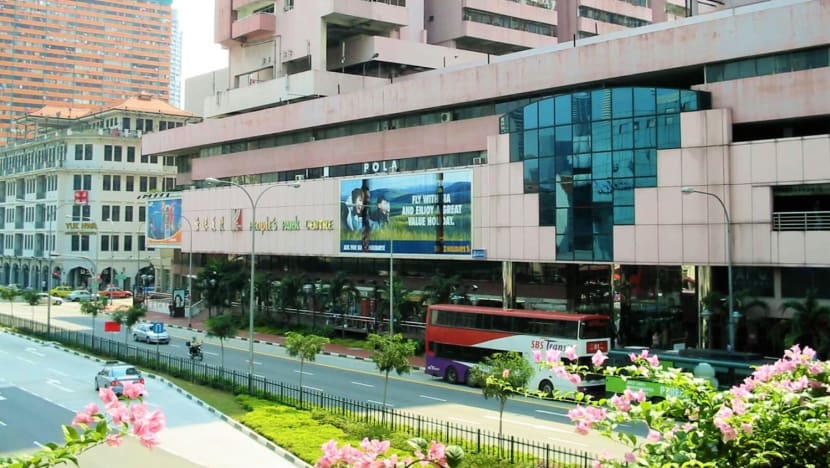 SINGAPORE: People's Park Centre in Chinatown has been put up for collective sale at a reserve price of S$1.8 billion, real estate agency ERA Realty Network said on Wednesday (Jul 6).
The asking price is higher than the S$1.35 billion that was asked for during an earlier en bloc attempt in 2019. 
Completed in 1976, the 99-year leasehold mixed-use commercial-and-residential development is located at 101 Upper Cross Street, next to Chinatown MRT station.
People's Park Centre is also near famous historical landmarks such as Chinatown Heritage Centre, and malls such as OG Building, Chinatown Point, Riverside Point and Far East Square.
The development comprises 324 retail units, 256 office units, 120 residential units and a car park.
The reserve price translates into S$2,620 per square foot per plot ratio, including the differential premium and the premium to top up the land tenure to a fresh 99-year lease.
It sits on a plot spanning 95,467 sq ft, and has a gross floor area of 821,017 sq ft.
The collective sale has obtained 84 per cent of the owners' signatures by strata area, and 80 per cent by share value, said ERA.
Mdm Tan Sor Ching is among those who voted for a collective sale. Her family has been selling shoes at People's Park Centre since the 1970s. 
"We are actually planning for retirement because, over the past two years, retail business has been a great struggle," said Mdm Tan.
"Especially in malls in (the) city, town area, the footfall is very, very low. So I guess it's about time to call it a day. This is a very old building, so it's about time to actually tear down and redevelop a new building."
Industry watchers said they expect developers to come together to launch a bid, given the price tag.
Huttons Asia's senior director of research Lee Sze Teck said: "The tried and tested (option) will be to tear down the whole structure and redo it, possibly do a mixture of commercial and some residential component."
"The other (option) not so commonly used among developers is that they will retain the entire structure and then do an overhaul of the interior, of the whole shopping mall."
The tender for People's Park Centre closes on Aug 18, 3pm.
The en bloc attempt comes two months after Golden Mile Complex was sold for S$700 million to a consortium comprising Perennial Holdings, Sino Land, and Far East Organization.
Built in 1973, the 16-storey building was gazetted as a conserved building in October last year in light of its historical and architectural significance.