Salary disputes, wrongful dismissals fell in 2021 amid COVID-19 recovery
Local workers accounted for 64% of all employment claims and appeals, while foreign employees made up the remaining 36%.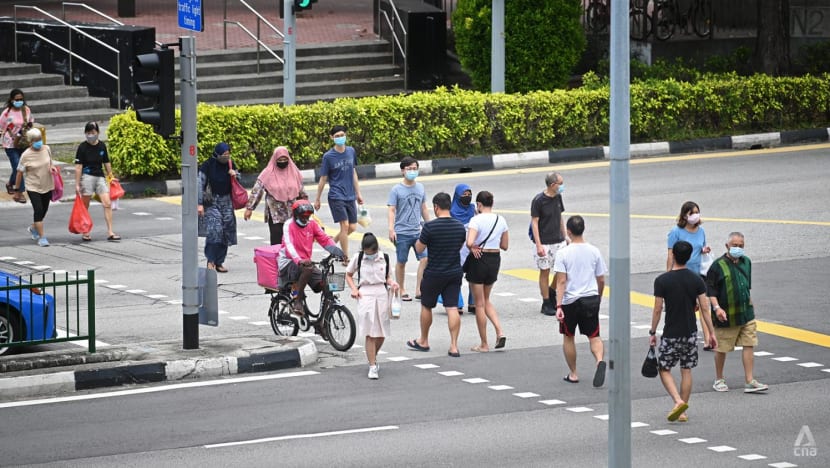 SINGAPORE: Fewer employees lodged claims for salary disputes and wrongful dismissals last year as employment standards improved amid the country's economic recovery from the COVID-19 pandemic.
Official figures published on Monday (Jul 18) showed the overall number of employment claims and appeals lodged with the Ministry of Manpower (MOM) and the Tripartite Alliance for Dispute Management (TADM) "fell significantly" from 2.59 in 2020 to 1.73 per 1,000 employees in 2021. Claims fell for both local and foreign employees.
Most of the 5,882 employment claims and appeals were salary claims (4,848) and dismissal claims (922).
Local workers accounted for 64 per cent of all employment claims and appeals, while foreign employees made up the remaining 36 per cent.
These were some of the findings in the Employment Standards Report 2021 released on Monday.
"I think this is a good year ... this is mainly because we were coming out of a very challenging COVID year, and the economy is improving," said Mr Kandhavel Periyasamy, general manager of TADM.
"When businesses are doing well, employers by-and-large are responsible and this (is) seen in better reports across the board."
FEWER SALARY DISPUTES IN SERVICES SECTOR
Among local employees, the decline was partly driven by a drop in salary claims in the services sector, which saw significant economic growth in 2021.
Among the foreign employees, claims fell sharply in the construction sector, due in part to MOM's "upstream interventions" to tackle non-payment of salaries over the last two years, said the ministry and TADM in a press release. 
TADM also "proactively" engaged employers to ensure salaries were paid to about 24,000 foreign employees in 2021, so that they did not have to lodge formal salary claims, said the release.
GREATER PROPORTION OF RECOVERED SALARIES
TADM and the Employment Claims Tribunals helped 95 per cent of workers who lodged salary claims recover their salaries in full, compared with 92 per cent in 2020. 
Another 3 per cent recovered their salaries partially through other means, and the remaining 2 per cent who did not recover any salaries were mainly higher income earners who did not qualify for financial relief.
The total recovered sum amounted to S$8.6 million in 2021, down from S$15 million in 2020, as the number of claims was smaller.
Employers who did not fully repay their employees had their work pass privileges suspended, said MOM and TADM in their release, adding that fewer than 1 per cent of the salary claims lodged in 2021 involved wilful employers who refused to pay despite having the means to do so.
WRONGFUL DISMISSALS
The incidence of wrongful dismissal claims fell from 0.39 in 2020 to 0.27 per 1,000 employees in 2021.
Of the wrongful dismissal claims assessed by TADM, 26 per cent were substantiated.
A large proportion of unsubstantiated claims arose from miscommunication between the employer and employee over issues such as work performance, said the release. The employers had fulfilled their contractual or statutory obligations of employment termination with notice.
Overall, more than nine in 10 salary claims and eight in 10 wrongful dismissal claims were dealt with within two months of lodging the claim at TADM – an improvement from 2020. 
For salary claims, the improvement was largely due to a drop in the number of claims lodged in 2021.
For dismissal claims, the improvement could be partly attributed to the easing of COVID-19 restrictions, which allowed people to resolve their differences in person with help from mediators.
Senior Minister of State for Manpower Koh Poh Koon said that he was encouraged by the significant fall in the number of employment claims and appeals in 2021.
"Overall despite the COVID-19 pandemic, the vast majority of employers treated their employees responsibly, while employees also made sacrifices to help businesses survive," said Dr Koh.
TEMPORARY MEASURES TO BE REMOVED
MOM said that from Aug 1, it will remove some temporary measures introduced during the COVID-19 pandemic that were originally implemented to deal with disruptions to business operations.
These include a requirement to notify the ministry of cost-saving measures that affect workers' salaries, and an advisory to employers on retrenchment benefits.
This is due to the sustained fall in the number of notifications and assistance sought under the measures, said MOM and TADM in their press release.
In March 2020, MOM introduced a requirement for employers with more than 10 employees to notify MOM if they implement any cost-saving measures that affected employees' monthly salaries. 
The number of employers submitting new cost-saving notifications has decreased to a monthly average of eight in the first quarter of 2022, from the peak of 1,713 employers at the start of the circuit breaker in April 2020.
In May 2020, the ministry issued an advisory that provided employers more flexibility on retrenchment benefit payments in view of the difficult economic conditions then. 
The number of cases of employees seeking assistance on retrenchment benefits has since declined to a monthly average of eight cases in the first quarter of the year, compared to its peak of 198 cases in August 2020.
OTHER MEASURES TO IMPROVE EMPLOYMENT STANDARDS
A portal for online dispute resolution (ODR) will be enhanced, said the release.
By 2023, the enhanced ODR portal will make use of artificial intelligence to guide parties based on common scenarios so that they can come to a fair settlement.
In 2021, about 430 claims were processed via the portal, of which 32 per cent were resolved by the parties themselves.
Another 56 per cent were concluded virtually, where the mediator used the ODR portal to facilitate conversations between the parties and guide them to reach a resolution. 
MOM also launched the Workright School Series in 2022, a series of talks and events for graduating students in Institutes of Higher Learning on employment rights. 
As of May, close to 650 graduating students from ITE College East and ITE College Central have attended the talks and events.
From March to December 2021, the ministry also used data analytics to identify and audit companies that were at risk of not complying with Progressive Wage Model (PWM) wages.
Around 90 companies were found not complying with PWM wages, and regulatory action such as warnings and financial penalties will be taken.