Tech war: Beijing moves to limit collateral damage from Micron sales ban with muted reaction from consumers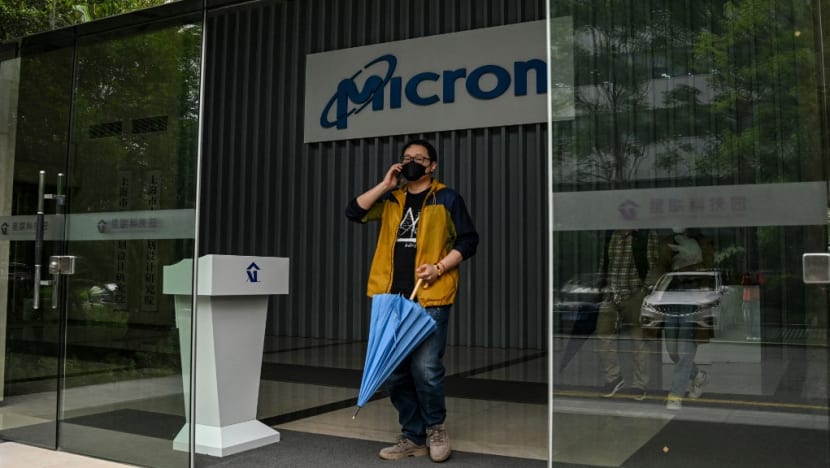 China's foreign ministry, the commerce ministry and newspaper Global Times have all described the Micron ban as an individual case
Some analysts say China's punishment of Micron is "relatively restrained" and that the country can afford it
Beijing is trying to limit collateral damage from its decision to partially ban sales in China by US chip maker Micron on national security grounds, after Washington challenged the ruling as a deliberate targeting of US businesses in retaliation to US export controls imposed on China.
China's foreign ministry, the commerce ministry and nationalist newspaper Global Times have all adopted a similar tone on the decision, describing the Micron ban as an individual case and not a broader effort to damage the legitimate business activities of other US firms in the country.
Wang Wentao, China's minister of commerce, told delegates from American enterprises, including Johnson & Johnson and Honeywell, in Shanghai on Monday (May 22) that China would continue to welcome US business investment.
Meanwhile, the ruling by regulators that Micron products are a threat to national security and China's key information infrastructure operators – from banks to telecom operators – has been met with relative silence from industry operators.
Few Chinese companies have stepped up to publicly pledge compliance with the ruling or to denounce Micron products, while Chinese vendors of Micron products said they have seen little impact from the decision so far.
A customer service person at Crucial, Micron's consumer product brand founded in 1996, said via a consumer inquiry on e-commerce site JD.com that they have not received any notice to remove products from the store as of Tuesday, and that they can be "purchased and delivered as normal".
The online store currently has dozens of Micron solid state drives (SSD) and dynamic random-access memory (DRAM) products on sale, ranging from 8GB DRAM priced at 129 yuan (US$18.30) to 4TB SSD priced at 1,999 yuan. The best selling product is a 1TB SSD, embedded with 176-layer NAND, priced at 318 yuan.
Micron has said it is communicating with Chinese authorities about the decision. Meanwhile, chief financial officer Mark Murphy said it estimates the impact is "in the low single digits percentage of the company's total revenue at the low end, and high single digits percentage of total revenue at the high end".
However, the US Commerce Department described the ruling, along with recent raids on US consultancy firms in China, as a violation of Beijing's commitment to an open market economy and a transparent regulatory framework. Beijing has denied that this is the case.
An editorial by the Chinese Communist Party-controlled newspaper Global Times said the Micron ruling was fact-based and the result of "a seven-week investigation by the General Administration of Customs" and a cybersecurity review by China's cybersecurity watchdog the Cybersecurity Administration of China.
"Many foreign media outlets have included this matter in the scope of the US-China tech war, suggesting that it could lead to an escalation of the 'tech war' … however, it needs to be said that the reality is not so," said the editorial. "The so-called 'national security' of the US is a unilateral and anti-market suppression of China's technology, while China's security review of Micron is to effectively safeguard its own security interests."
It continued that "any company must operate in compliance with the laws and those involved in illegal undertakings are subject to investigations".
ICWise, a Shanghai-based consultancy, published a research note on Tuesday, saying China's punishment of Micron is "relatively restrained" and that the country can afford to sanction Micron because its products can easily be substituted in the Chinese market.
Zhang Chao, a merchant who runs a memory product store on Alibaba Group Holding's Taobao.com, said that even if China's ban reaches the consumer end, it will likely have a small impact as these Micron products account for "a very low proportion" of market share.
"I don't think the ban will have a significant impact on my business," said Zhang. "The sales of [Micron's] Crucial products are too low for me to worry about."
This article was first published on SCMP.
Source: South China Morning Post/fh