Singapore's Tiger Beer wants to keep reinventing beer, even as it turns 90
"We are very passionate about making beer interesting and adding variety," says Mr Andy Hewson, managing director of Asia Pacific Breweries Singapore which produces Tiger Beer.
SINGAPORE: Breweries the world over celebrated as people began to leave the pandemic days behind them. But after nearly three years of COVID-19, drinkers were looking for something different. 
For homegrown brand Tiger Beer, its customers now wanted sweeter and less boozy beer.
The brand, which turns 90 this year, has been jazzing up its product line to cater to these changing tastes.
"We are very passionate about making beer interesting and adding variety," said Mr Andy Hewson, managing director of Heineken-owned Asia Pacific Breweries Singapore which makes Tiger Beer.
"The big trends like sweet-flavoured beer, sessionable beer, low and no-alcohol beer – these are all areas that we are super passionate about."
The brand – best known for its signature lager brewed with malt, hops and yeast in a process that takes more than 500 hours – has been moving beyond a single-product brand.
"People now want more variety … and we are in the business of appealing to people of all ages," Mr Hewson told CNA in an interview at his office in Tuas Brewery where Tiger Beer is made and exported to more than 50 countries.
"For 80 years, we've had one product but now we have a portfolio of Tiger. That trend of innovating in the last few years is where we are heading."
Efforts are paying off. For instance, Tiger Crystal – the brand's answer to a "sessionable" beer that is typically described as easy to drink, less bitter and with an alcohol content of below 5 per cent – has been popular among young consumers in the region since its launch in 2019.
"We launched Tiger Crystal in 10 different countries across Asia now and with huge success," said Mr Hewson, who described the beer as the brand's fastest-growing product. "This year, we are still growing in excess of 50 per cent year-on-year."
"It has been our secret weapon to appeal to millennials and Gen Zs, and it has really propelled and accelerated Tiger's growth."
Mr Hewson reckoned that appetite for "sessionable" beer will continue amid changing tastes, which have also seen more choosing beer with even lower-alcoholic content or none at all.
The latter saw demand pick up during the pandemic as people became more health-conscious or simply do not want to get drunk. Major brewers such as Heineken, AB InBev and Asahi have jumped on the trend by offering non-alcoholic and low-alcoholic versions of their popular products.
Tiger Beer already has one product in this category – the Tiger Radler, which has a 2 per cent ABV or alcohol by volume.
Launched in 2013 with a lemon taste, the ultra low-alcohol variant has since expanded to include other fruity flavours such as grapefruit and seasonal limited editions like pomelo.
Will Tiger Beer go one step further into alcohol-free beer?
"All big brands should have zero-alcohol as part of their social responsibility agenda," Mr Hewson replied.
"Our business is about enjoying social moments. It's not about drinking excessively so it's important to me, as a parent and as a leader of the business, that we do the right thing."
He does not think it is contradicting for the industry to offer zero-alcohol beverages.
"We want to offer adult beverages, not just alcoholic beverages. So we are in the spectrum of offering a ladder of choice – we want to have your higher alcohol, medium, low and also, zero."
And if it does so, Tiger Beer will be able to tap on the technology and expertise of parent company Heineken which has been an early mover with zero-alcohol beer, said Mr Hewson.
While it is an emerging trend, the low and no-alcohol market is still very much in the early stages in countries like Singapore. Growth may be gradual for the time being as broader consumer mindsets need time to change, he added.
Beer that is less bitter and sweeter is the other potentially big trend in the industry.
"Imagine a beer that drinks like a cocktail where the first taste you get is not bitter at all. It's sweet and we think the next big trend will be adding more sweetness to beer."
Already, the brand is experimenting on this front with the different flavours under Tiger Radler, and it will not stop there, Mr Hewson said.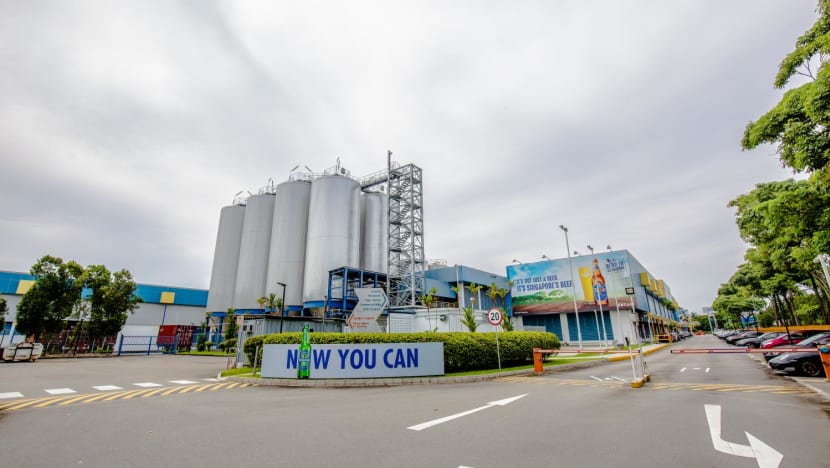 THE RISE OF CRAFT BEER
Then, there is craft beer which has been abuzz with a stream of newcomers despite the pandemic. These micro and independently owned breweries rolled out locally made beer, sometimes with uniquely Asian or Singaporean flavours and have attracted their own supporters.
Asked whether the entry of more craft players could be a threat, Mr Hewson said the brand views the buzz as more of an opportunity to grow Singapore's beer market.
This is because per capita consumption of beer remains "very low" here – at about 24 litres per person a year, compared to the average of 50 litres in Cambodia and Thailand, and 60 litres in Vietnam.
"So you can imagine that this is still a growing market and we think that there's more value in growing the pie together, versus competition," he said.
"We also think that the more you manufacture or brew, the more added value the industry has in terms of jobs. Brewing can be either craft artisanal or high tech which is (where we are). So that's all good for Singapore, and probably for us."
Despite the stream of new entrants, Mr Hewson noted that the local craft beer industry "hasn't exploded" yet, accounting for about 3 per cent in market share now. Growth will come as more players "adapt from taking recipes from overseas into customising recipes and flavours locally", he said.
For now, Tiger Beer is not worried about losing market share but if more consumers prefer a twist to their beer, it would not hesitate to move.
"We would just invest more in craft brewing, partner more, collaborate more and diversify in that way. We are very flexible. If people went towards more craft, we would head in that direction too."
The brand is no stranger to challenges, Mr Hewson continued, pointing to the origins of Tiger Beer back in 1932 as the "first beer" to be brewed outside of Europe. Then, many believed that no beer could be brewed in the Asian heat but it defied the odds with a tropical lager made in Singapore.
"We've always had courage and boldness in our DNA and we continue to be in terms of innovation and entrepreneurship."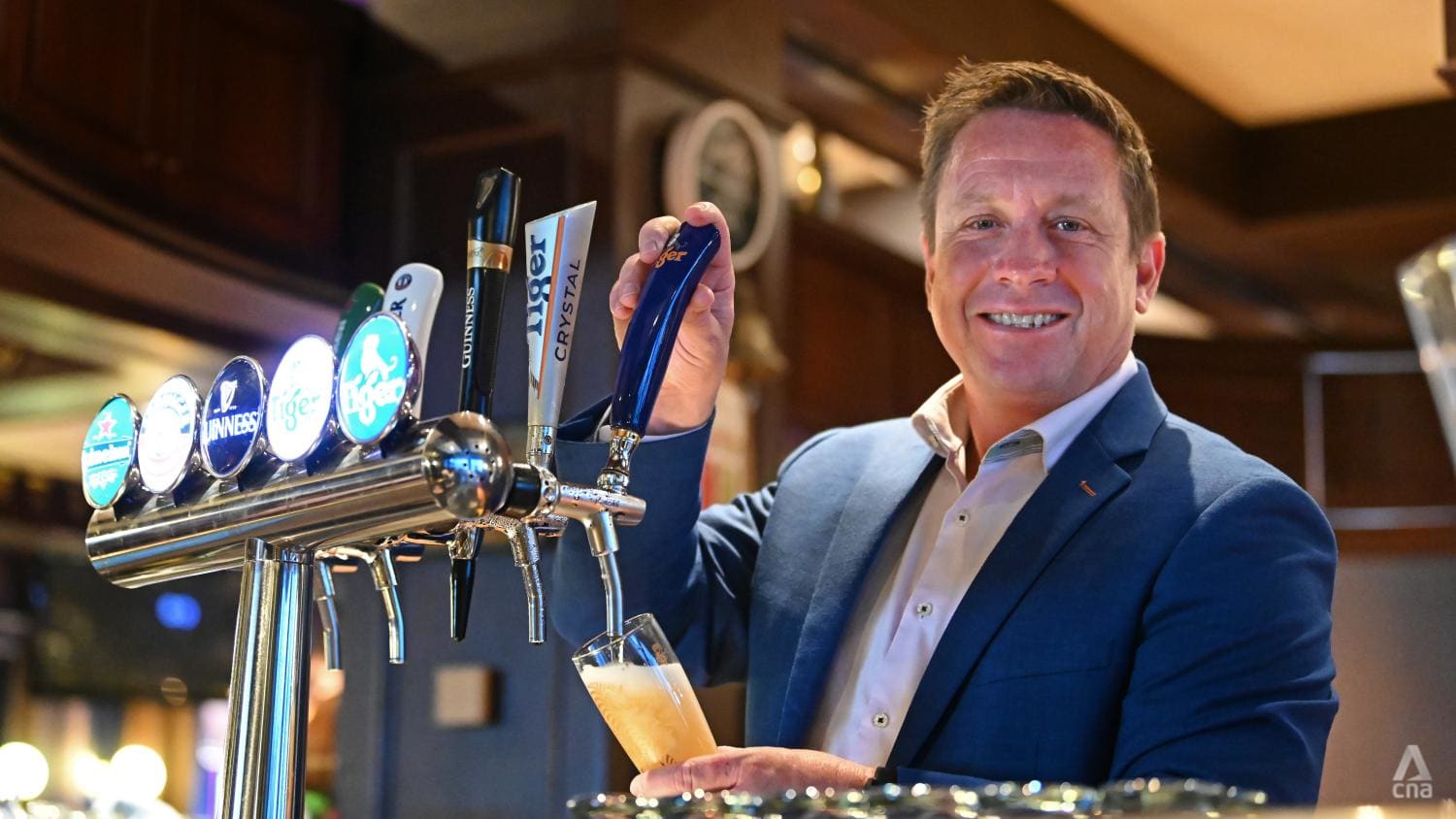 COST CHALLENGES AMID RECOVERY
Like most businesses, the biggest challenge for Tiger Beer in recent times is COVID-19, which dealt a heavy blow to sales and caused supply chain disruptions.
As pandemic measures shuttered bars, clubs and restaurants and eliminated social gatherings, sales slumped by double digits in 2020, Mr Hewson said.
Thankfully, there were some bright spots. For example, sales at neighbourhood mom-and-pop shops and supermarkets held up as people shopped nearer to home. The brand also ramped up e-commerce by partnering various delivery platforms.
When pandemic measures eased, allowing restaurants and nightlife establishments to reopen and gatherings resumed, sales recovered and are now back at pre-pandemic levels, Mr Hewson told CNA.
That said, it still faces residual effects of the pandemic.
"After COVID-19, the business has been seeing a lot more short-term risks," he said.
Supply chain hiccups remain and like all businesses, Tiger Beer faces the issue of sharply rising input costs ranging from ingredients, freight to labour. Overall, its costs have gone up by at least 10 per cent since the pandemic started.
The brand has had to increase retail prices twice so far in "small, single digits", although it has managed to keep that to below 10 per cent due to productivity gains.
Investments in this front serve as "part of the algorithm to make sure that higher costs do not translate into higher prices", said Mr Hewson.
"We have to pass some of (the costs) on but we hope the productivity gains we try and generate in the business will help," he added.
Notwithstanding concerns over global inflation and economic growth prospects, the brand is still relatively hopeful about demand.
This as beer has been "reasonably recession-proof" during past economic crises, according to Mr Hewson. "The only time that (demand) has ever gone down was during the pandemic when everyone had to stay at home … So at the moment, we're not too concerned," he added.
While there may eventually be some impact from cost of living pressures, he is hopeful that for now, demand will be supported as people flock back to their favourite bars and restaurants, hold gatherings and travel after two long years of the pandemic.
"Consumers now have this need to connect more than ever before so I think this desire to go out and connect as humans post-COVID-19 will be more important than rising costs," he said.