UOB's Q3 net profit rises 34% to record high of S$1.4 billion
The strong performance for the quarter was driven by higher net interest income and customer-related treasury income, says the bank.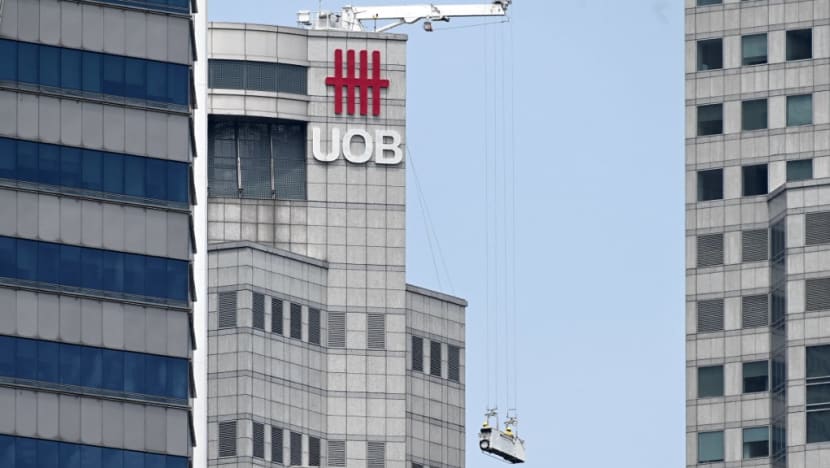 SINGAPORE: United Overseas Bank (UOB) on Friday (Oct 28) said its net profit for the third quarter hit a record high of S$1.4 billion, up 34 per cent on a year-on-year basis.
The "strong" performance for the quarter ended September was driven by higher net interest income and customer-related treasury income, said deputy chairman and chief executive officer Wee Ee Cheong.
Following the results announcement, shares of the local bank jumped 4 per cent to finish the trading day at S$27.06.
UOB's net interest income - a key source of revenue for banks, defined as earnings on loans minus deposit costs - for the third quarter rose 39 per cent year-on-year to a new high of S$2.23 billion.
Net interest margin expanded 40 basis points on the back of rising interest rates and loan growth of 6 per cent.
This increase in net interest income more than offset the 10 per cent decline in net fee and commission income.
The latter fell to S$519 million, as loan-related fees moderated and wealth management fees remained soft amid subdued market sentiment, the bank said.
Meanwhile, other non-interest income surged 58 per cent on-year to S$431 million on the back of record-high customer-related treasury income, as demand for hedging activities rose.
Improved performance from trading and liquidity management activities amid market volatilities also helped.
UOB said its credit costs improved by 5 basis points from the last quarter to 17 basis points, helped by a stabilisation in asset quality with the ratio for non-performing loans down slightly on-quarter to 1.5 per cent.
UOB group's balance sheet remained "robust with healthy liquidity". All-currency liquidity coverage ratio improved to 142 per cent in the third quarter, while the loan-to-deposit ratio was "healthy" at 85.2 per cent, it said.
Mr Wee, the CEO, noted that the outlook for the global economy remains challenging ahead but the bank expects economies in the region "to show resilience and avoid a recession".
The bank has been making "meaningful progress" in growing its franchise across the region, he said.
Its digital platform, UOB TMRW, also reached a milestone in August, hitting one million digitally-acquired customers.
"This (digital) platform will also be key in serving our incoming Citibank customers across the region," Mr Wee added.
UOB announced in January it would acquire Citigroup's consumer banking franchise in Indonesia, Malaysia, Thailand and Vietnam for about S$4.9 billion.