This city in Java could disappear in 15 years, due to land subsidence and coastal flooding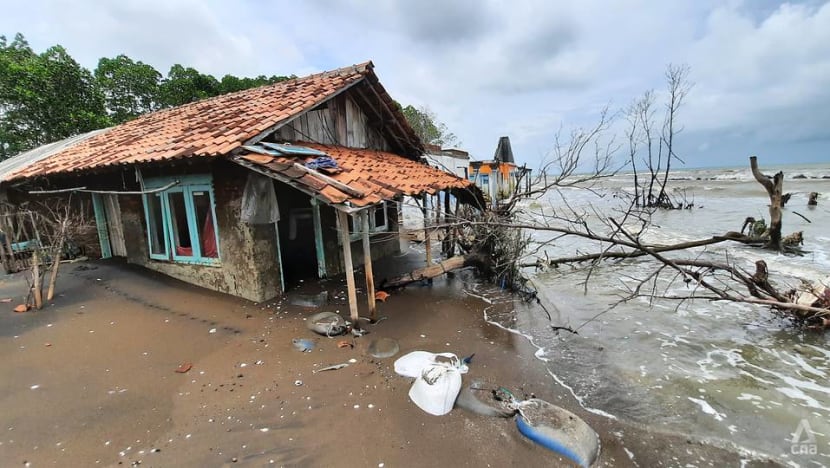 PEKALONGAN, Central Java: It has been months since Mdm Casmonah had a good night sleep with waves coming in from the Java Sea submerging her home almost every day.
The 50-year-old woman, who like many Indonesian goes with one name, used to live several hundred metres from the sea in the village of Dukuh Semonet on the northern coast of Java.
But since 2015, strong winds, high waves and land subsidence have been causing the coastline to advance further inland.
In December, a powerful storm surge swept across the village, causing severe erosion. Dozens of homes were claimed by the sea. Several families decided to move away, abandoning their permanently submerged houses.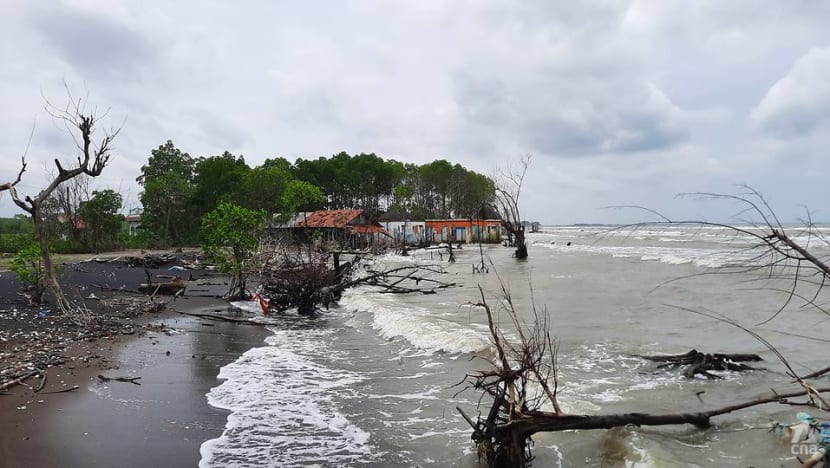 When CNA visited Dukuh Semonet in February, the sea was only metres away from Mdm Casmonah's doorstep.
"My house is flooded every day and it can happen at any time of the day. When high tide comes, the entire house is submerged, including my bedroom. I cannot sleep at night. I just stay at my porch all night long as waves pound my walls. I cannot go anywhere. Everything is inundated. Even the bridges are submerged," she told CNA.
"I am scared. One day my house will become uninhabitable, then where will I go? I have no money to buy another house. I don't know what to do."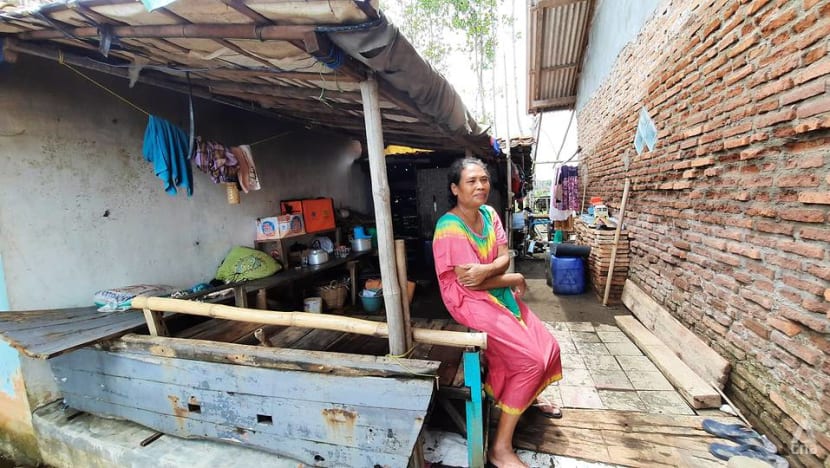 The dire circumstances in Dukuh Semonet are not unique. In the 46 sqkm city of Pekalongan, there are dozens of neighbourhoods under threat of becoming one with the sea, with saltwater encroaching inland for up to 1.5km.
At the heart of the problem is Pekalongan's overreliance on groundwater, which is not only extracted for domestic use but also to irrigate fish farms and rice fields.
Groundwater is also essential to the city's thriving batik industry. Batik is a traditional Indonesian method of using wax to resist water-based dyes to depict patterns and drawings on fabric.
The over-extraction of groundwater has caused the city to sink at a rate of between 10cm to 15cm per year. In some areas, the land subsidence has been as severe as 26cm per year.
Meanwhile, climate change has brought more extreme rainfall, stronger winds, higher waves and rising sea levels.  
Scientists have warned that if nothing is done to stop the widespread land subsidence and encroachment of the sea, the entire city could be underwater by 2036.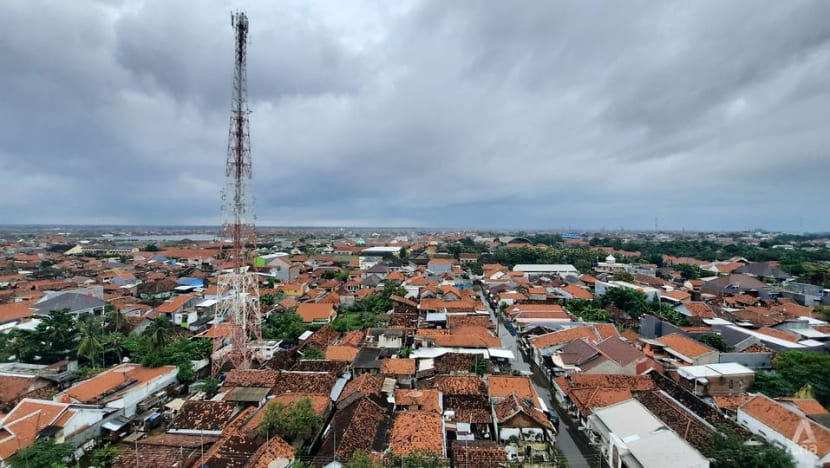 LAND SUBSIDENCE ACCELERATED OVER LAST DECADE
Mr Heri Andreas, who has been studying land subsidence in parts of  Indonesia, noted that Pekalongan is built on flat, low-lying sediment, which has been sinking for decades. However, the process seemed to have accelerated from 2010, when the local government encouraged people to exploit groundwater on a massive scale.

"Ninety per cent of Pekalongan's water needs are supplied by extracting groundwater. This causes Pekalongan's soft alluvial sediment to compact and as a result the surface sinks," he told CNA. A third of the city is now below sea level, he also said.
Mr Andreas is a geodesy lecturer with the Bandung Institute of Technology. Geodesy researchers look at how the earth's geometric shape changes over time.
Although there are five rivers flowing into the city, all of them are heavily polluted by the batik industry, the backbone of Pekalongan's economy.
"The government has been encouraging the use of groundwater. The government even built boreholes across the city to extract groundwater on a massive scale, not only for drinking but also agriculture and aquaculture as well as hotels and industries," Mr Andreas said. "This is why land subsidence occurs so massively in Pekalongan and at an alarming rate."
"In some places, the ground is sitting 1m to 1.5m below the surface of the sea," he said. "By 2035, these places will sit between 2.5m to 3m below sea level. According to our (computer) simulation, 80 per cent of Pekalongan could be below sea level by 2035."
The Energy and Mineral Resource Ministry's department of geology has an even grimmer assessment. Their study, which was published in January, predicted that the entire city could be below the surface of the sea by 2036.
This makes Pekalongan one of the fastest sinking cities in Indonesia, Mr Andreas said.
The city is littered with houses, factories and offices which have sunk way below street levels, trapping years of rain and floodwater. Most of these buildings are now abandoned and slowly decaying.
Land subsidence has also caused coastlines to disappear, leading to thousands of hectares of farmlands and residential areas being permanently submerged in seawater.
Mr Darwanto, who also goes with one name, said there are hundreds of houses that have been devastated by the sea in his sub-district of Bandengan, which used to sit 1.5km away from the coastline.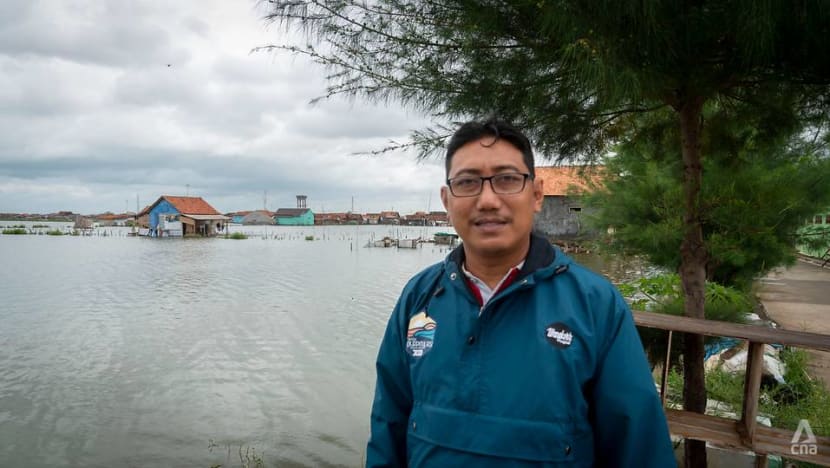 "There used to be fish farms and rice fields in this area. Now they have become a watery wasteland. Hundreds of houses have also been affected. When a tidal flood comes, roads and houses can be flooded in seawater between 30cm and 1m deep," he told CNA.  
"Once, the tidal flood was so bad residents had to evacuate for more than one week to the sub-district office. Even the sub-district office was flooded, so we had to seek shelter on the second floor of the building."
Mr Darwanto said many people in his neighbourhood have moved elsewhere and abandoned their houses. "The rest stayed because their houses are still liveable or because they have no money to buy a new house. People here try to move and sell their houses for cheap, but nobody wants them," he said.
Meanwhile in Dukuh Semonet, land subsidence has caused the village to be waterlocked. Roads and pathways are permanently submerged in 1m deep water. Today, the only way in and out of the village is through a short boat ride to a neighbouring village across the river.
"It affects our mobility. Sometimes our children cannot go to school, especially during high tide when you cannot even leave the house. In fact, our houses are also inundated," Dukuh Semonet resident, Mr Sumaryo told CNA.
"WE ARE BESIEGED BY WATER"
Land subsidence has caused rivers running through Pekalongan to sink below sea level, and as a result the city constantly floods during the rainy season.
Since the beginning of the year, Pekalongan has been hit with one flood after another with some areas constantly inundated for weeks. Fluvial floods have also drowned several batik factories, sometimes turning the water red from the dyes used.
"We are besieged by water, both seawater from the north and fluvial flood from the south. The sea would enter the city from the rivers and from there spill into peoples' homes. Our roads and alleyways now resemble small rivers," Mdm Anita Heru Kusumorini, chief of the Pekalongan Development Planning Agency told CNA.
"We cannot discharge the water because the city is already like a bowl and the water is trapped. Even if we pump out the water to the rivers or the sea, it will flow right back to residential areas and streets. Meanwhile, the rivers are also narrowing because of sedimentation, so two hours of rain is enough to inundate parts of the city."
The city also floods during the dry season, caused by tidal floods and storm surges. Last year, the city had two devastating storm surges, one in June and one in December. Both times, the sea swelled and breached 1m tall dikes that defend parts of Pekalongan's coastal areas.
Because of climate change, storm surges have happened more frequently and are of greater intensity.
"During the last tidal flood, a third of Pekalongan was submerged. It has become that severe," Mdm Kusumorini said.

LACK OF FUNDS
The city plans to construct a massive sea dike to protect around 290,000 inhabitants. The coastal defence system will include building a pumping station at the mouth of Pekalongan's biggest and most flood-prone waterway, the Loji River.
To stop people from extracting groundwater, the city is also planning to build reservoirs and create an elaborate piping network to distribute fresh water. It also plans to relocate people living at flood-prone riverbanks, build embankments and fix its drainage system which is no longer adequate to cope with extreme rainfall, the consequence of a changing climate.
But these projects come with a hefty price tag and the small city does not have sufficient funds.
"We can only earmark 250 billion rupiah (US$17.7 million) each year for infrastructure projects. This is not a lot. This is why we rely on help from the national and provincial administrations, said Mdm Kusumorini. 
In 2019, the central government financed the building of a 2.3km sea dike to protect the western part of the city from the encroaching sea. The project cost the national government 500 billion rupiah.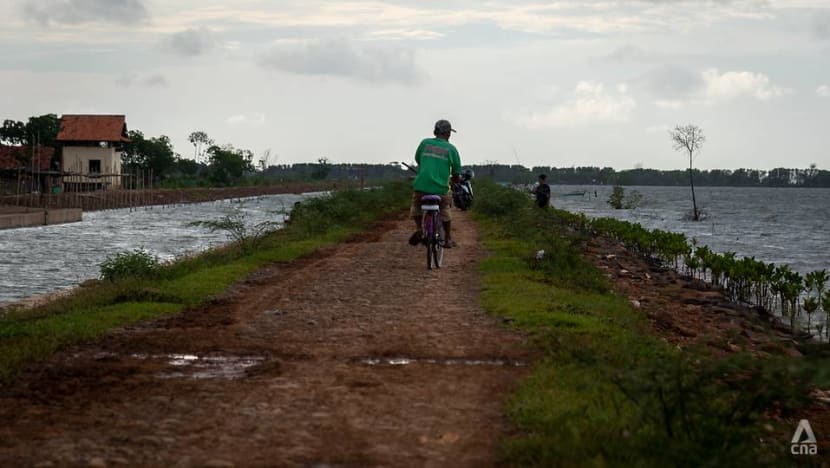 To completely stop seawater from seeping through and drowning the city, Pekalongan still needs to build another 4km of sea dikes.
Mdm Kusumorini added: "We want to get these projects off the ground soon. But the central government and provincial government cannot provide us with funds just yet because the country is focusing on mitigating COVID-19."
The planning agency chief said the central government is still paying for the upkeep of the existing dike as well as the cost to operate pumping stations to flush out excess water back to sea.
"The cost to operate and maintain the dike and the pumping stations is around 2 billion rupiah per year. The central government is planning to transfer the responsibility for the upkeep to the city sometime this year, so that is another expenditure which we have to think about," she said.
Mdm Kusumorini said because of land subsidence, the dike is also sinking and will need to be raised every five years. The city, she said, is still trying to figure out how to pay for that project.  
"Because our budget is limited, we cannot complete big projects like this in a single financial year," she said.
"We are also planning to cut down the use of groundwater. We have barred the building of new wells. But we cannot stop people from using existing wells before we come up with alternatives. Even government offices are using groundwater. We want people to still be able to have access to clean and affordable water."
One solution is to pipe water from a reservoir 30km south of the city. Freshwater from the reservoir, she said, is enough to supply half of the city's water needs.
"The reservoir is already connected to the city. But we still need to build a water distribution network, which again takes money and time."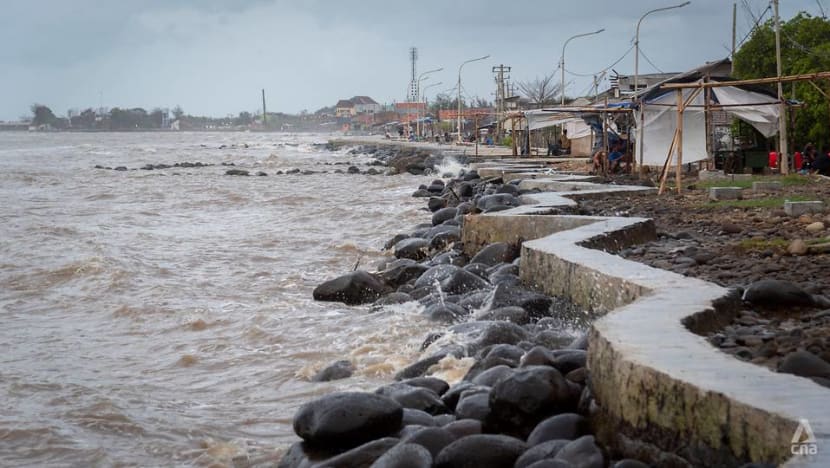 And time is not on Pekalongan's side. Mdm Kusumorini said the city is well aware of the scientists' prediction that between 80 per cent and 100 per cent of the city could be under sea level in the next 15 years.  
"We hope that through some of the efforts which we have done and the projects which we plan to do, land subsidence rate can slow or even stop," she said.
"I hope we can get some of the projects off the ground soon. Because we are indeed racing against time."