She's deaf and has a heavy vehicle driving licence. Would you hire her as a lorry driver?
GrabFood rider Elina Kuduro is determined to defy expectations and change jobs after earning a Class 4 driving licence. A new CNA series called Hire Me wants to help her — and others who also have a disability or health condition.
SINGAPORE: An adventurous girl — that is the kind of person Elina Kuduro says she is. And the last thing she wants to feel is that she is a burden just because she is deaf.
"I love to prove to myself that I'm able to do anything, despite my disability," says the 28-year-old, who has had profound hearing loss since birth. "I like to be independent."
At the age of 19, she started working as a delivery rider, first for Domino's Pizza and then KFC. After a few years, she took a job as an administrative assistant but later realised she preferred to be outdoors.
"I don't see myself working in an office as I feel trapped and bored sitting around all day," she says.
She is a full-time GrabFood rider now and usually clocks up 11 hours a day, five days a week. Her deafness does not stop her from doing a good job, says Kuduro, who can read lips and speak.
When some people do not understand her speech, she uses gestures to communicate, although the job mostly does not entail much conversation. "You smile, I smile. You're happy, I'm happy," she describes as the extent of her usual customer interaction.
There was one time, however, when there was a system fault and she had to deliver food that was one to two hours late. She received a "bad scolding" from the customer before she could explain about the system fault.
"Sorry, I can't hear. I don't know what you're trying to say," she told the customer after the scolding. "Then (I'm) like, 'Okay, thank you.' Then I went off."
She says her parents are proud that she is working independently, but they still worry about her safety on the road.
Kuduro wears hearing aids when riding her motorcycle so she can hear other motorists honking their horns.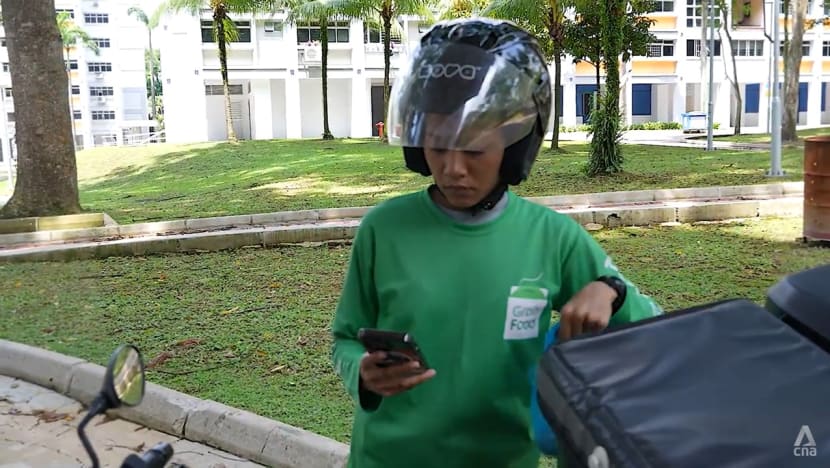 And she now owns not only a bike licence but also a licence to drive heavy vehicles: She enrolled on a Class 4 driving course in November to "challenge" herself and passed in February.
"I love heavy vehicles," she says. "When I drive a lorry, I feel like a Transformer."
Indeed, she is ready to transform à la Optimus Prime, from a food delivery rider to a lorry driver. But her job search since March has hit a roadblock.
She went for some interviews, but the companies said their drivers must use walkie-talkies, which she would not be able to use because of her deafness, or it would cause miscommunication.
Kuduro is not letting the rejections get to her. And she has found fresh hope: A new CNA observational documentary series called Hire Me, which is about job seekers with disabilities or who have mental, neurological or physical health conditions.
WATCH: I'm deaf and I love driving heavy vehicles. Would you hire me? (3:09)
On the show, she will get coaching and help with reaching out to potential employers to improve her chances of finding employment. And the producers are looking for more candidates like Kudoro — independent-spirited but whose job search has been impeded.
They must be willing to commit themselves from June to September and to share their journey on screen.
It is a journey that will "confront some of the stereotypes that may be out there", believes CNA senior producer Gosia Klimowicz.
"We aim to examine what it takes to secure and succeed in a job when you're not an able-bodied person or when you're different from what society deems a regular employee."
Kuduro is up for it. "I signed up for this programme with CNA because I want to show that the deaf can do anything, except that we can't hear," she says.
To participate in Hire Me, call, SMS or WhatsApp 8122-0937, email hire.me [at] mediacorp.com.sg or DM us on Instagram @CNAInsider. Readers can nominate themselves or someone they know. The deadline is May 31.
You may also enjoy reading: