He's 23, and out to change the way we think of bus drivers
Does a bus captain do more than just ferry commuters around? One of the youngest in the trade, Benjamin Lim wants to inspire other young Singaporeans to take up the profession.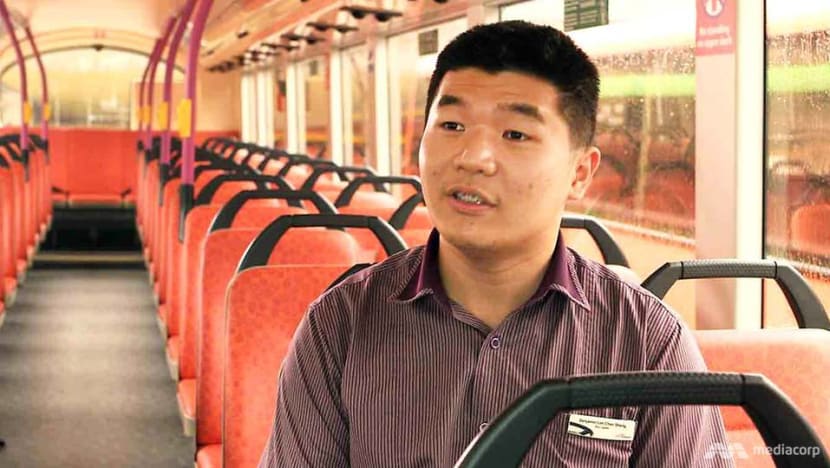 SINGAPORE: When he was younger, Benjamin Lim would collect and study public bus brochures. He watched the buses ply their routes, tracked their makes and models, and even noted their frequency.
He was such a bus enthusiast that he turned his hobby into a career -becoming the youngest bus captain, at the age of 22, to join the ranks at Tampines bus interchange, and one of the youngest in the trade.
Today, after about a year and a half, he is under no illusion that being a bus driver is a smooth ride. 
"People think it's very easy," said the 23-year-old who grapples with everything from traffic to customer service. "They think we only need to fetch passengers from A to B … (But) every day is a challenge."
He is profiled in the documentary Don't Make Us Invisible, about those labouring in professions that are crucial to Singapore but thankless at times. (Watch the series here.)
HUNG OUT AT BUS INTERCHANGES
Mr Lim developed his passion for buses when he was 16. 
Instead of hanging out in shopping centres or cinemas, the teenager would be at the interchange, checking out the buses and hopping on and off them to suss out different routes around the island.
There is a forum dedicated to bus fans like him, which he used to frequent. Its members study service frequencies and passenger loads, and even discuss how they would deploy the buses if they were in charge.
After completing his studies at the Institute of Technical Education and National Service, he signed up as a bus driver at a road show. But his parents were lukewarm about his career choice.
"They thought I needed to think carefully. It's quite a tough job," he said. "But I insisted."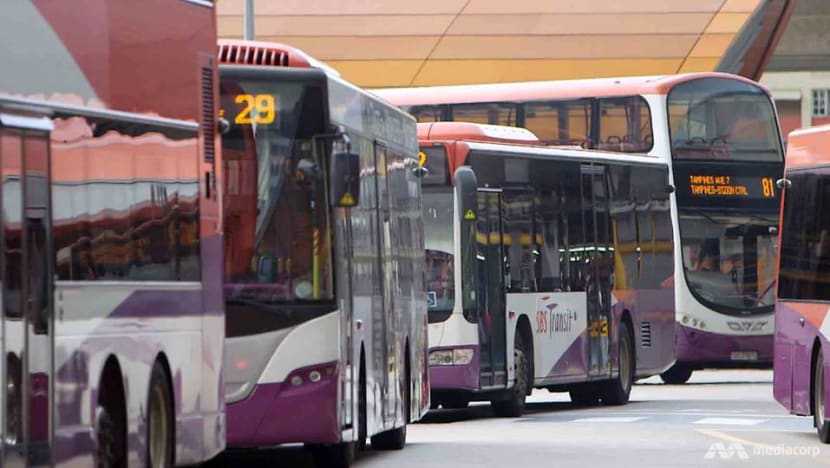 Indeed, he was overwhelmed at first by the various courses at the training school. "(It was) quite tough. After the practicals, because I had no experience in driving buses, I did quite badly," he said. "But I tried to improve."
And as his parents had warned, the job was demanding: A bus captain typically makes about five trips during an eight-hour shift. And the responsibilities are not limited to driving.
"We need to check the bus for defects, and we need to report any we find," he said. This includes checking equipment like the wipers and signal lights, and whether there is sufficient engine oil, before departing  the interchange.
DEDICATION AND A HUNGER TO LEARN
The rookie bus captain swears by a simple motto: Keep his passengers happy.
That means always endeavouring to stop the bus at just the right distance from the kerb for alighting passengers. And always looking for ways to improve. For instance, "some people say our braking is no good … we want to make it very smooth, (so that) everybody is safe".
And he especially takes pride in knowing more routes than other bus captains at his level of experience - while they are assigned an average of seven routes, he can drive for 13 service numbers.
The dedicated rookie does this by associating various landmarks and committing them to memory, and bones up on bus service brochures. 
When I have a day off, I study other bus routes and go for a ride. It takes me about a day to learn a new service route.
Some elements of the job are not within his control, however. Such as road works and peak-hour traffic jams, which annoy his passengers and stress him out at times.
WATCH: What this dedicated rookie encounters on the job (3:20)
MAKING SURE BUSES LEAVE ON TIME
Mr Lim currently alternates between driving and, for three days a week, taking charge of the passenger service office, which is the busiest part of the interchange.
There, he must respond to passengers' queries while ensuring that the buses run like clockwork. As this takes a different skill set - such as good communication and quick thinking - not everyone is appointed to this central office.
"The passenger service office also has its pressures," he noted. (Ironically, route knowledge is more crucial here than on the road, as commuters could ask about any of the 21 services that SBS Transit runs from this interchange.)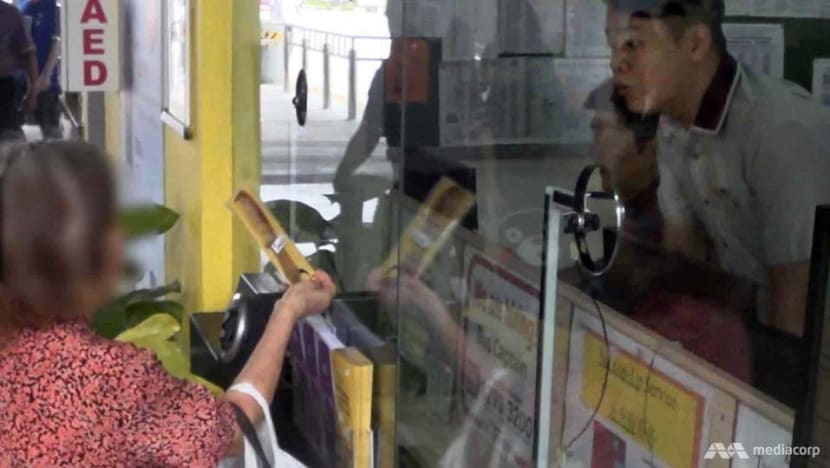 The busiest time is between 1pm and 3pm, when Mr Lim has to facilitate the handover of duties from the 240 drivers who started work in the morning, to the afternoon shift taking over.
This shift-change must be a virtually invisible process so that no bus service is affected. But on one occasion during filming of the series, one bus captain did not report to work - which meant the bus she was supposed to drive to Tampines Interchange didn't arrive.
Mr Lim scrambled over a nerve-wracking half hour to find another driver to collect the bus and replace the absentee.
On another occasion, a bus captain complained that he was unable to move off from the interchange as scheduled – for the resident mechanic was on a lunch break.
It took a tense exchange with the senior bus captain to resolve the matter.  It is not easy for a young bus captain like Mr Lim to deal with the more experienced ones but, he said: "We share the knowledge of the work, so if there's any problem, we'd just work it out."
"Normally, we're quite close," he added.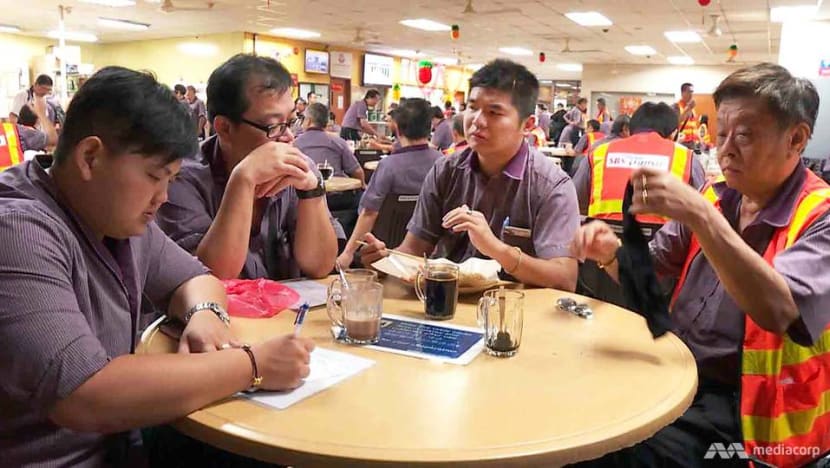 INFECTING OTHERS WITH HIS PASSION
Dealing with passengers can be more challenging. Every day, Mr Lim entertains at least 30 requests about missing items. The team try their best to locate these - no matter how small the item (like an old lady's missing comb), or how long it takes.
One prickly elderly man insisted that Mr Lim find his spectacles - even though it had been an SMRT bus he'd left them in.
Disgruntled with Mr Lim's inability to help, the man left in a huff. But Mr Lim knew it would not be the last he saw of this passenger, who had come looking for the spectacles three days in a row.
"That's the sad thing about lost-and-found – when we cannot find the items," said Mr Lim, who takes even this aspect of his job to heart.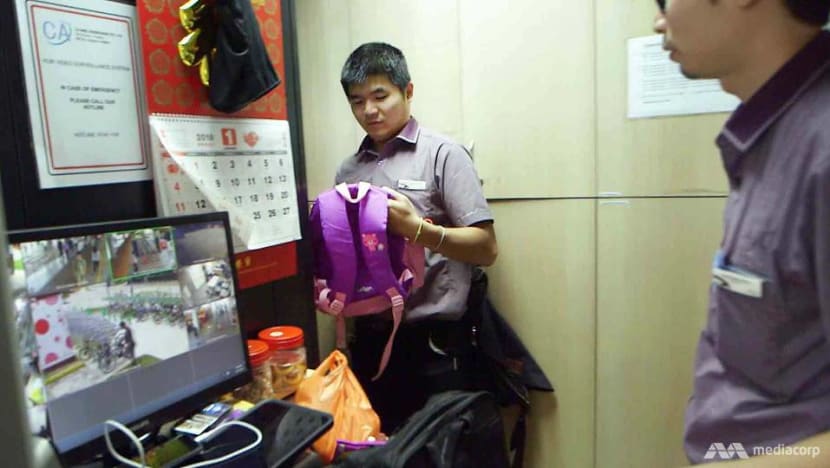 The young man has given thought to his career. He wants to be a senior bus captain and then a trainer so that he can impart more skills to others. 
I want to attract younger Singaporeans to join our industry. I want to pass on my passion to them.
One of the highlights of his job – one that keeps him going – is the acknowledgement he receives from passengers, especially his regulars. It is testament to the fact that he is not simply a faceless, blue-collar worker to them.
"What's interesting is just that everybody is quite friendly. I smile at them, they smile (back). That's what I like," he said.
Watch the Channel NewsAsia programme Don't Make Us Invisible here. New episodes every Monday at 8pm.