Before you renovate your home, watch out for contractors with these red flags
More than 1,100 complaints against home renovation contractors were made in the first nine months of this year, compared with 1,300 the whole of last year. The programme Talking Point finds out five ways to better navigate this minefield.
SINGAPORE: Darius Fan has a new three-storey home but is not enjoying the space; instead, he is holed up in one of the rooms with his wife and daughter.
What was meant to be four months of renovation work — mainly carpentry, flooring and lighting — has dragged on for more than nine months.
Among other setbacks: A sliding door between a flight of stairs and a room had a protruding track — despite instructions that it should be recessed — which was unsafe for his four-and-a-half-year-old.
"I went berserk," he said. "I just told the contractor (to) strip everything."
A toilet door still cannot close completely, and Fan's home is only 75 per cent complete. He has overspent by S$10,000 and has lost seven kilogrammes from stress.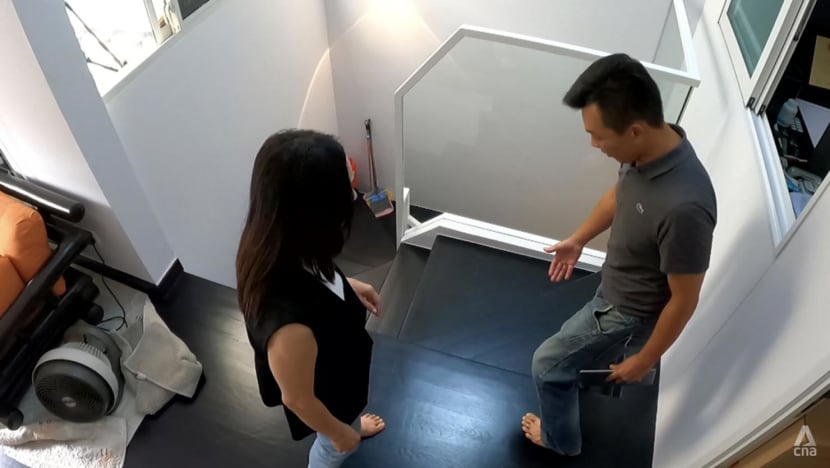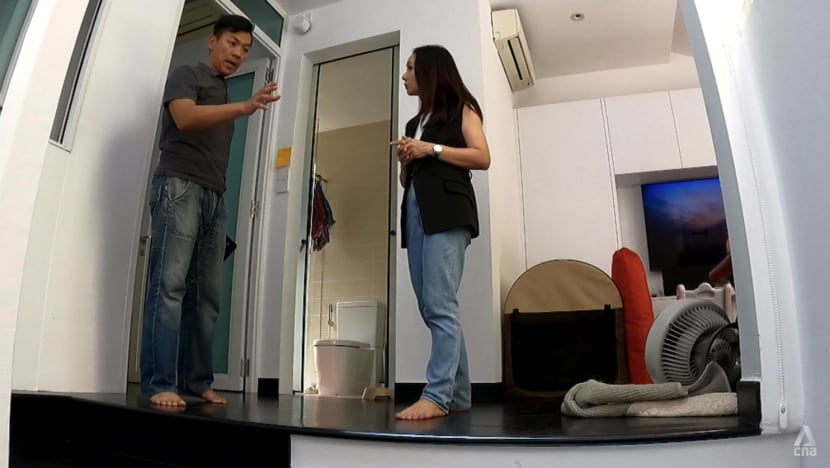 His renovation woes are just the tip of the iceberg. The Consumers Association of Singapore (Case) received an annual average of 1,100 complaints involving renovation contractors from 2019 to last year.
In response to queries from Talking Point, Case said there were more than 1,100 complaints about home renovation contractors in the first nine months of this year, 9 per cent up on the same period a year ago and approaching the 1,300 complaints made the whole of last year.
Approximately two thirds of the complaints pertained to contractors' failure to complete projects on schedule and unsatisfactory workmanship, Case reported earlier, in July.
With many horror stories plaguing the industry, here is how you can better spot red flags before and during the renovation journey and avoid a nightmare at home.
WATCH: Hiring a home renovation contractor? Beware these 5 pitfalls (3:36)
1. HAVE AN ITEMISED QUOTATION
If a home renovation quotation shows sums that cover several items, you should ask that it be more itemised, said former interior designer Diana Leyau.
One example shown was a quotation of S$18,200 for renovations to the first storey of a property, which included the living and dining rooms, kitchen, guest room and a bathroom.
"You don't know exactly how much you're paying for each of these items," Leyau said.
Having an itemised quotation is important in case you want to remove or add an item, so that you know how much to add to or subtract from the total, she added. This would also help in managing one's budget.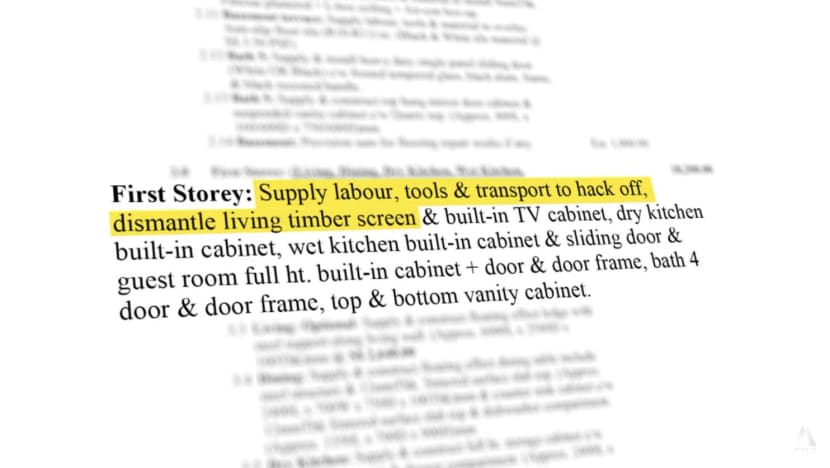 2. MIND THE PAYMENT SCHEDULE
The renovation contract should also detail key milestones in the project, and payments should align with that schedule, advised Leyau.
In one example shown, the contract stipulates that the buyer should pay a certain percentage of the purchase price as work progresses to the first, second and third stages. But it does not describe what to expect at each stage.
Another example shown by Leyau asked for 10 per cent of the contract sum upon the signing of the contract and for 50 per cent upon commencement of works. This means 60 per cent of the payment is already made when work starts.
Then 35 per cent is to be paid at the commencement of carpentry work at the factory, the next milestone. This means the customer's home is still empty, but 95 per cent of the cost has been paid.
Payments should be more gradual, so that all the carpentry would have been done, for example, by the time 95 per cent is paid.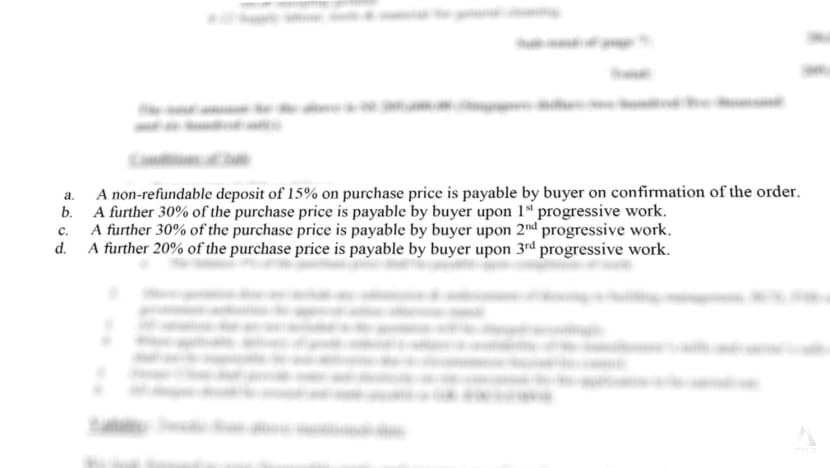 3. SCRUTINISE YOUR MATERIALS
Your quotation should also come with a bill of materials. For example, it should specify the brand of tiles you would be getting, where they are from and the cost per square foot, cited Leyau.
"Exactly what kind of material (is used) is a key area of contention very often," she said.
There are variations between different materials, but when home owners can scarcely tell them apart, rogue contractors "may (take this) opportunity to increase their profits", said Inspire ID Group director Russell Chin.
Take, for example, basic low-odour paint and premium odourless paint. When the walls are painted, you cannot spot the difference with the naked eye, cited Chin. Rogue contractors might charge the premium price but supply the basic paint.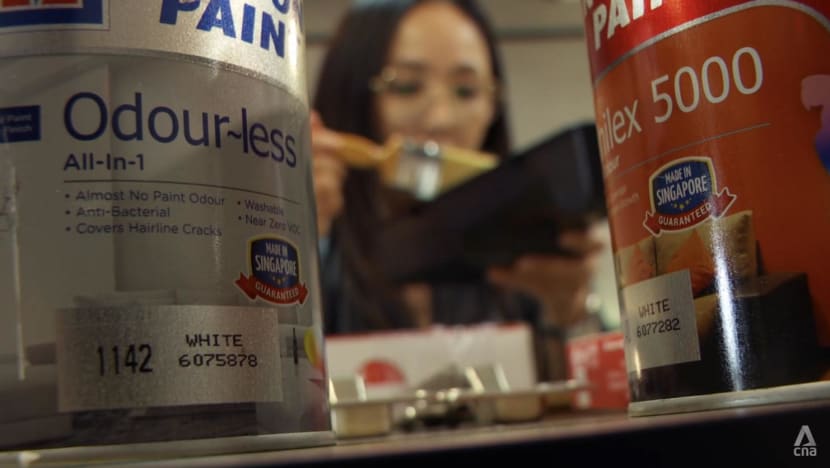 Chin suggested videoing or photographing the start of the work to check that the paint is extracted from the original can.
When it came to cabinetry, he advised caution about counterfeits. Imitations of Excel door hinges, for example, have been in the market for five years, he cited.
4. ENGAGE AN APPROPRIATELY LICENSED PERSON
To renovate Housing and Development Board (HDB) flats, a contractor must be listed in the Directory of Renovation Contractors.
To qualify for registration, the contractor must have at least three years of experience and must successfully complete the HDB's training course to understand how to renovate flats without causing structural damage.
The contractor must also have owned the company for at least a year, and it must have been registered with the Accounting and Corporate Regulatory Authority for the same minimum period.
But unlicensed contractors have found a loophole: Home renovations that do not require an HDB permit.
Doing up Build-To-Order flats, for example, may often involve things such as carpentry, painting, lighting and some other electrical works, cited Sky Tan, the president of the Singapore Renovation Contractors and Materials Suppliers Association (RCMA).
WATCH: The full episode — Home renovation woes: Can we avoid them? (22:02)
Things such as hacking of walls, meanwhile, require an application for a permit, he noted.
Then there is a "common practice" in the industry for experienced firms to help new, unlicensed contractors by applying for a permit using their licence, he said. "Most of (these experienced firms) are inactive. That means they (retain) the licence to get service fees from these newcomers."
5. ASK FOR ACCREDITED DESIGNERS
But there is a problem not just with HDB renovation contractors. Many consumer complaints can be explained by the "low barrier to entry" in the industry as a whole, said Tan.
Singapore Interior Design Accreditation Council chairman Keat Ong agreed, saying: "We've seen masseuses … salesmen (and) even taxi drivers, lawyers, pharmacists coming into the interior design profession as a midlife change."
Hence an accreditation scheme was set up last year to address the "root of the problem". There is also the Certified Renovation Practitioner Course introduced by the RCMA.
"There are at least two to three groups of people you should be looking at, and each is performing a different task," Ong said.
And amongst the architects, contractors and subcontractors within the renovation ecosystem, "there's a whole area of proficiency that we're looking at" for interior design consultants, he said. "Accreditation looks at the individual proficiency in … performing a job that they're tasked to do."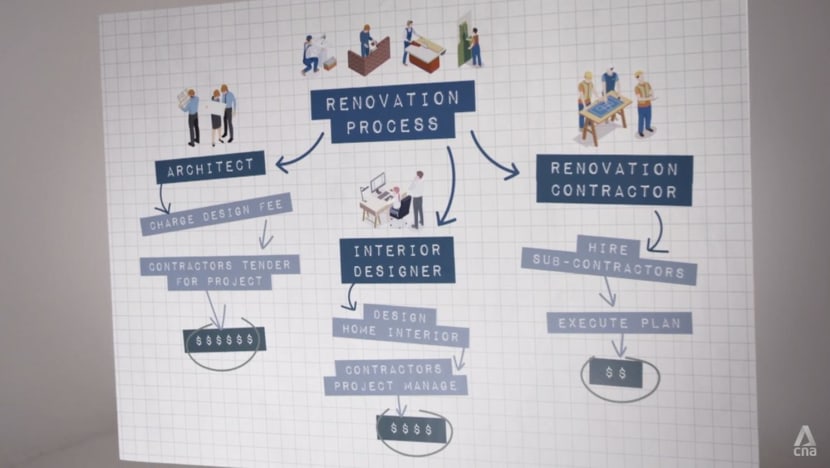 Tan added: "Maybe the firm is doing very well, but the individuals … aren't trained in running the project."
He believes that accreditation "will reduce a lot of problems" in the industry, such as "unscrupulous contractors" who mark up prices "unreasonably" as well as the practice of swapping materials.
Watch this episode of Talking Point here. The programme airs on Channel 5 every Thursday at 9.30pm.