World's 'largest unsupervised space' at turning point: Former US Internet watchdog chief
Tom Wheeler, who was appointed by then US President Barack Obama to the top job at the FCC, says change is needed after the 'Internet barons' have 'failed spectacularly' to keep cyberspace safe.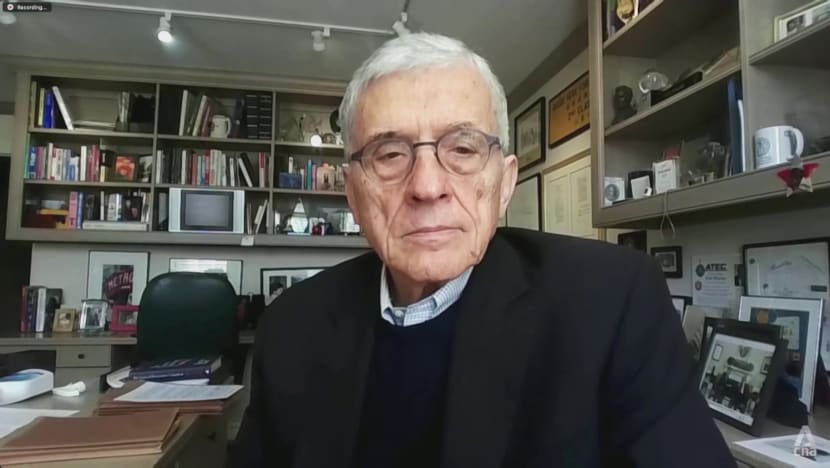 SINGAPORE: A hands-off approach to the Internet has made it the "largest unsupervised space on the planet", says Tom Wheeler, former chairman of the influential United States Federal Communications Commission (FCC).
Since the Internet's inception, many governments have tended towards minimal regulation, prioritising innovation rather than protection. But Wheeler suggests the turning point is nigh, with social media platforms coming under mounting scrutiny as hotbeds of fake news and hate speech.
"They weren't breaking physical objects, they were breaking the standards that had provided stability for the last century," says Wheeler in an interview with CNA, referencing Facebook founder Mark Zuckerberg's old company motto, "move fast and break things".
Technology companies have always favoured self-regulation over legislation, though their record has been patchy.
WATCH: How we can regulate the Internet and Big Tech: former US internet watchdog head (22:48)
In October, Twitter chief executive officer Elon Musk promised to convene a "content moderation council" to look at, among other things, whether former US President Donald Trump should be allowed back on the platform or not.
But weeks later, Musk decided to reinstate Trump's account based on a personal user poll.
"Obviously, it's the platforms that have been making the rules to date, and they've been making rules to benefit themselves," says Wheeler, who is now a senior research fellow at the Harvard Kennedy School.
Yet, it would appear the tide is turning against the tech giants, with the European Union leading the way with its Digital Services Act.
The landmark piece of legislation, which took effect in November, allows member states to take down illegal content, such as counterfeit goods, hate speech and terrorist propaganda.
The new law makes social media platforms more accountable, and they are obliged to "reduce harms and counter risks online", the European Commission recently said.
"They (the EU) are certainly ahead of the rest of us. In our country, we're not doing anything," Wheeler laments as he also slams the platforms for having "failed spectacularly" to keep the Internet safe.
Recently, two families, whose family members were killed in terrorist attacks, took the unusual step of suing Google and Twitter in the US courts.
They argue that the tech companies had allowed terrorist content to be promoted and had placed advertisements alongside extremist videos, generating revenue shared with the terrorist organisation behind the videos.
The cases have been heard in the Supreme Court and have been closely watched. Judgments are expected by the end of June.
'GUARDRAILS' COMING UP
Wheeler, who was appointed in 2013 by then President Barack Obama and stepped down in 2017 when the Trump administration came in, argues that policymakers are beginning to see the importance of having "guardrails" that protect the public interest.
This is compared with previous governments, which tended to view the Internet as a "magical" place where any form of guidelines would completely suppress innovation.
Apart from Europe, countries in Asia have enacted legislation to combat disinformation on social media. Regulations introduced by Indonesia and Singapore in the past year grant authorities the power to issue content removal orders to platforms.
Singapore is also formulating rules that would require app stores to remove harmful content. The broadening of online controls comes amidst concerns about self-radicalisation via online gaming.
Recently, a 16-year-old Singaporean was issued a restriction order after joining several Islamic State-themed servers on Roblox, a gaming platform aimed at children and teenagers. The government is now looking at a possible classification scheme for online games.
Some commentators have been wary of increased regulation of the Internet owing to fears that it could be used to suppress freedom of speech and legitimate commentary aimed at giving more balance in issues.
The European Commission argues that it is steering a middle course. Its new regulation allows users to contest decisions by online platforms to remove their content and compels the big tech firms to be more transparent about their content decisions.
This idea is echoed by Wheeler, who says the big social media platforms need to make the computer algorithms they use for moderating content more transparent, so that it is clear what goes on, rather than making decisions "in secret".
"We need to be thinking about what we're going to do …  to put the rights of the people back in the equation, instead of basing everything (on) the rights of the Internet barons," he concludes.
Watch the full exclusive interview here. CNA's In Conversation airs on Wednesdays at 9pm.