An island-boy's race against time and tide
For decades, kampungs and thrilling sailboats races were a way of life in the region. Kolek teams were like local football clubs. Now, one Singaporean is out to resurrect what was lost of his seaside childhood. This is the 3-part story of his quest.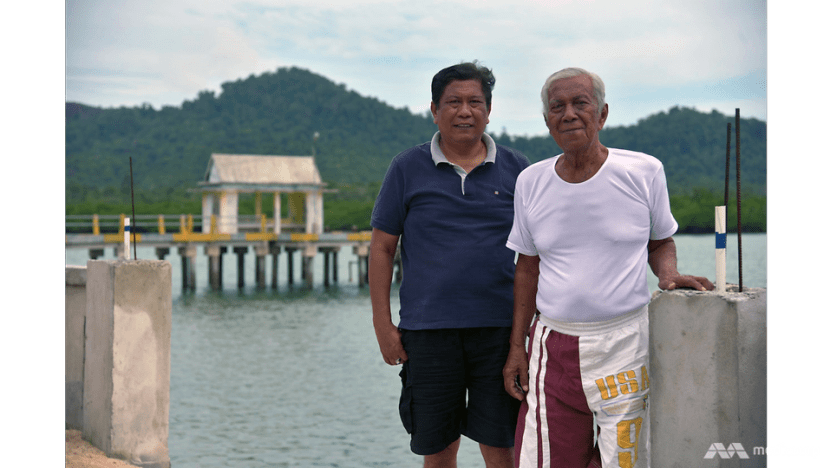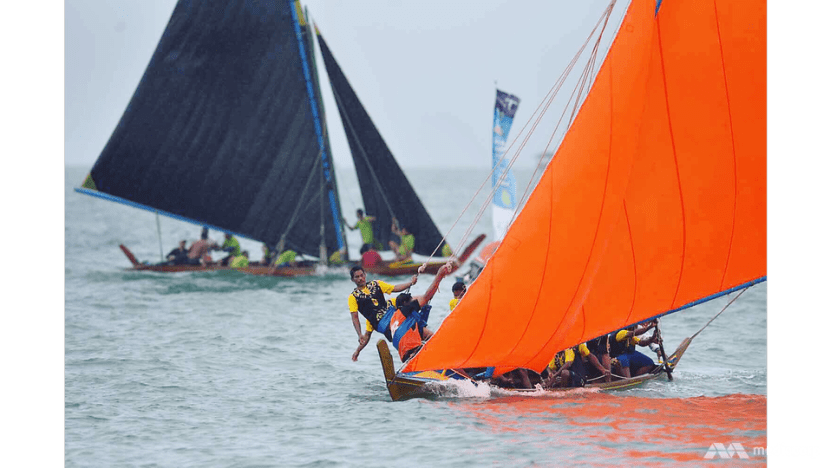 Words by Mayo Martin / Multimedia by Lam Shushan
RIAU ISLANDS, Indonesia: It's a bright and early morning as Mazlan Mohd Nasir steps out of the house to sights and sounds and smells that remind him he's not among the high-rise HDB flats of home anymore.
His father is already up and about, leisurely watering the plants and sweeping the grounds of the complex of one-storey houses by the sea. At the jetty nearby, children wait for the sampan ferry that takes them to school on the next island.
Down the dusty road, chickens wander freely while a couple of fishermen mend their nets and a woman peddling freshly-made epok-epok makes her daily rounds.
Metropolitan Singapore is where Mazlan was born and where he and his family now live, in their Pasir Ris executive flat. But if home is what reminds you of the place where you grew up, then the island of Keban, in the southern Riau Islands, is like a homecoming of sorts.
Watch: Riau Island scenes (0:35)
The 54-year-old takes a deep breath. "I can tell you, even when I sleep only three to four hours, I still wake up feeling fresh," he says. He'd gone to bed after a sumptuous dinner of steamed gong gong, flower crab, Keban-style otak-otak and fresh-as-it-can-get fish caught simply by dangling a line out the window.
He continues: "It could be because of the food and the air. But it's also the freedom. You have your own time, you don't hear motor cars; at night you can see the stars, the moon, the real thing. The pace is very slow, very nice - that's why you enjoy your life."
Every so often, Mazlan and other relatives make the two-hour journey by boat to this remote place. It's not just that his father, 76-year-old Haji Mohd Nasir Awang, now lives here in retirement. Or that it takes Mazlan back to his island kampong childhood in Singapore, growing up surrounded by water.
This is also the place where his family is resurrecting a thrilling sports tradition from the past - first in the Riau Islands and, Mazlan wistfully dreams, one day in his homeland.
A SOUTHERN ISLAND BOY
Mazlan's dad, Cik Nasir, was born to a family of village chiefs or penghulu in Keban, and sent to Singapore to further his studies as a teenager during the post-War years.
As a member of the pioneer generation here, Cik Nasir became a civil servant who taught at various schools, including those in the Southern Islands in the early 1960s. It was in these islands that Mazlan's close relationship with the sea began.
Born in Eunos in 1962 (the second child in a brood of seven), he and the family moved a year later to St John's Island. Shortly after, they shifted across to Lazarus Island, where Mazlan spent most of his growing-up years.
"I used to cross over to St John's for school, and the teacher would arrive from the mainland every day using the ferry," he recalls.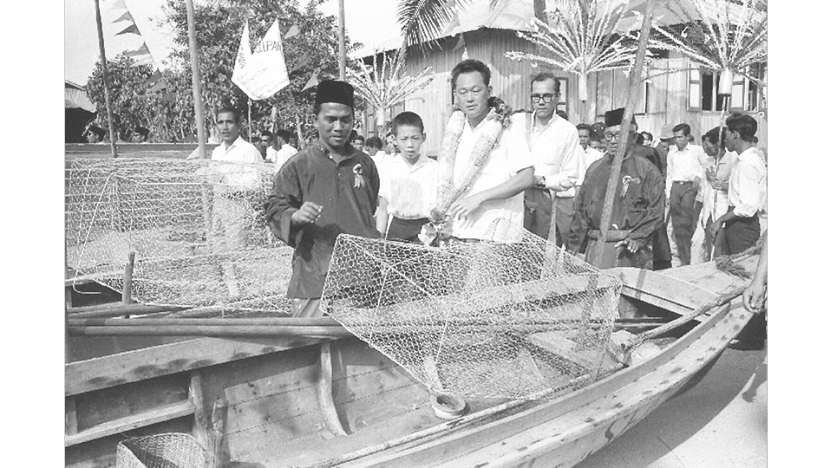 "(Fresh) water was difficult (to come by) and water rationing was practised. I would follow my mother to the well to wash clothes. In the evening, I'd play, play, play," said Mazlan.
His father initiated him into island life. "When he had free time, he would bring me to go look for crabs and fish… 
"Life was not so easy like what we have now; there was no handphone, no walkie-talkie to communicate… You just listened to the radio; there was no TV."
But there was one aspect of island life that truly fired up the young Mazlan, and became a passion he never shook off - the annual races of the traditional wooden sailboats called kolek, or "dinghy" in Malay.
WHEN SAILBOATS RULED OUR COAST
He distinctly recalls watching one race when he was about eight.
"They organised a sea sport activity on the beach of Pasir Panjang, before it was developed into a port," he tells us. That was the first time he finally got to see his own family's kolek in a race. It was called Pujangga - or "poet-philospher" in Malay - and it finished third.
Mazlan was too young to join in these adult races, but the sight of the swift-moving boats with colourful sails gracefully threading the waters fired up his imagination. He would even sometimes sleep inside Pujangga.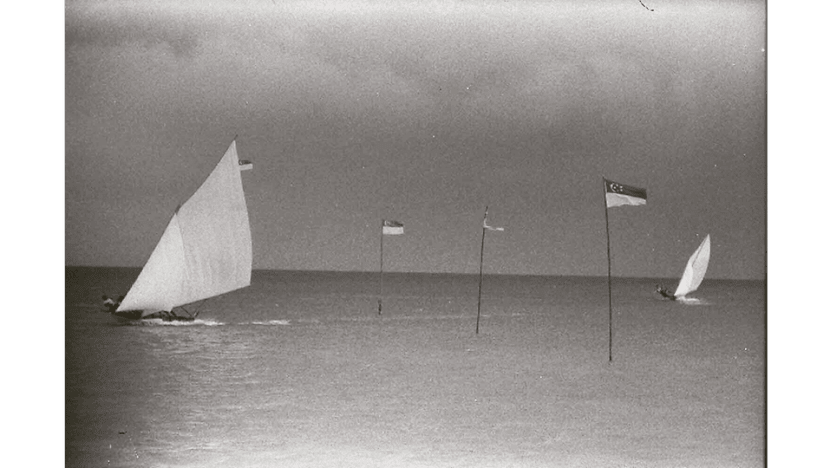 "I remember we once finished first, and the prize was three dollars!" he laughs.
Even back then, these unique races had been a way of life in Singapore for decades. There are newspaper reports, some dating back to the 1800s, that describe these annual events taking place.
The most popular of these was held at Clifford Pier, as part of the annual New Year's Day celebrations - like this 1905 regatta, in a photo from the Arshak C Galstaun Collection (courtesy of the National Archives of Singapore).
One newspaper report in 1938 even compared the races to the prestigious Sydney Harbour regattas. It described how "thousands of Malays thronged the foreshore at Siglap" and 40 boats from Singapore, Johore and neighbouring islands took part.
Like the maritime equivalent of the neighbourhood football club, each kolek represented a specific kampong, while the crew comprised villagers. And while the sport was associated mainly with Malays, it wasn't surprising to see some Chinese taking part.
The regattas were held up and down Singapore's coastline, but Mazlan didn't have to travel too far. The Southern Islands were a popular spot for kolek racing, and it was collectively nicknamed the '5S Races' to denote five of the islands in southern Singapore: Sudong, Seking, Semakau, Seraya and Sekijang - which referred to Sekijang Pelepah, the old name of Mazlan's home island of Lazarus.
LAND AHOY!
But by the time the 1970s rolled in, things were changing fast for the people who lived in the Southern Islands and Singapore's coastline.

Reclamation and modernisation projects were encroaching into the kampongs and many had to move inland - including Mazlan's family, who did so in 1974.
"All the islanders were shifted to the mainland," he says. "We first stayed in a rented house in Jalan Tauge in Kampong Ubi. Then after the redevelopment (there), we shifted to a flat in Eunos Crescent - on the 10th floor, I still remember. Then my father applied for a flat in Bedok North Avenue 3."
Watch: A way of life disappears (1:30)
Being uprooted from the sea took some getting used to. While in secondary school, young Mazlan joined a junior sailing club, but over time he was drawn to land sports such as football and rugby, which was perfect for his well-built, athletic physique.
Many from the older generation were not used to suddenly living in small, cramped spaces far from the open waters. It was a difficult time for his father, who still clung to anything that reminded him of island life, says Mazlan.
"He ordered one (fishing) boat from Keban, which we kept at East Coast. We needed a permit to store it but after a few years, the boat gathered dust and it was hard to maintain it.
"A few years later, he decided to buy another boat, so on Saturdays and Sundays, we went fishing. We'd go to Changi, the Tanah Merah side, or Siglap side, where they've got prawns. If certain places had no fish, we'd attack the Southern Islands which we knew well," he says.
But even their old haunts didn't look familiar for long. The so-called 5S-es slowly changed: Seking was swallowed by Semakau and turned into a landfill; Seraya was sucked into the mutant landmass now called Jurong Island; and Sudong became a live-firing zone.
And where Mazlan used to ride the boat to school, crossing from Lazarus Island (Sekijang Pelepah) to St John's Island (Sekijang Bendera), a bridge would eventually be built to connect these two.
A TRADITION DISAPPEARS…
There was also another, lesser known casualty of the mass relocation: The culture of kolek racing.
Storing the boats - that were mainly used just for racing - was too expensive for many of the ordinary folk, who had moved into landlocked flats anyway.
"Most of the islanders sent their koleks across to the Riau Islands, where they had distant or immediate relatives. But no one organised (races) anymore," says Mazlan, who himself lost track of the family's kolek, Pujangga.
Indeed, kolek races were only held sporadically in the years that followed. The last reported race in Singapore was in 2001. It was during a sea carnival at Sentosa's Siloso Beach and 100 participants took part - but they all came from Indonesia.
Despite relocation, the sea continued to call out to Mazlan and his family. Many of his relatives took maritime-related jobs such as diving, being in the marine police, or working with the Maritime and Port Authority.

Even in his current job as an operations manager at a logistics company, Mazlan isn't far from sea-related projects such as building barges.
Besides, just when he thought he had heard the last of kolek racing, Mazlan made a startling discovery more than a decade after moving inland. During a trip to Keban in 1987, he spotted a familiar-looking boat. It was Pujangga – damaged, but still intact.
…. AND IS REBORN IN RIAU
For Mazlan, it was a lightbulb moment. "I said, why is my (family's) kolek sitting here? Why not we have a race?"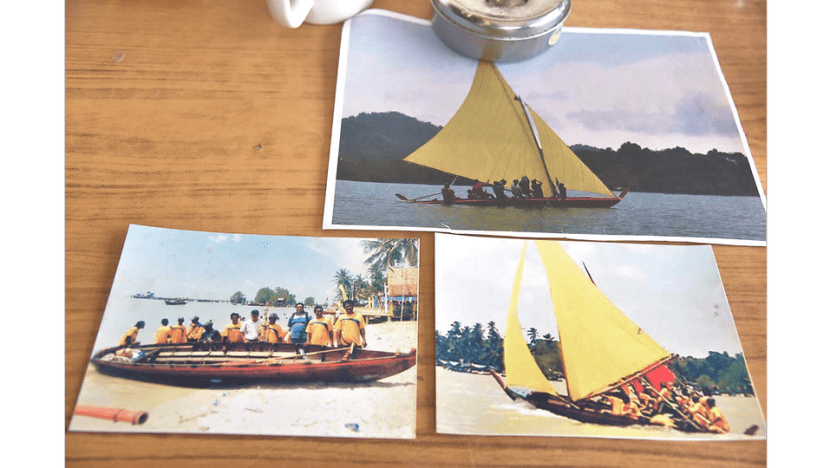 After fixing its damaged hull, he suggested they bring back the races he had so fondly remembered as a child.
"We started to talk to the kampong people (in Keban) to try and revive it. 'Never mind, we'll just play and build up the kolek again'," he recalls. "And it worked - we held a race with only three koleks from the area."
Just like in Singapore, kolek racing had also disappeared in the Riau Islands. But Mazlan's enthusiasm was so infectious that news eventually spread that the boats were back in business.
A year after Mazlan's three-boat mini-race, a bigger race was organised at Belakang Padang in 1988. Kolek races would again become an annual event - even if it wasn't in Singapore.
In Part 2: Thrills, capsizes and the hard work of rebuilding a kolek tradition.

Watch the full CNA Insider documentary (7:45 mins):