Tiny but powerful: Can milk particles be therapy for gut disease?
Researchers at National University of Singapore's Yong Loo Lin School of Medicine believe a breakthrough is possible. It is an example of how nanomedicine is changing — and has already changed — the treatment and diagnosis of diseases, one tells CNA Insider.
In partnership with the NUS Yong Loo Lin School of Medicine.
SINGAPORE: People who have suffered from inflammatory bowel disease will know the discomfort and inconvenience it can cause, with symptoms including abdominal pain, diarrhoea and bloody stools.
Treatment — usually with antibiotics, anti-inflammatory drugs or immunosuppressive drugs — comes with side effects. Antibiotics, for instance, can disturb gut balance and damage beneficial bacteria.
Also, most drugs are effective for less than a year; thereafter, the patient no longer responds well to the treatment, said Assistant Professor Wang Jiong-Wei in the department of surgery and Nanomedicine Translational Research Programme (TRP) at the National University of Singapore's Yong Loo Lin School of Medicine (NUS Medicine).
He and his colleagues believe, however, that a type of milk nanoparticle they have extracted may be the answer to these problems. It is a breakthrough they are working on in the treatment of the disease.
These milk particles are derived from milk that had most of its components, such as lactose, removed by a series of processes. They are a thousand times smaller than the width of a human hair and can be seen only with an electron microscope.
WATCH: Turning milk into medicine for gut diseases (5:35)
In a test tube, billions of the nanoparticles are hardly visible. But they can pass through the gut and survive the stomach's gastric environment to reach the intestines.
At the disease sites, they will reduce gut inflammation and restore the bacterial community there. They also have the potential to protect the gut barrier, which helps the gut to absorb nutrient molecules for the body's use, said Wang.
"One type of nanoparticle (we've extracted) is structurally very similar to the nanoparticles produced by our body," he said, citing the proteins, lipids and "certain genetic materials" it contains. "And … those components could be therapeutically effective."
His team found this particular type of nanoparticle to be present not only in cow milk, but also human and goat milk. They discovered that the nanoparticles isolated from human breast milk and cow milk had the "highest beneficial effects".
What is also special about the nanoparticles is — unlike drugs, which "go everywhere in our body" — they go to the disease sites "more specifically" and avoid healthy tissue, he said. This reduces the side effects and increases the treatment efficacy.
Wang, who did his PhD in the Netherlands and joined NUS Medicine in 2013, had stumbled on milk as a research subject by chance.
He was working on natural nanoparticles from human blood a few years ago when a student from China contacted him and said he was working with milk.
"I got inspired," said Wang. "As infants, we drink milk from our mother, and this milk will help to develop our gut system. I thought maybe these nanoparticles could be the carrier of therapeutic compounds and (also work on adults)."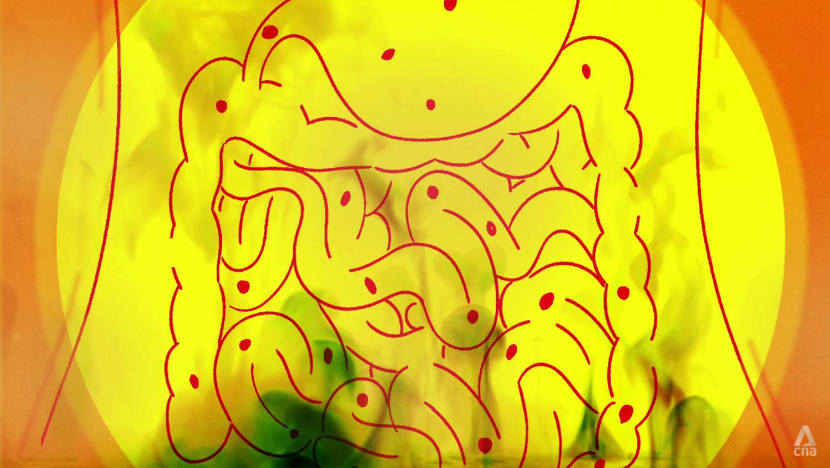 'FASCINATED' BY NANOMEDICINE
Nanomedicine was a field Wang had dived into out of curiosity, after about three years of postdoctoral work on heart failure and microsurgery.
A research fellow he met had developed a nanoparticle formulation containing a compound extracted from a Chinese herb. The compound did not dissolve well in water or blood, so taking large quantities of it orally would cause digestive problems.
After several chats with him, Wang decided to test the formulation in the laboratory and found that it could repair a damaged heart. "That was the first time I was so fascinated by the power of nanomedicine," he said.
He discussed this research field with mentors such as Prof Lee Chuen Neng — the Abu Rauff Professor in surgery and clinical director of the Nanomedicine TRP — and Prof Gert Storm, a pioneering scientist in nanomedicine.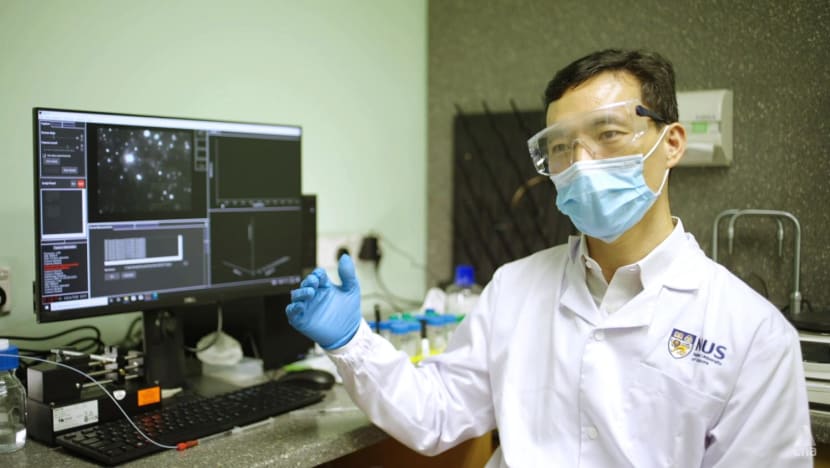 That led him to develop nanomedicine to treat a common but "silent" disease with few or no symptoms: Non-alcoholic fatty liver disease and its more severe form, non-alcoholic steatohepatitis.
A study published in 2016 found that 40 per cent of its 227 participants in Singapore had non-alcoholic fatty liver disease, a chronic disease in which fat builds up in the liver.
It is a "difficult disease", with no good diagnosis method and no drug treatments approved by the United States' Food and Drug Administration (FDA), cited Wang.
Usually, it is diagnosed by a liver biopsy, whereby a sample of liver tissue is taken for testing. But the procedure carries a risk of severe bleeding, said Associate Professor Dan Yock Young, a National University Hospital senior consultant in gastroenterology and hepatology.
And patients are usually prescribed changes in diet and lifestyle as well as vitamin E, a substance of unconfirmed efficacy for treating the disease, he added.
Nanoparticles have the potential to change things for the better, Wang believes. This is because "many different nanoparticles", after being injected into the body, are able to reach and remain in the liver "while sparing other organs".
Gold nanoparticles, for example, have suitable properties for controlled drug delivery, cancer treatment, biomedical imaging and diagnosis, according to a 2015 research article in the journal, Current Topics in Medicinal Chemistry.
"After injection into the blood, nanoparticles made from gold, silver, diamond, rare earths, fat and polymers all largely accumulate in the liver," said Wang.
"This is a natural but exciting phenomenon that we believe can be used to improve diagnosis and treatment of fatty liver disease."
Addressing unmet clinical needs such as this, through multi-disciplinary collaborations, is precisely the aim of NUS Medicine's Nanomedicine TRP.
HOW TINY BALLS OF FAT SAVED LIVES
There are already many examples of nanomedicine making a difference. An "obvious and well-known" example is COVID-19 messenger ribonucleic acid (mRNA) vaccines.
Scientists had studied mRNA vaccines for decades but did not think they would work — owing to mRNA's "fragility" in our body, it is "usually quickly chopped into pieces" and unable to enter our cells, cited Wang.
Such vaccines became a success story only when scientists found a way to package mRNA in lipid nanoparticles.
These tiny balls of fat keep mRNA from degrading in body fluids and help mRNA enter our cells, where it will make a viral protein, triggering an immune response, Wang explained.
"The COVID-19 mRNA vaccine is a remarkable milestone in nanomedicine," he said.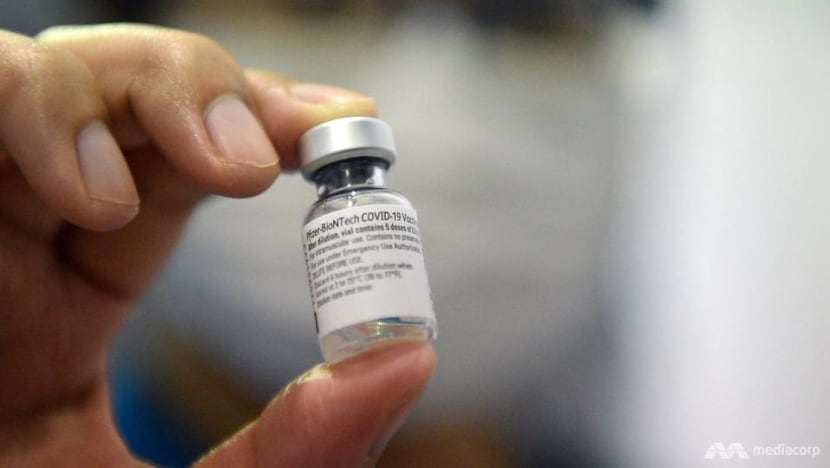 Another example is in cancer treatment. He cited a drug called doxorubicin, which is used to treat breast and ovarian cancers, for example. It was approved by the FDA in 1974 but has severe side effects, including heart failure.
Scientists have since found a way to administer it in a liposome (made from types of lipids) nanoparticle so that the drug avoids damaging the heart while retaining its anti-cancer efficacy.
"In fact, only the nanomedicine form of doxorubicin is available in most pharmacies in Singapore," Wang said.
There is more room for growth.
Various estimates put the global nanomedicine market at between US$203 billion (S$290 billion) and US$377 billion last year — and its projected worth at US$434 billion by 2027, according to ResearchAndMarkets.com, or over US$964 billion by 2030, according to Precedence Research.
"We expect nanomedicine will flourish and contribute significantly to the improvement of healthcare in Singapore, including but not limited to in vitro diagnostics, in vivo imaging and disease interventions," said Prof Xiaoyuan (Shawn) Chen, the Nasrat Muzayyin Professor in medicine and technology, and director of the Nanomedicine TRP.
You may wish to also read: